Lying on the tip of the Indian peninsula, Tamil Nadu is a beautiful mix of the coast and hills. This hot and humid state is vibrant, loud and colourful.
The people here are Dravidian – which is the oldest continuous culture in the Indian subcontinent – and the place is best experienced through its stunning temple architecture.
The two stand-out sites are:
Mahabalipuram: A UNESCO World Heritage site with fantastic rock-cut sculptures and temples.
Madurai Meenakshi Temple: Set in the heart of Madurai city, it is the largest temple complex in South India with more than a dozen gopurams and 2 golden towers. See this if you see nothing else!
For the Artist in you:
Kanchipuram: Find your inspiration for every conceivable pattern in the capital of the silk handloomed saree. The best place to buy one is at a government store where you may also see the handloomers themselves.
Dakshinchitra: Literally: "A picture of the South". A mix of artisan village and open air museum that showcases Dravidian arts and crafts. You can take part in workshops and learn how to recreate this folk art; and buy art and craft products from the artist themselves.
Kalakshetra: Established in 1936 as a school for traditional dance, music, arts and crafts. Pattern designers should look out for the handpainted Kalamkari and traditional block printed cotton, which you can also buy direct from them.
Madras Market: Conceived more as a carnival, this is also a good place to find new and upcoming designers who set up stalls and sell their wares.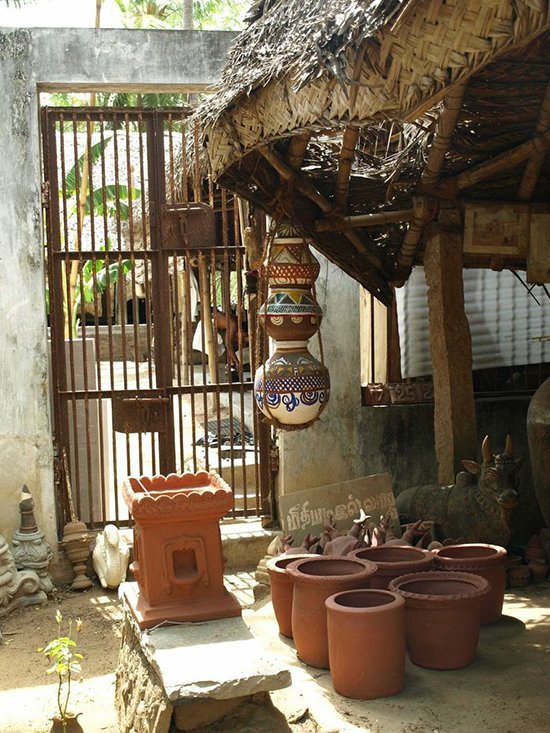 Cholamandal Artists Village: 18km from the capital Chennai, this is a serene place to visit and buy arts and crafts direct from the makers.
Pondicherry: A former French colony with its sandy beaches, French style avenues and some lovely contemporary boutiques. The Aurobindo Ashram has a paper factory where handmade paper products and made and sold.
Boutiques in the Capital:
Amethyst: https://www.amethystchennai.com
Anokhi: https://www.anokhi.com/
VTI: https://www.vtichennai.com
Rasi Boutique: https://www.rasisilks.com
Masala chai: https://www.masalachaionline.com
Eat:
Idlis (steamed rice dumlings) Dosas, (rice crepes) made in local eateries.
Drink:
Freshly brewed filter coffee, cool sugarcane juice and coconut water from street sellers.
Krishnaa's design
Aravaan: (a deity from the Hindu epic "Mahabharatha")
Inspired by the 'Kolams' and dedicated to the designs done outside our house by my grandmother. The deep maroon colour I have used in my design contrasting with the white represents my memories of 'Kolams', the continuous patterns and design drawns with bright ground rice powder to decorate the front of the house. This is surface pattern in its most earthy and basic form.
Tamilnadu surrounds you with colours and patterns as part of your routine daily life. If you stop to gaze at it you realise just how inspiring it can be.
About Krishnaa
I was born and brought up in Chennai, the capital of Tamilnadu. I have been fortunate to have many opportunities to travel throughout this beautiful state. It is one of the only states where you can still drive though bright green rice paddy fields, stopping to drink coconut water on the streets and eat the luscious jackfruit. All these things have influenced how I see colour and texture. The bright paintings showing our mythological stories on the walls of temples struck me deeply. The turquoise blues and pinks contrasted so beautifully. The folk paintings seen on the village walls attracted me with their naive simplicity.
Website: Krishnaashyam.com
Facebook: https://www.facebook.com/Krishnaashyamsundar
Twitter: krishnaashyam