Today our interview comes from "Art and Business in Surface Patter Design" e-course Alumni Vickie Price from Ameo designs.
When did your interest in design first start and how did that come about?
I am aesthetically driven. Design is so clearly part of my make–up that I could never shrug it off! Apparently, when I was 3 my Grandmother saw a picture I had drawn and said that I would become an Artist and she wasn't far wrong.
What steps did you take to get to where you are now as a designer?
Having studied Fine Art at university I went on to live and work from a studio in Devon where I painted on a large scale to commission and for exhibitions. This was as idyllic as it sounds but at the time I had limited business sense and this really held me back commercially. A career and 3 gorgeous children later, I found myself ready to start afresh. I stumbled upon "The Art and business of Surface Pattern" e-course and decided to study the 3 modules back to back in the hope that it would accelerate me both creatively and commercially.
What was the most important lesson you took away from "The Art and business of Surface Pattern" e-course?
The overall flavor of the course is fast, punchy and fun. There is no room for being overly precious about your work and I think that this has released me to experiment more and just have fun. Naturally, this has a great impact on the finished work.
What difference did it make to have a supportive community of fellow students and how important do you think that will be going forward?
It is this aspect of the course that made the whole experience come alive for me. The friendships were an unexpected bonus. The interaction in the virtual classroom goes above and beyond networking, although that in itself is obviously key to success in business. It meant that interaction, encouragement, objective criticism and technical help was available 24/7.
How would you describe your style?
My designs are bold, colour confident with hand drawn elements. I have a broad range of influences from Scandinavian design to Mid-Century modern but I think that it is my handling of colour and clarity of image that makes my work my own.
What kind of designer do you want to be known as?
Ameo designs is all about Refreshingly Creative Living. I want my designs to contribute to and improve the atmosphere in homes by combining great, authentic artwork with everyday essential items such as wallpaper and fabrics.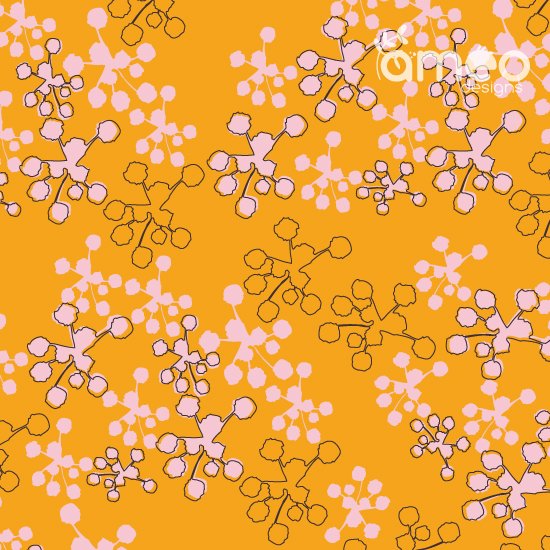 What are you working on currently?
I have just spent the past year retraining, creating a portfolio and a brand. It has been amazingly creative as well as the best possible foundation for starting a business. My focus now has turned to seeking representation and publicising my work. But I still cant resist drawing, snapping and doodling!
What advice would you give emerging designers wanting to build their portfolios?
Don't feel that at the beginning you need to be too prescriptive. Allow your work to develop organically and continually refresh by going back to source, sketchbook in hand. Eventually, from that body of work you will see links across collections that hold the portfolio together and demonstrate your true style.
What would be your dream design gig?
Being British and having been bought up wearing beautifully hand sewn dresses made by my Grandmother in Liberty prints, it is a secret fantasy of mine to create a collection of fabrics and wallpapers to be stocked in Liberty's flagship store in London.
Looking ahead what are your major goals for the next couple of years?
My current focus is to find an agent but I am also looking into manufacturing a line of cushions in my own fabric designs and a coordinating wallpaper collection. And a little further down the line, I am keen to raise brand awareness by showing at a trade show.
If you were a pattern what kind of a pattern would you be and why?
I think I would be something along the lines of one of Khristian A Howell's busy flora designs. I am natural but certainly not tranquil and enjoy diversity in life and marrying unexpected elements together.
Vickie Price is an Artist and Surface Pattern Designer working in the beautiful Chiltern countryside just outside of London. Vickie has extensive experience in Fine Art and Painting, which she practiced alongside her career in youthwork until her children were born.  When her third child started school just a year ago, Vickie channeled all of her energies into creating surface pattern designs for the interiors market and Ameo Designs was born.  Ameo designs is all about refreshingly creative living and seeks to give a creative lift to anyone who sees or uses a product with an Ameo design on it.
Connect with Vickie here: Website | Facebook | Twitter | Instagram | Pinterest
 ***
Would you like to be featured? We would love to showcase your work, so please do take a look out our submissions page here.

---