Today, we have a designer interview with Ali Benyon, a graduate of our Design School. Originally from the UK, Ali now lives and works from her home on the beautiful Mornington Peninsula, Melbourne, Australia
When did your interest in design first start and how did that come about?
I was very artistic as a child and could always be found drawing, colouring, knitting and making clothes for my dolls. So I think I was born with the creative gene, even though no one else in my family is artistic. Art was my strongest subject at school and the one lesson, other than sport, that I most looked forward to each week. In my final two years of school I was lucky enough to have a fabulous Art teacher, who, to my parent's dismay, encouraged me to further my art studies.
What steps did you take to get to where you are now as a designer?
After leaving school I went on to study Art at A'Level. This way of teaching really didn't suit my style and although I finished the course I didn't feel that it taught me how to design. However, it did give me the skills to draw a pretty decent bowl of fruit!
I went on to study Art at Foundation level and loved every second. There I had the opportunity to try out Fashion Design, Fine Art, Graphic and Product Design. But I quickly fell in love with Textiles and went on to study BA (Hons) Multi Media Textile Design at Loughborough University.
After graduating I worked as a Textile Designer in the UK and Milan for a while, but then decided to take a complete break from designing altogether to travel and explore other interests.
I went back to designing after I had moved to Australia and had our second child. I jumped straight in at the deep end and set up Cheeky Pickle, a card and art print business, focusing mainly on the childrens market. I was soon stocking shops throughout Australia and in 2013, I decided to do my first big trade show in Melbourne. Whilst at the trade show and super busy with orders, I actually had a moment of clarity. I realized that even though my business was doing well, I wasn't actually designing to my full potential and I wasn't doing what I really loved. I had somehow started to drift down the commercial path and was designing what I thought would sell the best, rather than designing to the best of my ability. I was honest with myself and realized that I didn't actually like selling and manufacturing. What I really wanted to do and where my true passion lay was in textile design. I needed to go back to my design routes.
However, my AI and PS skills were nonexistent back then and I knew I'd have to do some sort of course to bring my design skills up to date. So I took the majority of my takings from the trade show and booked onto the ABSPD course. A huge, scary gamble and probably the most I'd ever spent on the business. But sometimes some things just feel 100% the right thing to do and this was one of them. I've never looked back!!
What was the most important lesson you took away from "The Art and business of Surface Pattern" e-course?
The main thing I took from the course was that I could do anything I set my mind to. I could achieve my dreams if I just stopped being afraid, trusted my gut and heart, worked extremely hard and tackled my obstacles head on.…….and design, design, design!
What difference did it make to have a supportive community of fellow students and how important do you think that will be going forward?
I couldn't have done this without the FB groups to be totally honest. They were there for me (and I for them) for every stupid and dumb question I asked (and I asked many) for every time I felt negative about my work and for somewhere to go when it all became too much and totally overwhelming (often). I think these groups are one of the best things for artists and creative people. It's so nice to get instant feedback to work you are unsure about and for that much needed support when you are thinking that your work is absolutely rubbish….which happens often with creative people unfortunately. It's also been really nice to cheer on the many successes I've seen in the group. It's great to see designers grow. I'm now part of an Australian FB group which has branched off from the ABSPD group. It's a great support for all us designers down under. We sometimes feel a bit left out down here I think.
How would you describe your style?
My style is bold, fresh, colourful, free spirited, energetic, layered and very textural.
What kind of designer do you want to be known as?
By my employers I want to be known as hard working, trustworthy, easy to work with and reliable: A designer who is always working hard to strengthen and better her skills, never becoming complacent. By others I'd like my designing style to be instantly recognizable.
What are you working on currently?
I'm working on a new license deal with a US company right now and I'm also working freelance for a design studio, which is great. I'm learning something new every day at the moment, which is just how I like it. It's hard work, but very exciting. I'm also at the tail end of writing a book for C&T Publishing Group in the States. It's a "how to" book of 22 stitched paper craft projects that I've written for the tween aged market. I used to work a lot with mixed media and stitching into paper was my preferred method to use, so the book is based on this technique. I've been working really hard on the book for almost 18 months, so I'm very excited to see it published in November 2014.
What advice would you give emerging designers wanting to build their portfolios?
I'd say to be constantly designing and trying new things. If you don't know how to do something, then you tube it, ask friends and find out. That obstacle won't go away, so you may as well face it head on. Tackle it, master it and move on to the next thing. I'm finding that design agencies want to see that you can work in different ways, for different markets and that you are highly adaptable. So do some commercial designs, designs for the kids market, florals and character designs etc. Show them you can turn your hand to anything they throw at you, but make sure you do it in your very own unique style.
What would be your dream design gig?
I'd love to walk into IKEA and see my designs on some of their products one day. I love their style: simple, bold and fresh. Paperchase is a close second on the list.
Looking ahead what are your major goals for the next couple of years?
I'm always looking ahead! My major goals at the moment are to #1 work with a respected and well known design studio. This should enable me to showcase my work at all the big trade shows worldwide, build my skills as a designer and help me gain the valuable experience and skills needed for my next step, which is to, #2 get signed with a fabulous agent who will (hopefully) make it possible for me to work with the biggies: IKEA, Target, Robert Kaufman etc under my own name.
If you were a pattern what kind of a pattern would you be and why?
Mmmmm……well, I wouldn't be any sort of ordered or structured pattern like a polka dot or a plaid. No, they are way too conservative! I think if I had to choose a "known" pattern, then it would have to be a happy and colourful, all over, hand drawn floral print. Multi directional, bursting with colour, energetic, bold and very, very busy. Yes, that kind of sums me up quite well I think!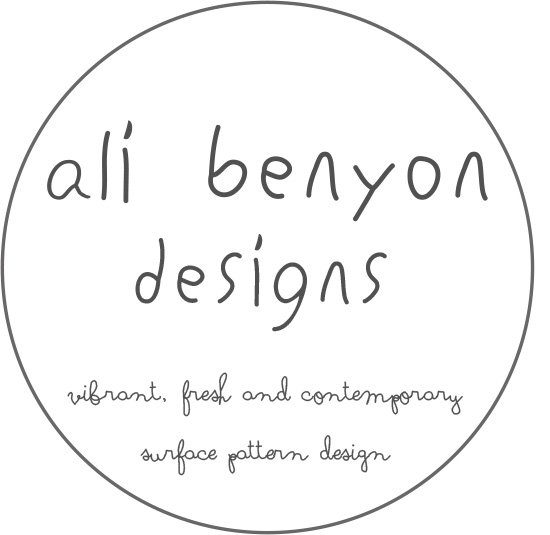 ***
Originally from the UK, I now live and work from home on the beautiful Mornington Peninsula, Melbourne, Australia. I work as a freelance designer, creating surface pattern designs for licensing purposes worldwide. I studied Textile Design at Loughborough University, graduating with a BA (hons) Multi Media Textiles Degree. That was many moons ago, but my love and passion for design, pattern and colour continues to grow and grow!
I have appeared in Print and Pattern Blog and Design Juices and have licensed my work with DENY Designs, KEKA Cases and am currently writing a book for C&T Publishing Group.
Connect here: Website | Facebook | Twitter | Instagram
***
 Would you like to be featured on Make it in Design?
Check out our submission opportunities here
---