We are really pleased to showcase the beautiful work from our very talented Module 1 students of 'The Art and Business of Surface Pattern Design' who took the course in March 2014. Here is Part 3 of our 9 part series of some our fantastic students & the work they have created over the 5 weeks in class.
"The most valuable parts of the course for me have been the supportive community and first few exercises which encouraged us to sketch and mark make – I've been stuck in a rut just designing straight onto the computer for so long but this gave me a great insight in helping to find my style. Something I've been looking for, for years" – Lucia Wilkinson
"The most powerful element of Module 1 for me has been how it's transformed my approach to making patterns – I now have a reliable and fun process for finding inspiration, seeing and sketching shapes, developing motifs and choosing a palette that really works. I already know that these are techniques I'll carry with me through my creative life from now on." – Emma McGowan
"It would be hard to list all of the ways Module 1 "Designing Your Way" helped me as a designer. Each lesson and every lesson brought me from wondering how to make is all work to turning my sketches into full-fledged designs. It was so exciting! One thing I didn't expect but gained so much from was the other designers taking the class. The feedback and commentary from designers around the world was really priceless."  – JJ Galloway
"Rachael and Beth fashioned the assignments in such a way that inspired me to push myself to the next level as a surface pattern designer. But, the most powerful tool for me was the Facebook community which helped build my confidence as we cheered, critiqued, encouraged, and challenged each other along to reach the next goal." – www.lainymichelle.com
"The most powerful element of the course for me was the emphasis on exploring and experimenting with materials and styles which has allowed me to add more depth to my work, enabling me to create more intricate patterns. Guidance from the course and course leaders has helped my work evolve so much further in such a short space of time and I feel much more confident in my design work since taking the course!" – Camilla Fellas
"Rachel Taylor's "Make it in Design" class has been a generous gift from the creative heavens! It has articulated a broad range of exercises essential for evolving into a contemporary surface designer.
Thank you!" – Peg Lynch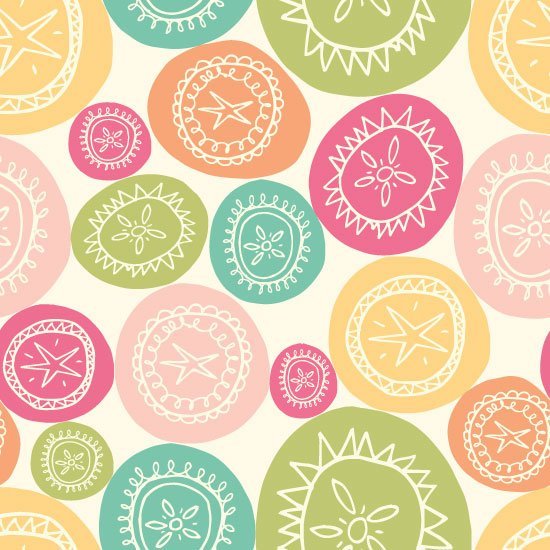 "ABSPD has been my first step in design, so every part of it has been so valuable for me: my appreciation for colour has increased, I see pattern EVERYWHERE and the bonus technical workshops have been a fabulous springboard. Overall, my confidence has increased and I feel very inspired." – Athena James
"The first week was amazing for me, I learned many useful ways to start a pattern design, I found the exercises so interesting. I have done my first steps with Illustrator thanks to the Bonus Technical Workshops, I think they are quite easy to follow and with some practice I have been able to produce a design for the showcase!" – Anna Garriga Navarro
"As I'm a total beginner to pattern design I found Rachael's first week of class really inspiring and powerful. It made me look in a totally different way at my everyday world around me and brought a lot of new excitement into my life!" – Lianne Evers
"The ABSPD Module 1 course helped open my eyes to the patterns and designs I see in the world around me and identify my personal style. I feel more confident in my artistic voice and energized to create more designs." – katherinelenius.com
***
If you are interested in 'The Art and Business of Surface Pattern Design', we are thrilled to announce we are starting a lovely new series of classes starting October 2014 with module 1. We are also running another module 2 class too! Registration for all classes is open here.

---