We are so proud of all of our alumni. Many have sold work, licensed designs and started their own design labels which are known all over the world. Today we are featuring a video and interview with Mary Tanana, who speaks of her background as an award winning jewellery designer and how 'The Art and Business of Surface Pattern Design' course gave her the skills to embrace surface pattern design and broaden her design appeal. We love Mary's intricate patterns and gorgeous typography!
Video from Mary
What was your motivation for taking ABSPD?
I wanted to completely change my career and educate myself regarding digital surface pattern design.
Think back to where you were before taking ABSPD. How far have do you feel you have come on your surface pattern design journey since then?
I started my ABSPD journey knowing the basics of Illustrator and Photoshop. Once I unlocked the "mystery" of how to make a repeat pattern during the first module, and I got up and did a little dance. I was ecstatic! I was lucky enough to figure out "my style" during Module 2, and I haven't stopped making patterns yet. I set up my own WordPress blog and portfolio website by myself after finishing all of the modules. I really learned so much about branding, logos, and how to present my work.
Why was ABSPD so valuable to you – what was the most important thing you learnt in the course?
The course really focused me to target my work to a particular customer's request without sacrificing my style. The live briefs on Module 4 were really challenging and I enjoyed them so much!
How important was the community aspect of the course? What kind of people did you 'meet' through it?
The community was so wonderfully supportive of each other! I love the fact that it was an international group with a range of different design backgrounds and styles.
How has your work changed since before the course? 
This course really gave me the "push" to incorporate characters in my designs. I was somewhat fearful to tackle these. The prompt cards were awesome, they gave me nudges in different directions, which I would never have thought to do on my own. I also started to do some hand drawn typography, which I absolutely love working on.
How would you describe your brand look, and how did the course help you develop that?
I had a fairly distinct brand look before starting the course, but taking this course really broadened my subject matter. It helped me to try my hand at character design and hand drawn typography, which I am currently working very hard at post-course.
Since taking the course what kind of work have you secured?
I am currently working with Card Crazy developing a line of greeting cards. I had been chosen as one of the live brief winners. I'm very excited about this, they are a wonderful group to work with. I am also in process of waiting to hear back from many companies that I've submitted to. The course really boosted my confidence and helped me to put together a number of fresh, new collections that I'm really pleased to show to potential clients.
What challenges have you faced in launching/growing your business and how have you tackled them?
The biggest challenge is creating a continuous revenue stream. I've found that by having my designs and products in many different places works the best. Having an Etsy shop, various designs licensed, freelance work, commissions, etc.
What are you working on now?
Right now I am developing a range of characters and animals to use in my patterns and designs. I've been taking a big, blank page, and I'll keep sketching a cat, for example, until I get something I like. So far this is the hardest thing for me! But I'm confident I can create my own stylish zoo.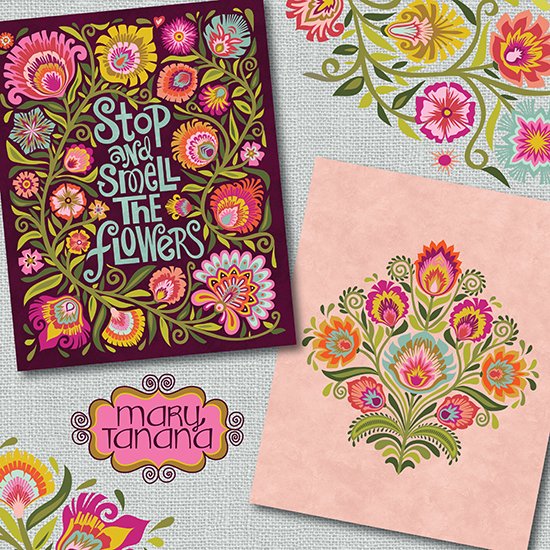 Who are your dream clients?
Papyrus, Pier1, Athleta, Pottery Barn, Madison Park Greetings, Midwest CBK, and of course, Target!
What is next for you?
I would love to exhibit at Surtex one day in the near future! I am also working on creating a shop to sell my products directly from my website. I really, really want to be a more consistent blogger, so I'm going to devote more time to planning more creative posts. And I also want to submit to companies on a regular basis. And of course, creating more fabulous art!
***
Mary Tanana is a designer who is inspired by many things; art, photography, gardening, landscapes and nature. She approaches her work with a boho, edgy flair. She's had a life-long love affair with anything patterned, and after a long and successful career as an award winning jewellery designer, she has once again embraced her first love of surface pattern design. Mary originally studied fashion illustration, and has adapted her fascination with textures and patterns into a unique design style. Her style is influenced by the diverse art and architecture she observed while traveling and living overseas.
Connect here: Website | Twitter | Facebook | Fabric range

---