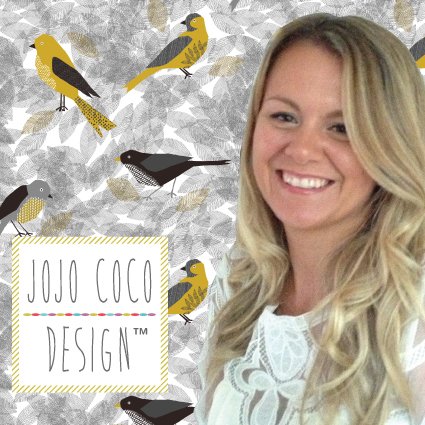 We are so proud of all of our alumni. Many have sold work, licensed designs and started their own design labels which are known all over the world. Today we are featuring Joanne Cocker who speaks of her background in design and how 'The Art and Business of Surface Pattern Design' course gave her the confidence and skills to help establish her successful freelance career.
Video from Joanne
What was your motivation for taking ABSPD?
Eighteen months ago I was a crossroads in my career and was ready for a change, not from design, but I wanted to try something new after working in the textile and wallcovering industry for over 12 years. I had heard about the ABSPD courses online – a friend of mine had taken the course that year and she couldn't recommend it enough. I investigated further and I was sold! The timing couldn't have been more perfect for me as I had already decided to give freelancing a go and doing this course just enforced that I had made the right decision. I really haven't looked back since.
Think back to where you were before taking ABSPD. How far have do you feel you have come on your surface pattern design journey since then?
I had always dreamed (like you do as a designer) that I would one day work for myself, run a studio making and creating my own designs from the heart, but I never thought it was actually possible. I remember when I started out, that even though I had worked in the industry for a long time, this still felt new to me. I didn't know the first thing about licensing, making my own products and all the possibilities that were out there. At some points I was like a rabbit caught in headlights, but the ABSPD course has guided me through this new adventure. I have learnt so much and I am still learning something new everyday. My journey has truly begun and since taking the ABSPD courses I now have my own website www.jojococo-design.com, I have my first licensing deal with Keka case, one of my designs will soon be featured in a book and I have been featured in both the Moyo magazine and Uppercase magazine (the surface pattern guide) this year. I feel excited about the things that have happened and more excited about what the future holds. I would really like to get some more product out there whether this is through licensing or creating products myself and I would love to exhibit at a trade show too.
Why was ABSPD so valuable to you – what was the most important thing you learnt in the course?
I think there were so many elements and added extras on this course that have been valuable to me but If I had to focus on something I would say learning about how to approach and think about subject matter was key for me. The course taught me to open up to things that I wouldn't have thought of trying to design, my 'woodland wonder' design being one. It's a great feeling when your design organically develops and I am definitely experimenting more with subject matter as a result of the course. I know everyone works differently but I have learnt it's important for a design to evolve and my first attempts are not often the final designs, so persevere, take a step back, and think about what you're trying to achieve. The one on one feedback from Rachael in Module 4 was great advice and it really made me re-look at how I can improve my designs, this was invaluable – thank you!
How important was the community aspect of the course? What kind of people did you 'meet' through it?
The community is amazing! I have actually taken Modules, 2, 3 & 4 and I can honestly say the friendly support you get from the group is one of the biggest highlights of doing this course. The great thing is that the group remains open indefinitely so you can keep supporting one another, follow everyone's progress and successes. It's lonely sometimes when you work freelance and I have found everyone to be so genuine and supportive, it's been a great thing to be involved in. I have also made some friends through the course; in fact I am meeting up with a fellow ABSPD alumni Vickie Price from Ameo designs soon to visit a trade show together! Hmmm maybe I will exhibit there next year? I was also delighted to meet Rachael, Kelly and some of the other students doing Modules 4 for a pre-xmas do in York last year, which was a real treat! And yes, they are as lovely as you imagine them to be.
How has your work changed since before the course?
Working in the industry you tend to work to customer briefs and trends. I have designed to lots of styles and genres over the years but I really feel that by doing this course I have certainly found 'my own style' and I hope that comes through in my designs. It has been an invaluable journey for me and the ABSPD course really takes you on that path of discovery. I feel so inspired and have so many ideas and there is no better feeling than when you just go for it and see what happens. I still like to hand draw ideas and sketches first, then scan them in but I know my style is still evolving and I am enjoying exploring different mediums too. I always like to try and add a story and a bit of life into my pieces, I think this is something that has improved in my designs over the years.
How would you describe your brand look, and how did the course help you develop that?
My brand 'Jojo Coco Design' has developed over time and I would describe it as Modern, fun and quirky (hopefully!). The course really encourages you to think about what type of designer you are and how you want your brand to be perceived. The great thing about the course is that it guides you on a journey to understanding yourself as a designer and creating your own brand. It amazes me now that I have my own website and I have recently taken a big leap to trademark my brand name. Everyone says its 'catchy', 'oooh I will remember that' and ' it's very you'. I felt strongly about wanting to protect my name and brand so decided this was a great foundation for my future plans. Now I want to build on making my dream come true and create a range of products under my own brand name.
Since taking the course what kind of work have you secured?
I have been so lucky as I work on a freelance basis with a number of retailers and customers that keep me busy most of the year and this has also been my main source of income. I design everything from Nursery/kids textiles, wallcoverings, bedding, rugs and tiles! I love that I design for such a diverse range of products and for different markets and no two days are ever the same. It's always such a buzz seeing your designs in stores but for confidentiality reasons I can't share the names of the companies that I work with I am afraid. Excitedly, I have secured a license deal with Keka case where you can buy my designs on phone & tablet cases. This was an amazing feeling to get approached and knowing your designs and products are out there for people to buy. These designs are some of the first ones I did on the ABSPD course so it a true testament that you can achieve great things. I would love to explore licensing more and would love to work with other companies and license out my designs.
What challenges have you faced in launching/growing your business and how have you tackled them?
So so many……what a massive learning curve this has been and looking back now I can see how far I have come. I think for me, I love to design and that has come so natural to me compared to the business, finance and planning side of things. I have just tried to take as much advice and learn as much as I can. To keep learning is key to developing and moving your business forward, an accountant recently said my bookkeeping was pretty good so I must be doing something right! My biggest challenge that I face is time. Juggling freelance work alongside developing my own brand has been tough at times. I have really worked hard this year and there has been a lot of late nights but it has been well worth it. I intend to keep pushing myself, working on my own designs in the hope that one day it will pay off and I can do a bit of both more effectively. I am much more disciplined than I thought I would be but I think if I could give any advice to those working freelance it would be to have some days off for yourself, get out of the house, do something else, go on an inspiration day out and then you can re-focus when you are back in the studio. You can go a bit stir crazy otherwise ….!
What are you working on now?
I am busy updating my website with new designs and I am continually working on new collections. At the moment I am working on a new kids collection and some new designs, which are for an exciting blog hop that some of the Module 4 graduates are all working on. Stay tuned for that coming later on in the year.
Who are your dream clients?
Oooh so many…. I would love to get a some of my collections and surface pattern designs out there on fabric and cushions so a few favourite clients of mine are John Lewis, Dashwood studios  and I am a big fan of Lilipinso. I love that they work with different designers to create their unique and gorgeous ranges. It's great and inspiring to see the success of fellow ABSPD graduates working with some of these companies too.
What is next for you?
My plan for the near future is to try and get some exposure on my new design collections and approach some of the companies that I would love to work with. I want to really push my brand forward so I am also in the process of looking into manufacturing a few products myself. Ultimately my dream is to earn a living from my own brand so I would like to exhibit at a trade show, possibly Top drawer or Surtex next year and see how that goes. My dream in two years time is to be sat in the garden of my new home where my purpose built 'Jojo Coco Design' studio will be and I will be sat designing away with my radio playing, oh joy! It's good to have a goal! With a bit (well a lot) of hard work you never know what can happen and it's with big thanks to Rachael, Beth and the team for being so inspirational and setting up such a wonderful course that I am here now, in control and living my dream. Thanks so much.
***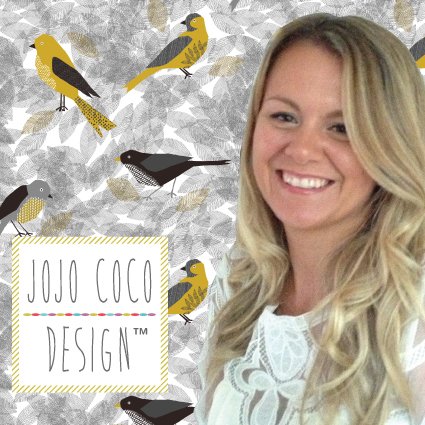 Joanne Cocker is a Textile & Surface Pattern Designer based near Manchester in the UK. She currently work's with companies on a freelance basis as well as working on her own designs and establishing the company brand 'Jojo Coco Design'. Joanne loves everything patterned and fun and would describe her style as quirky, fresh & contemporary. She specializes in creating inspirational and imaginative designs for kids, adults and the home and loves creating stories around her designs. She is inspired by nature and the world around her and is forever taking photographs wherever she goes. Joanne's work is driven by her company ethos of 'a design for life' and she loves the idea of her designs being used in people's lives as an expression of lifestyle and choice. She hopes some of the fun she has creating the designs can in turn bring some fun and colour into other peoples lives too.

---