We are really pleased to introduce the final post in our 4-part showcase of the beautiful work from our very talented Module 1 students of The Art and Business of Surface Pattern Design who took the course in October 2014. Here are some of our fantastic students & the work they have created over the 5 weeks in class.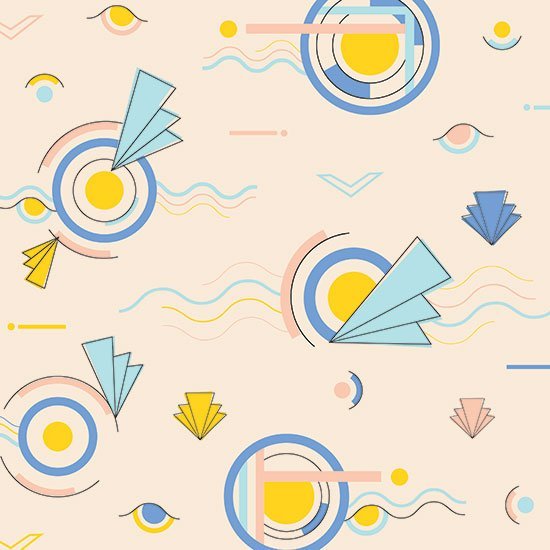 "I think the most powerful element of the course for me was being pushed to consider new ways of designing and sharing that process with a supportive group of people with a range of talents and abilities. I look forward to Module 2!" – Amber Hooks
"Being encouraged to doodle, draw and use collage has stimulated my creativity and I can't imagine being stuck for pattern ideas ever again!" – Jane Kirkpatrick | Website
"The ABSPD Module 1 guides your path to gain an understanding of how to create patterns and how to see the world as a pattern designer. Regular exercises make you turn that knowledge into reality, and the support and encouragement from learning with other participants means it all happens in a really supportive environment!" – Moira Fuller | Website
"I've found going back to basics helped me find enjoyment using ink and a brush. Now I'm creating work very differently to how I was before the course and enjoying it more than ever" – Sasha DeWitt | Website
"For me the most powerful aspect of module 1 has been the positive encouragement of Rachel and Beth, and the honest advise of the other designers interviewed. All the tutorials have been clear and given me some useful tools for getting my work organised, also the technical workshops have been excellent, logical and easy to follow" – Gill Ferguson
"What I have enjoyed most of this course is the community with people with the same passion for pattern. It encouraged me to show some of my work even it is not perfect and kept me designing, creating and being inspired every day" – Zamecnikova Martina
"The most powerful element of the course has been to go back to basics with drawing and mark making. The mark making has really helped to open up my creativity and has taken my pattern design to the next level. I'm really looking forward to my journey in surface pattern design and seeing where it can take me. I look forward to the future modules" – Ashley Jessiman
"The element of the course that helped me the most was Rachael's encouragement to try different mediums and really have fun with the process without worrying too much of the outcome, this made me really go for it and be true to myself!" – Ana Ines Perez | Connect
"The most powerful element of the course has been the ability to inspire my creativity again. The passion surrounding you while you are working on the course is 'contagious' " – Sandra Espitia | Website
"Module 1 had some elements that were familiar and so many new things to learn! I feel I really shifted from ideas to product. The challenges helped me go from roots to seeing myself and my work come together in a more sophisticated way.  I could go back to the assignments, re-work them, and learn something new every day.  A really terrific approach and good experience.  I'll be participating in Module 2" – Sara Anderson | Website
"I have enjoyed all aspects of this module and am still learning from the wealth of information provided. I think the most important thing I have gained from this module is that now I see my drawings as motifs and every mark I make has the potential to be used in a surface pattern design. I'm looking forward to modules 2 and 3, and the connection with my peers in the Facebook group" – Fiona Ashford | Website
***
The Art and Business of Surface Pattern Design is the definitive guide to becoming a surface pattern design professional.If you have ever dreamt of seeing your designs on stationery, homewares, fabric or other products, this series of interactive online courses is for you! Thriving surface pattern designer Rachael Taylor will guide you along this exciting path from developing your signature style, to putting a collection together, and from protecting your work to monetising your designs. With a rich combination of design inspiration, practical advice, demonstrations, creative exercises, resources and interviews with leading industry practitioners, this is the go-to guide for anyone wanting to develop their design skills and break into the industry. Our next classes begin January 12, 2015 – we hope to be able to welcome you to class!

---