We are really pleased to introduce part 1 of our 6-part showcase of the beautiful and amazing work from our very talented Module 2 students of The Art and Business of Surface Pattern Design who took the course in January 2015. Here are some of our fantastic students & the work they have created over the 5 weeks in class – hope you enjoy!
"This course has turned my creativity on its head. I see the world in a different (and much more beautiful) way. Pattern is everywhere now" – Lucy Essex |
Natalie Williamson| Website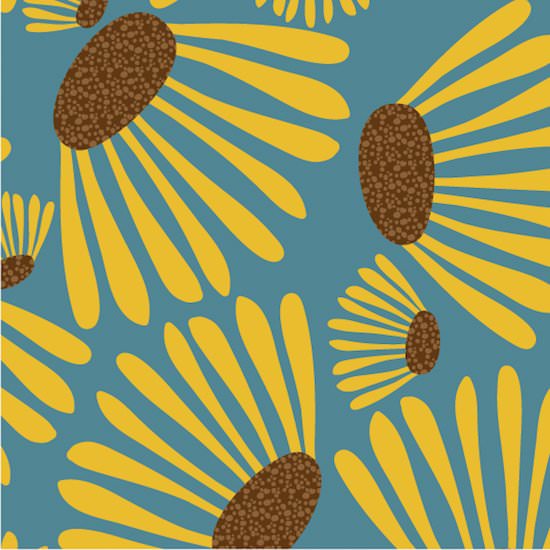 "The most powerful thing for me about Module 2 was redesigning my logo to fit more with the brand I am developing. I love creating whimsical and fun designs and I wanted my new logo to be professional but have a bit of whimsy and loads of colour "- Honey Brown
Canada| Website
"Best thing about ABSPD module 2 – it helped me to feel much more confident about using hand drawn and hand painted elements in my work, allowing me to use all my skills in my surface design work: fine arts background, graphic design experience and digital expertise" – Jennifer L. Wambach | Website
"I absolutely love the creative community that has evolved with the course; everyone is so supportive and brilliant. Doing module 2 has helped me develop a better understanding of my style and brand, and I've been able to combine my love of detailed illustrative work with pattern"- Emma Oliver Zenti Designs| Website
"It SO MUCH FUN! ABSPD gave me the structure and community that I needed to get creative, find my style, and start producing patterns that I am proud of. It is an amazing resource of information and a really positive and supportive environment to learn and play" – Tara Langlois|
"The course really helped me to develop a clear idea of what kind of brand I want to build and encouraged me to just do it! Many thanks for the many incredibly useful tips and practical guidance on how to get started" – Anne Kulasi, Germany | Website
"The course has helped me understand patterns better and taught me how to look at them with an analytical eye. Being able to apply that knowledge to my own patterns has been invaluable" – Nancy McKenzie | Website
"Here I am at the end of Module2. I still have lots and lots to learn especially on a technical level…but I can say this course has definitely opened my eyes and mind! I look at patterns everywhere now and I can't wait to finally find my signature style" – Beatrice Capomaggi|
"ABSPD Module 2 gave me a deeper understanding of the surface pattern design industry, and the fast pace and stretch of the exercises helped me explore and develop my personal style. The support and friendliness of the Facebook community was absolutely brilliant too" – Moira Fuller, UK | Website
---
The Art and Business of Surface Pattern Design is the definitive guide to becoming a surface pattern design professional. If you have ever dreamt of seeing your designs on stationery, homewares, fabric or other products, this series of interactive online courses is for you! Thriving surface pattern designer Rachael Taylor will guide you along this exciting path from developing your signature style, to putting a collection together, and from protecting your work to monetising your designs. With a rich combination of design inspiration, practical advice, demonstrations, creative exercises, resources and interviews with leading industry practitioners, this is the go-to guide for anyone wanting to develop their design skills and break into the industry. Our next classes begin April 13, 2015 – we hope to be able to welcome you to class!

---