We are so thrilled to bring you another selection of gorgeous work in part 3 of our 6-part showcase of the work from our very talented Module 2 students of The Art and Business of Surface Pattern Design who took the course in January 2015. Enjoy this fantastic selection of students work they have created over the 5 weeks in class!
"This course has mostly helped me find my identity as a designer. And therefore helped me visualize the path I should follow to become a better professional" – Hanneke Supply, Belgium | Website
"It has been a great support on my way to finding my style, which kind of naturally keeps evolving which each piece I create, like Rachael was predicting. As I am currently working on building up my brand and identity, the branding issue has been of particular value for me. I have gained great confidence in my own skills and a future career" – Christiane Possmayer, Germany |
"This course has really pushed me to work on developing my own signature style. It has also challenged me to create designs for things beyond fabric, like stationary and dishes" Joanna Sieter, USA | Website
"The most powerful elements of the course for me were learning to listen to my creativity and being confident enough about my work to submit to briefs. The interaction in the Facebook group is very encouraging and the other students really helped in opening up to my creative process"– Bridgette Burton, USA | Website
"This course has certainly been a highlight in my design career. I loved the seeing how Rachel designed and her personal insight of the industry. This course not only helped refined my surface pattern knowledge/skills, but gave me the confidence to pursue the life I dream about" – Julianne Marie| Website
"The most powerful element of this course to me was the TRENDS section. I now have a much better understanding on how trends influence designers and the market. The course was packed with lots of good information and sources on how to learn about the trends and I now feel that I have a good guide on how to approach this aspect of surface pattern design" – Ana Ines Perez, USA|
"The most powerful element of the course for me is being taken step by step to create a collection of wallpapers, it's so gradual that I didn't realize how much I'd done! And another huge skill I've learnt is how to start building my online presence, I've found the tips really helpful and they're definitely something I wouldn't have tried without the course. Everything's explained down to the last detail which I found very useful"– Stephanie Davies, UK | Website
"There have been some great briefs this module which got us design for fashion, stationery, and home wares. It's been so exciting to see my patterns applied to real-life products" – Madeline Ritchie | Website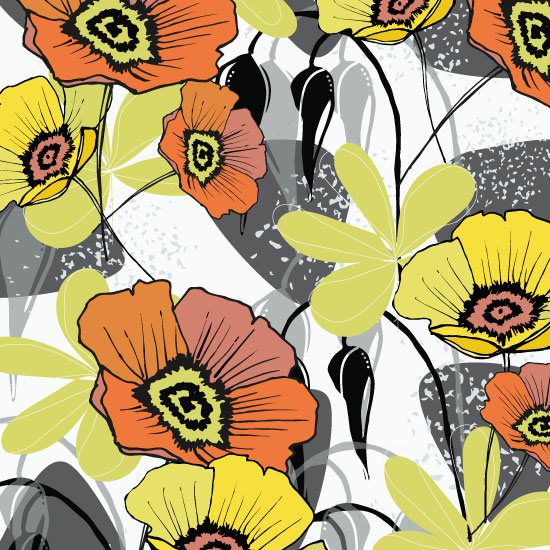 "The Art and Business of Surface Pattern Design Module 2 has taken me into a world of design that I had previously only dreamed of being a part of.  The technical instruction along with the community support has really helped me to develop my skills, build confidence and create relationships with other designers on the same path" – Jennifer Harbour, USA | Website
"The best part of Module 2 for me, was learning about trends and how to research them. Module 2 was packed full of information and I feel I have learnt so much"– Lucy Holloway|
---
The Art and Business of Surface Pattern Design is the definitive guide to becoming a surface pattern design professional. If you have ever dreamt of seeing your designs on stationery, homewares, fabric or other products, this series of interactive online courses is for you! Thriving surface pattern designer Rachael Taylor will guide you along this exciting path from developing your signature style, to putting a collection together, and from protecting your work to monetising your designs. With a rich combination of design inspiration, practical advice, demonstrations, creative exercises, resources and interviews with leading industry practitioners, this is the go-to guide for anyone wanting to develop their design skills and break into the industry. Our next classes begin April 13, 2015 – we hope to be able to welcome you to class!

---