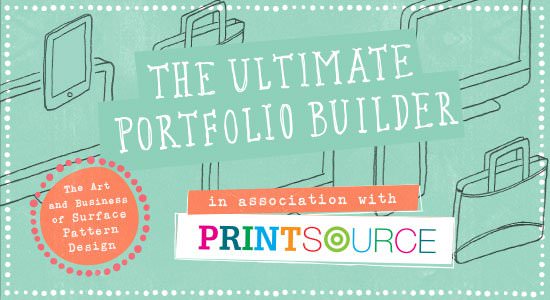 Join us on a course like no other in the world today
The course you've all been patiently waiting for is finally here! We are thrilled to announce the launch of The Ultimate Portfolio Builder, an advanced course bursting at the seams with goodness.
If individual work reviews by Rachael Taylor, design challenges, live briefs from companies looking to sign YOU, video masterclasses from guest expert designers, trade show advice direct from printsource, Q&A with Rachael Taylor, business advice for managing your finances and being your own career strategist AND access to a huge library of textures, room set images, colour palettes sounds like something you want in your life, you need to secure your place on The Ultimate portfolio Builder.
This advanced course starting May 25, 2015, will give you all the tools and advice you need to grow your body of commercially viable work, refine and strengthen your professional design portfolio, make your designs more sellable and give you the fast-track to trade show success.
Brought to you in association with Printsource, one of the top surface and textile design shows in the world and our Official Trade Show Partner, this course will provide you with exclusive insight to help you secure the right buyers for your work, deal effectively with clients, get trade show ready and discover the secrets to landing your dream work.
It really is a course like no other in the world today. It's a powerful and intense seven-week on-line professional surface pattern design course, consisting of an intense five-week class followed by two weeks of design reviews.
PLUS – one lucky person on The Ultimate Portfolio Builder course will win a free booth at Printsource New York, August 2016 AND $1,000 to get you there too!
The Ultimate portfolio Builder starts May 25, 2015, but HURRY! Places are strictly limited and are highly sought after.
Secure your place TODAY