Happy Monday! Today we are thrilled to bring you part 2 of our 4-part showcase of amazing work from our talented students from The Ultimate Portfolio Builder of The Art and Business of Surface Pattern Design who took the course in May 2015. Here are some of our talented students and the work they have created in class.
"The Ultimate Portfolio Builder had so much great information and creative prompts to get my wheels turning in a different direction. The master classes helped me improve my technical skills when creating mock-ups and will definitely enhance my portfolio and presentations at future trade shows!".
– Beth Schneider | USA | Website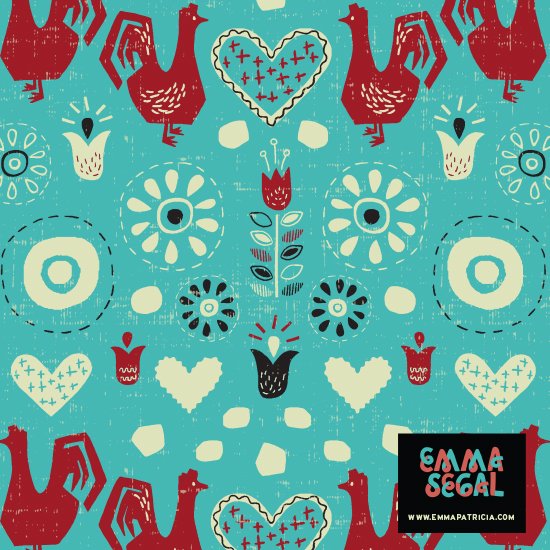 "This course for me was a catalyst for focus – clear guidelines and very effective and engaging exercises helped me find direction when I had very little of it! I loved the process, the social interaction with other artists, and the feedback from the crew was invaluable."
– Emma Segal | Canada| Website
"Ultimate Portfolio Builder has really pushed me to get out of my comfort zone and explore different subject matters in order to be a more versatile and commercial designer. I have learnt so much during this course and I am truly excited about the future ventures and ready to dive into this amazing world of pattern and design." – Fizah Malik | Australia | Website
"This course has really pushed me to expand my skills in ways which I had not thought of before. Having feedback from Rachael was beyond helpful and a real confidence boost, and has showed me how I can critique my own work in the future, to really tighten my designs and bring them to that next level.
My designs (and confidence) have come on leaps and bounds since I started this ABSPD journey".
Hollie McManus | UK | Website
"The most powerful element of the UPB Graduate course for me has to be the industry experience with the live briefs and the wonderful masterclasses which help us to be professionally ready for paid work. It has helped me develop as a designer in finding my style and helped me to understand where I want to be in the industry which will save me more time in the future".
– Isabelle Deakin | UK | Website
"This course has opened my eyes to the variety that I can draw.  The image cards, picked randomly are such fun to play with.  It is a brilliant way to get me out of my own way.  I can't say "I can't do that", I just have to try it. Thank you for the inspiration".
– Janet Hild | USA| Website
"I really enjoyed this course. It helped me try things that I might not have before, which led to me finding different styles that I look forward to designing more of soon".
– Jennifer Speer | USA | Website
"The UPB course has helped me develop new ways to stay inspired and how to explore different subject matter to include in my expanding portfolio".
– JoAnna Seiter | USA | Website
"The most powerful element of the course was the personal review. The review has helped me to see my work as an audience would see it. Janine's review also has given me confidence in my approach to surface design".
– Karen Dreyfus | USA | Website
"The feedback and suggestions regarding my design review were extremely insightful and valuable. Instructional masterclasses, a huge resource library and varied live briefs all contributed to a fantastic course. Thank you Rachael and all involved for your hard work".
Kevin Brackley | Australia| Website
Lara Georgine Nedeltscheff | USA| Website
***
The Art and Business of Surface Pattern Design is the definitive guide to becoming a surface pattern design professional.If you have ever dreamed of seeing your designs on stationery, homewares, fabric or other products, this series of interactive online courses is for you! Thriving surface pattern designer Rachael Taylor will guide you along this exciting path from developing your signature style, to putting a collection together, and from protecting your work to monetising your designs. With a rich combination of design inspiration, practical advice, demonstrations, creative exercises, resources and interviews with leading industry practitioners, this is the go-to guide for anyone wanting to develop their design skills and break into the industry. Our next classes begin September 21, 2015 – we hope to be able to welcome you to class!

---