Laura Slater – bespoke pattern, textile and print designer
Laura Slater graduated from The Royal College of Art in 2007 and she now runs her own busy studio and print workshop in West Yorkshire. Laura translates her drawings and print textures to textiles to create unique and stylised designs for home interior products. Her work is all inspired by drawing and the manipulation of colour, shapes and pattern, and our engagement with its ability to provoke and stimulate different responses from our environment.
This is a week in her life…
Monday
This week I am preparing to exhibit at Hepworth Wakefield Print Fair, which takes place at the weekend. I have lots to do in addition to all my normal weekly tasks like getting orders out, working on commissions, and organizing my stock, marketing materials and packaging.
So Monday starts with me writing a list to prioritize my tasks and time. First up is packing an order for a new stockist in St Leonards-on-Sea, East Sussex, and chasing delivery times for stock with our seamstresses for the Print Fair. As it's the beginning of the week, I also need to get a head start on my new commissions, four lampshades, which I start hand printing the fabric for.
Tuesday
Today starts with checking emails and ordering some packaging online that I need for the print fair. Then I hop on to social media. A big chunk of my time each day is dedicated to this, posting on Facebook and Instagram, and writing tweets.
Next I take work in progress shots of the prep work I'm doing and of the products I'll be showcasing at the print fair and update my website to let people know what I'm up to at the moment.
At this time of year I'm also starting to get to grips with my new print collection. To keep me sane amidst all my production, printing and making, I use Pinterest as a research and development tool. It's a great place to gather all my ideas and to create boards to help me focus on colours, styles, and concepts for future designs. I add to Pinterest regularly and in a few weeks I'll be taking time out to work solely on new designs and I'll want to drawing on all my research for inspiration.
Wednesday
The 12 metres of fabric I've been hand printing for my four lampshades is finished so I'm ready to turn it into the final product. This involves measuring, cutting and sticking the fabric to the lampshade laminate. It takes me around half a day to do this. Coffee and music are essential when I'm concentrating on tasks like this – and, of course, whenever I'm just pottering around in the studio!
The cushion product for the print fair is now back from the seamstress so I iron it, fill it with cushion pads and attach swing tags. It's surprising how long a simple task like this can take.
Before I finish for the day I write an email to a couple of stockists who are waiting on orders to let them know when they can expect their deliveries. Good communication is essential when it comes to maintaining strong relationships with the people I work with.
Thursday
This morning I head over to Leeds College of Art to present my work to a group of students. Before I leave home I quickly check my emails and update social media.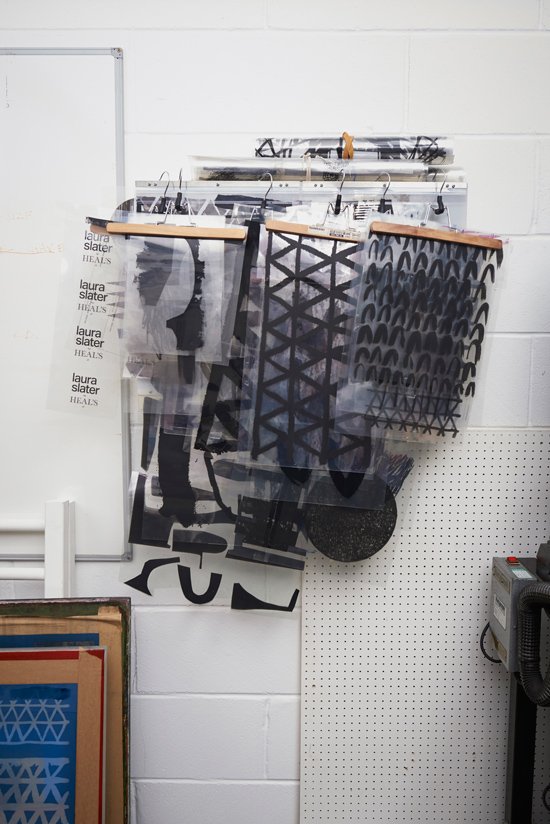 The students loved my talk! I head back to the studio to print and pack up some tea towels and notebooks for the Print Fair. Tomorrow I'll need to start getting everything together for the print fair… I feel another list coming on! Can you see a pattern emerging?
Friday
Today I need to gather together all the bits and pieces I need to set up my stand at the fair tomorrow. First I organise all my products then box and pack them up. Next I organise all my exhibition and display tools, and finally all my marketing materials.
When my partner arrives we take everything down to the van using a big trolley. Fitting it all in carefully is a skill in itself – it's like doing a giant 3D jigsaw! After a lot of adjusting and re-adjusting we are all packed up. I'm excited and looking forward to a fun and fruitful weekend ahead!
Find out more about Laura Slater at the following links:
https://www.facebook.com/lauraslatertextiles
https://twitter.com/laurastextiles
https://instagram.com/lauraslaterprint/
https://www.pinterest.com/slaterlaura/
This Designer Diary was taken from MOYO Magazine Issue 8 – check it out now!
***
Would you like the chance to feature in the Make it in Design Designer Diary? Email the team now for details at learn@makeitindesign.com