We're on the official countdown to the start of our next round of acclaimed surface pattern design courses starting September 21, 2015. Over the next few days we'll highlight our favourite reasons why you should join us!
8 days to go…
As a surface pattern designer, trends can have great relevance and importance for you when designing.
It's important to know what trends are coming, understand what influential people are saying, and above all, how those with buying power are spending their money.
So why are we telling you this?
Simple.
Join us this September 21, 2015 for either Module 3: Monetise your designs or The Ultimate Portfolio Builder and you will have up to to the minute trend information at your fingertips.
In these two courses Rachael lets you in on the secrets of how those 'in the know' know what they know about trends – and we can't even begin to tell you how valuable this information is to you as a professional designer.
Plus she'll explain why trends are important, how to find out about them, interpret them and use this information to your advantage.
Not only this, we are committed to giving you the best possible grounding as a surface pattern designer and so have invested significantly in WGSN – the world's leading trend resource.
WGSN is usually only accessible to people working in companies with big budgets, however we are thrilled to include 90 days full access in both Module 3 and The Ultimate Portfolio Builder and we know you'll be blown away by what the site offers.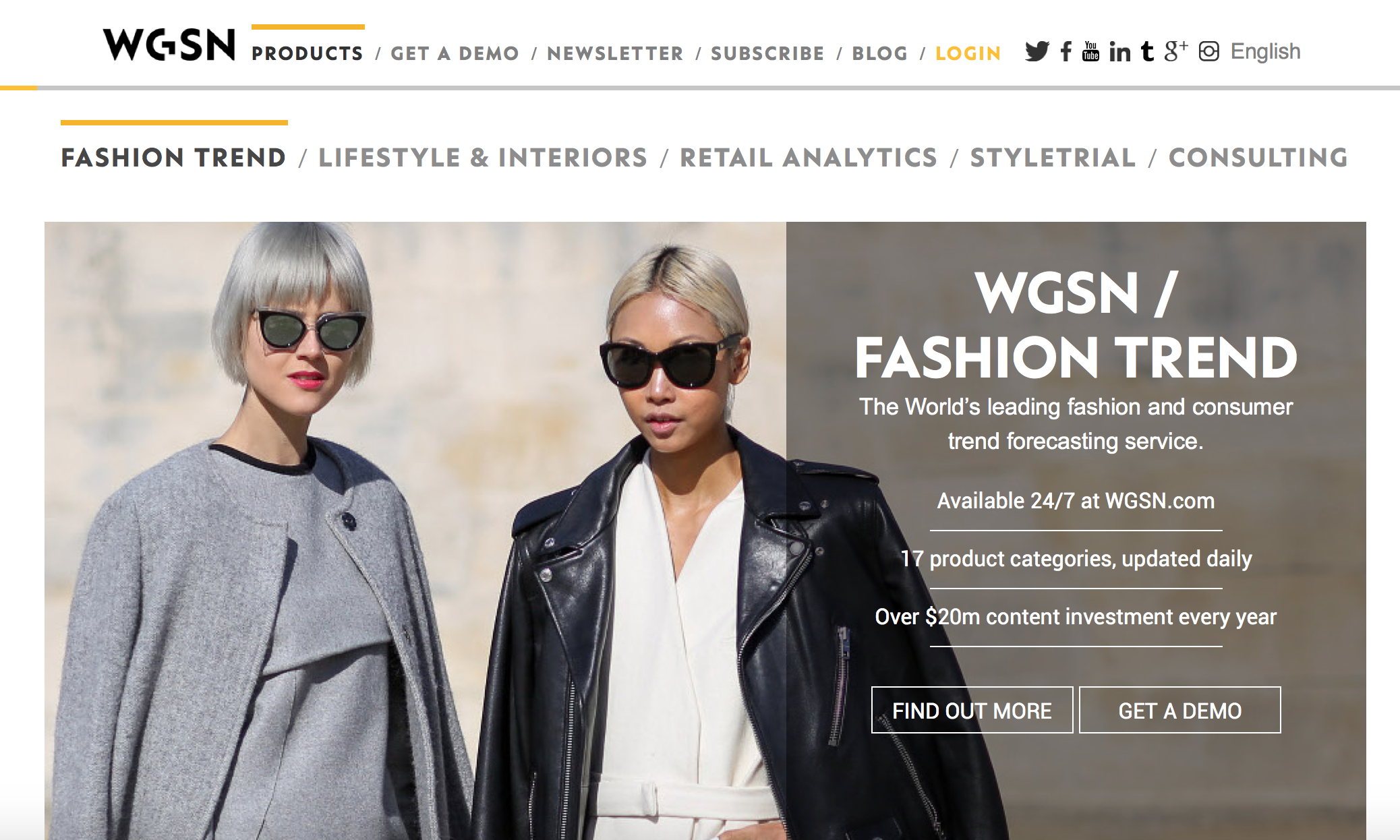 You'll get full access to the sites amazing resources including; Trend Reports helping to give you clear direction and inspiration to create leading edge, market-right designs, an enormous Image Library containing over 10 million high-res images covering catwalks, global retail and trade shows and invaluable tools such as Design Tutorials.
Be armed with information in order to make informed decisions that feel right for you and your work. Join us this September and gain this valuable insight.
Here's what some of our students say:
"I think one of the best things about the course has been the WGSN access…I'm obsessed!" – Susannah
"The amount of information provided in this course was amazing! I have so much valuable resource material that I can always refer to, along with 3 months access to WGSN! Priceless! Interviews with successful designers, coupled with diverse live briefs and a book full of contacts! Well worth the investment!" – Kevin
"I am ever so grateful for the industry specific insights, the WGSN platform access and the contact book covering so many different markets. All in all, Module 3 was an eye opener as to how diverse this industry is and that there is really a place for many different styles. This made me confident to believe in myself and move on in my own way and speed. Thank you for making the course so valuable and fun." – Andrea
We hope you can join us later this month.
P.S. Remember places on The Ultimate Portfolio Builder course are strictly limited, so don't miss out, sign up today.

---