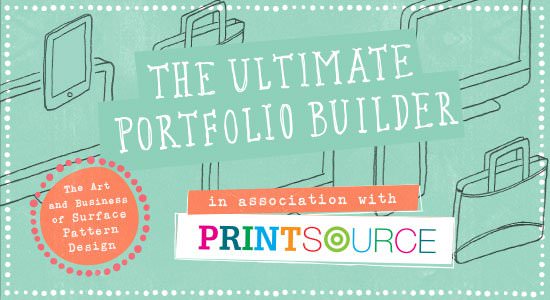 Ever wanted to show your designs on products and build your own successful design brand? As part of The Ultimate Portfolio Builder students have access to the following wealth of resources:
A huge library of textures to give your work depth and distinction
Access to exclusively styled room set images ready-made for you to render your designs on
A selection of colour palettes intended to help you push your colour choices
And a whole lot more – this course really is jam-packed full of goodness!
Today we are excited share with you the final part a 3 part showcase series of student mock ups from our most recent graduates of The Ultimate Portfolio Builder. These students joined the May 2015 class which runs over the course of seven weeks.
Alice Kammerlander | Website
Beth Schneider | Website
Stacey-Ann Cole | Website
MaryBeth Barrett | Website
Kevin Brackley | Website
Christine Gardner | Website
Jennifer Speer | Website
Peta Hedemann | Website
Sarah Bowskill | Website

Tracy Beagen | Website
Victoria Price | Website
Amazed by what you see above from our talented students? Join our next class of The Ultimate Portfolio Builder which starts September 21st 2015.
***
The Art and Business of Surface Pattern Design is the definitive guide to becoming a surface pattern design professional.If you have ever dreamed of seeing your designs on stationery, homewares, fabric or other products, this series of interactive online courses is for you! Thriving surface pattern designer Rachael Taylor will guide you along this exciting path from developing your signature style, to putting a collection together, and from protecting your work to monetising your designs. With a rich combination of design inspiration, practical advice, demonstrations, creative exercises, resources and interviews with leading industry practitioners, this is the go-to guide for anyone wanting to develop their design skills and break into the industry. Our next classes begin September 21, 2015 – we hope to be able to welcome you to class!

---