To tie in with the #100daysofpattern project, we are absolutely thrilled to bring you a whole host of alumni success stories over the next 100 days.
Here we've invited our students over the last four years to share some of their designs created on our Art and Business of Surface Pattern Design course, and their stories of what they've been up to since they completed our course and where they are now. For all those wanting to know how our courses really make a difference to your career – this is the series to watch.
Today we are delighted to share with you the success of Jessica Wilde who is a designer based in Shrewsbury.
What module(s) you took & when
All 3 beginning in Oct 2012-April 2013
Where are you now and what successes have you enjoyed along the way? 
Since completing the courses I've been working as freelance surface pattern designer, working on projects, licensing and I recently started working with a design studio specialising in wallpaper and homeware. Alongside this I've also been developing my own range of products, which I sell online via Not on the High Street (https://www.notonthehighstreet.com/jessicawilde) and next April I will be going to my first trade show – the British Craft Trade Fair, Harrogate.
Shortly after completing the course I won the Tigerprint Colour Competition in association with the Society of Dyers and Colourists, which led to a placement at their head office to develop my winning entry further and a presentation at the Annual Colourists Celebration Dinner. (https://tigerprint.typepad.com/tigerprint/2013/05/society-of-dyers-and-colourists-celebration-dinner-2013.html)
Also this year I was thrilled to be included in the 'Print and Pattern: Geometric' book by Marie Perkins.
Alongside my design work I've really enjoyed training to teach at a local college, spending time with fashion and textile students and offering support to future artists and designers.
Do you remember the first piece of work you ever sold? What was it and who did you sell it to? How did you feel?
I'd been working as a full time designer for about five years before I actually started designing independently. I had some gift cards printed with my illustrations and some of the patterns I created on the ABSPD course, as I just wanted to test the water to begin but it was such a buzz selling as my own brand. My first ever sale was at a local creative networking event, I had them as examples of my work but sold a couple on the spot. After that I setup an Etsy shop, approached local gift shops and tried a couple of fairs.
Can you describe the evolution of your business?
I decided to go full time working on my own business in 2013, I had been working as a wallpaper designer but felt it was the right time to go solo. I'd just finished the 3 ABSPD courses and had also won the Tigerprint Colour competition in the Spring so was feeling confident enough to make the scary jump. My business has been split between freelance design, licensing and developing my own product range. I've been gradually evolving each over the past couple of years, mainly focusing on freelance clients and projects, and using that income to help with product development and stock.
What has been the most important lesson you have learnt along the way?
I think no matter how much you plan you need to stay very adaptable and positive, not everything goes as expected but sometimes there's opportunities right in front of you and they're easy to miss when you're not looking for them. You also need a lot of patience and perseverance as developing a new business is a marathon not a sprint!
Where do your designs begin, and how to you develop them through to the finished product? (i.e. how much is done by hand, how much on the computer etc?)
I enjoy a lot of photography so I've a nice big archive of inspiration, interesting textures and found patterns. I mainly work on loose A3 sheets, and use black fine liners for detailed line work but also like to work freely with watercolours, inks and paint to create interesting colour combinations, pattern and textures. These are then layered digitally, manipulated and put into repeat in either Adobe Photoshop or Illustrator. I really like the flexibility of working like this, sometimes it's nice to do something very intricate, but some days you just want to get messy and play with colour!
At each major growth point of your business how do you make yourself take the big leap? 
This is really tough, confronting that fear can be incredibly hard but I think if you don't risk failure you're not really seeing what you can do, and that your most valuable lessons will come from your mistakes. In terms of business planning I have a year plan organised by month, so I have my goals and know what I need to do to achieve them. I keep checking in on this, obviously things inevitably change but it helps with those scary big leaps when you're focused on what your long term goals are.
How has the industry changed since you started?
I think it's quite a tough time for the sector, but there are a lot of exciting developments. I think consumers are really valuing authentic and unique products, and there's more avenues than ever to market your range whether it's physical product or just your designs.
What makes you excited about your business now?
I'm really looking forward to 2016 and my first trade show at the British Craft Trade Fair in Harrogate. I'm also just really excited about working some new art and developing my product range further, I'd really like to work on my own wallpaper and fabric in the future.
Image courtesy of kessinhouse.com
Image courtesy of kessinhouse.com
What is your creative space like?
I work from my home studio in the centre of my hometown of Shrewsbury, with my computer, pin boards on the wall, a clean desk and a messy desk. I'm a bit of collector of things and have jars and tins of various ribbons, buttons, pens, brushes and all sorts everywhere.
Which of your products is your favourite?
I've just started doing my own cushions so I'm loving those, I really like seeing my designs on fabric and hope to do more in the new year.
What advice would you give to an emerging designer looking to follow a similar path to you?
I'd say if you can work in the industry first before going freelance or starting a business it's definitely worth while for the experience and getting to know the market. Also generally remember to unplug, I think it's easy to go a bit social media mad, whether your comparing your work to others or just getting lost in research, gift yourself some undisturbed unplugged design time whenever you can.
What is the big dream for you as a designer and your business?
The big dream for me is to grow my product range and work with more stockists and licensees for my designs.
Tell us 3 interesting facts about yourself!
* I like climbing a good mountain (think this applies both literally and metaphorically!)
* My dad is an ice cream man.
* I love camping and enjoy escaping to Wales or Cornwall when possible!
***
I live Shrewsbury with my husband, and work from my home studio where I run my online business and work as a freelance designer. I studied Textile Design at Birmingham City University, which included a twelve-month design placement at Monsoon Accessorize Ltd. After graduating I worked as a wallpaper designer for five years. For the past two and a half years I've been working as a freelance surface pattern designer whilst developing my own range of products. I've also taught at a local college and delivered software training for fashion and textiles.
---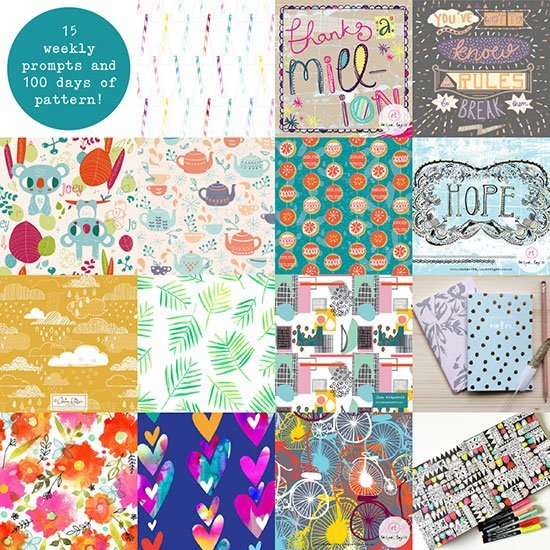 Want to get involved in #100daysofpattern?
Starting on Monday November 16 each week we will announce a fabulous new theme and will be posting daily inspirations on the blog featuring designs from Rachael Taylor, our students, contributors and other amazing industry professionals for 100 days! Dip in and out or create every day for 100 days, it's totally up to you. Just be sure to add #makeitindesign and #100daysofpattern to the images you post on-line. Watch out for the spot prizes handed out along the way too including Pattern of the Week!

---