To tie in with the #100daysofpattern project, we are absolutely thrilled to bring you a whole host of alumni success stories over the next 100 days.
Here we've invited our students over the last four years to share some of their designs created on our Art and Business of Surface Pattern Design course, and their stories of what they've been up to since they completed our course and where they are now. For all those wanting to know how our courses really make a difference to your career – this is the series to watch.
Today we are delighted to share with you the success of Tanya Paget a designer based in the UK who has enjoyed successes including having her wallpaper manufactured by Make it in Design contributor Feathr.
Which module(s) did you take and when?
I took Module 1 in 2013 and after a break came back for all the rest!  Doing Module 2 in October 2014, Module 3 in January 2015 and UPB in May 2015.
Where are you now and what successes have you enjoyed along the way?
I have joined a collective called Finch and Foxglove www.finchandfoxglove.com.  We are 9 international surface designers and illustrators – including another MIID graduate (Adriana Hernandez-Bergstrom) and a current MIID course participant (Lisa Kirkbride – who is on UPB at the moment).  We are exhibiting at Surtex in May 2016 – booth 543 come and say hello!  I'm equal measures terrified and excited!  During module 3 I entered the Feathr competition you guys shared at the end of Module 2. I was successful with two of my designs being selected for production as wallpaper.  The design called 'Machair' has been one of their most popular designs and it was a very proud day to see it on display at this year's London Design Festival in the Tent London show and appear in various places in the press including the Evening Standard Homes and Property section.  Feathr are currently in some top secret international distribution deal discussions and want to include 'Machair' in the designs for these deals, which is super exciting to think the work might soon be out there across the world!  They are such a lovely company to be working with – so thank you MIID for being part of making that happen!
When did your interest in design first start and how did that come about?
I have always loved drawing, spending hours as a child locked in my own little world on a piece of paper. I didn't initially take the path of wanting to work with pattern and surface design. By the time I was 17 I was studying Fine Art at Glasgow School of Art, but then ended up in a career as a motion graphics designer and doing side projects with friends in the music industry as a graphic designer.
What steps did you take to get to where you are now as a designer?
In 2012 a friend asked me to design a limited edition wallpaper pattern under their brand (Werkhaus) to be sold in a London pop-up shop 'House of Voltaire'. I loved the challenge of both working in repeat and working for an interior space, it ticked all my boxes! The idea for albaquirky was born, I'd caught the surface pattern design bug and wanted more… In 2013 I enrolled on Module 1 with MIID.
How would you describe your style?
I work in two main styles: one I would describe as my more 'illustrative' style, and the other my more 'arty' style. Both are united by my love of unique quirkyness, pattern for individuals.
What kind of designer do you want to be known as?
A designer who stayed true to their own aesthetic values. I know this route might not be the easiest to quickly gain clients and jobs, but I think it is the best route to loving your job and doing what you love!
What are you working on currently?
Wow, lots! I've just finished a set of new colour ways of my 'Machair' wallpaper design stocked by Feathr and signed the rights over fully to them, so they can take it forward to some international distribution deals. They showed the design as part of the London Design Festival at Tent London back in September – it was so amazing to see the work on display beside such talent and it even got a little love from some bloggers and featured in the Evening Standard Homes and Property section. I have also just signed a contract with a really cool studio/agency called Collect Scotland. I will be showing with them at Premier Vision, Paris in February '16. Super exciting and quite scary! I need to be ready to go to print for the show by early January, so a whole lot of designing is on the menu right now! I am also part of a collective called Finch & Foxglove (including 3 MIID alumni) who are exhibiting at Surtex in May '16. So, as soon as Paris is in the bag, I need to get my pencils sharpened for New York!
What advice would you give emerging designers wanting to build their portfolios?
Stay true to your visual values, have fun, don't give up! Those bumps in the road are all part of the process and your learning and refining journey. Rome wasn't built in a day! Build your creative networks, give positively and constructively to them and those guys are there for you when you need them. The Finch & Foxglove collective and various online groups I'm part of are so important for sharing opportunities and supporting each other. I've shared opportunities I spotted on my online groups for some time, being so happy to hear about this bringing people work. Then my current agency deal came from a friend sharing the submission call out on-line.
What would be your dream design gig?
There is a lot of amazing Scandinavian design out there and I could list a number of Sandi brands I admire and would be super flattered to work with. But I'm going to think big with this question – I'd love to be asked to work collaboratively with the royalty of Scandi Design Marimekko!
Looking ahead what are your major goals for the next couple of years?
I've been doing some research into printing some products of my own. I think it is case of baby steps with this idea and it is quite a commitment, to get into keeping stock. But I'd love to develop my own brand and have a range of homeware and interior products available in the next couple of years.
If you were a pattern what kind of a pattern would you be and why?
A scatter pattern! One that doesn't always stick to the rules and is non-linear.
***
Tanya is the queen of tangents. She is Albaquirky. She admires those that stand as individuals; the unique. She likes rhythm and repetition. She loves imperfections. Pens and brushes have always been her friends, her voice, a source of constant enjoyment and a never-ending puzzle.
Tanya has anthropomorphism issues, she really must see someone about them. She has 20 years experience in the creative industries as an artist, designer and educator.
She thinks that the straight line is not always the right line and she is not scared of a bold, edgy line that really stands out…
---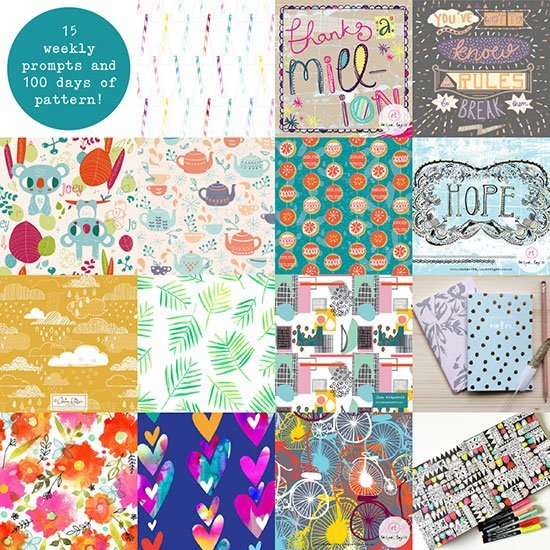 Want to get involved in #100daysofpattern?
Starting on Monday November 16 each week we will announce a fabulous new theme and will be posting daily inspirations on the blog featuring designs from Rachael Taylor, our students, contributors and other amazing industry professionals for 100 days! Dip in and out or create every day for 100 days, it's totally up to you. Just be sure to add #makeitindesign and #100daysofpattern to the images you post on-line. Watch out for the spot prizes handed out along the way too including Pattern of the Week!

---