Lisa Glanz | Cape Town, South Africa
"I participated in the The Ultimate Portfolio Builder which commenced on 21 September 2015.
My journey of surface pattern design has just begun, but I'm so excited and committed to creating a comprehensive portfolio. So for now, I don't have any patterns available for viewing on my site, but my shop does showcase my illustration work which you can view here: 
https://creativemarket.com/Glanz
".
3 Interesting Facts About Me:
I've been a graphic designer for over 20 years and as recent as this year, started dedicating my time completely to my illustration work and surface pattern designs.
Besides my love for illustration and design, I love ballroom and latin dancing too which I do four times a week.
I talk to my animals all day, it's one of the side effects of working on your own but I don't mind, and nor do they :)
Make it in Design's #100daysofpattern Week 8 and the theme is LOOK UP. Be sure to share your images across social media by adding #makeitindesign and #100daysofpattern and watch out for the spot prizes we will be awarding.
---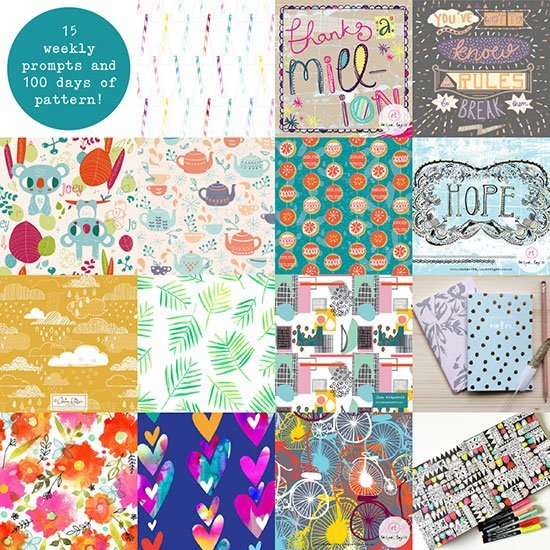 Want to get involved in #100daysofpattern?
Our #100daysofpattern officially started Monday November 16 but it's not to late to join in. Each week we will announce a fabulous new theme and will be posting daily inspirations on the blog featuring designs from Rachael Taylor, our students, contributors and other amazing industry professionals for 100 days! Dip in and out or create every day for 100 days, it's totally up to you. Just be sure to add #makeitindesign and #100daysofpattern to the images you post on-line. Watch out for the spot prizes handed out along the way too including Pattern of the Week!

---