Today we are delighted to share with you an interview with Lynn Smallwood a printmaker and pattern designer who resides on the gorgeous Cornish coast. Lynn is a graduate of The Ultimate Portfolio Builder which she took in September 2015.
When did your interest in design first start and how did that come about? 
I have a background in printmaking and fine art textiles.  I was always interested in design work and wanted to be able to produce artwork suitable for pattern design.
What steps did you take to get to where you are now as a designer? 
As a mum of two, I couldn't attend full time University so looked for an online course and took all four modules of the Art and Business of Surface Pattern design.  This enabled me to develop my skills as a designer and learn the technical skills to be able to produce technical repeats.  It also helped me to learn about the industry.
How would you describe your style? 
My style is still developing and I enjoy creating different types of designs.  I tend to be inspired by nature and develop both contemporary and retro inspired designs, using a mixture of painting, collage, printmaking and drawing techniques.
What kind of designer do you want to be known as? 
I would like to be known as a versatile designer but aim to develop a unique style that draws on my fine art background.
What are you working on currently? 
At the moment I am working on launching my own line of home furnishings and developing a commercial portfolio.
What advice would you give emerging designers wanting to build their portfolios? 
I would advise that you draw, draw, draw and push yourself to tackle subjects that are outside your comfort zone. Also, I would tell them to take 'The Ultimate Portfolio Builder' course.
What would be your dream design gig? 
My dream design gig would probably be working with Dashwood Studios as I really like their aesthetic.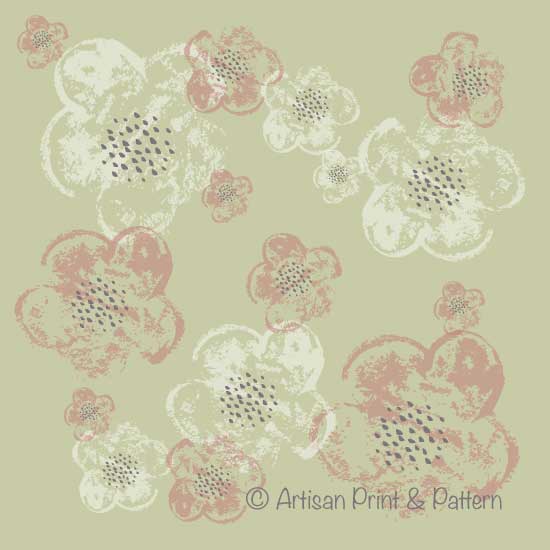 Looking ahead what are your major goals for the next couple of years? 
My major goals are to launch my own product line and to expand my pattern portfolio to have an even wider range of subjects.
If you were a pattern what kind of a pattern would you be and why?
I would probably say that I would be a arty layered floral print because I love nature inspired artwork.
What was the most important lesson you took away from UPB? 
The most important lesson I took away from the ultimate portfolio builder is the importance of expanding the content and subject of my portfolio.
What difference did it make to have a supportive community of fellow students and how important do you think that will be going forward? 
The community of fellow students was a great place to connect with like-minded designers and creatives and was the perfect place to encourage others and be encouraged.
Please tell us about your experience of the live briefs and student work reviews. 
The student work reviews provided excellent feedback from successful designers and their comments were invaluable. The live briefs were a challenging but fantastic way of expanding your portfolio through realistic industry briefs.
---
Lynn Smallwood is a printmaker and pattern designer who lives near the beautiful Cornish coast.  Lynn is inspired by both nature and vintage and retro textiles.  All of her designs start off as a drawing, collage, painting or a handmade print, resulting in a contemporary interpretation.  Lynn likes to introduce both texture and line drawing into her work.
Website | Facebook| Pinterest |
---
Amazed by what you see above from our talented students? Join our latest class of The Ultimate Portfolio Builder starting March 21, 2016.

---