Today we are delighted to share with you an interview with Emma McGowan a surface pattern designer and illustrator living in the seaside city of Brighton and a graduate of The Ultimate Portfolio Builder September 2015.
When did your interest in design first start and how did that come about?
My dad was a commercial artist so I was brought up surrounded by the paraphernalia of a working artist. Art was always my 'thing' as a child and I was endlessly drawing and painting, styling my bedroom and pinning up images from magazines. I'm still obsessed with interior design and can happily watch absolutely any property programme going!
I always wanted to be an artist but somehow I ended up studying the history of art instead. I started working in publishing and then at the Edinburgh International Festival and then I moved into copywriting, which I've now been doing as freelancer for nearly ten years.
When I had my first daughter I decided enough was enough. I needed to live a more creative life, so I went back to college and did the art foundation course I'd always wanted to do. I haven't looked back since!
What steps did you take to get to where you are now as a designer?
The first big step was applying for that foundation course. Two years later I graduated with a distinction and got a place on an illustration degree, which I had to pass up because by then I was expecting my second child. That's when I discovered online learning, which really has been the key to moving me from aspiring artist to actually working professionally.
I've done a few courses with Make Art That Sells and all four modules of the Art and Business of Surface Pattern Design. Last year I started a collective with a group of other artists I met on ABSPD, Four Corners Art Collective, and we are now supporting each other to take the next big step, exhibiting together at SURTEX in May.
How would you describe your style?
That's such a tricky question! I think my work has a luxurious feel, lots of layering and rich, strong colours. I often end up using gold and dark grey in my work, and neon pinks and orange often make an appearance. All my work is hand drawn or painted and then worked on in PhotoShop, so it tends to have texture and depth and retain evidence of my hand. I've not cracked Illustrator yet, so smooth vectors are not in my repertoire, sadly.
What kind of designer do you want to be known as?
I'd like to be known as someone who is easy to work with and that clients come back to again and again. I love collaboration and I work best when I have a brief and a creative, enthusiastic client. My years as a freelance copywriter stand me in good stead when it comes to working to deadlines and delivering exactly what's needed, on time and without any drama. I think that counts for a lot and takes the stress out of things for the client.
What are you working on currently?
Right now it's all about preparing for SURTEX in May. Everyone says start preparing as soon as you can, and of course they're right. There are so many things to think about including putting together lookbooks, making promotional videos, designing postcards and press packs, contacting people to set up appointments, figuring out our booth design… oh, and making lots of new work to take with me!
What advice would you give emerging designers wanting to build their portfolios?
Sign up to some online courses that will help structure your time and give you a focus. It can be hard to self-motivate, so a course that sets you briefs and deadlines is ideal. And take yourself seriously. Really go for it and prioritise making work over watching television or tidying the house. You'll find you have productive periods and then phases where it feels like a slog to produce anything. Over time you learn to push on through those periods, so I'd say don't give up. Keep making work and you'll get there.
What would be your dream design gig?
Can I have three? I absolutely love good product packaging, so it would be a dream gig to work with an emerging brand and design some really show-stopping packaging that helps establish them visually in the market.
Like a lot of artists, I'm slightly obsessed with stationery and paper products, so it really would be a dream come true to see my designs on a big stationery range somewhere like Paperchase.
And I love the vintage-inspired prints by clothes label Toast, so to see one of my florals on a dress or skirt in Toast would be fantastic.
Looking ahead what are your major goals for the next couple of years?
Short term my focus is on having the best possible debut at SURTEX in May. I hope to meet lots of buyers, art directors and agents and spend time afterwards following up leads.
This summer I'm going to take a couple of weeks out and write a 5-year business plan, with specific goals and tactics, so I have a roadmap of where I'm going and how I'm going to get there. So, ask me this question again in a few months time!
If you were a pattern what kind of a pattern would you be and why?
I'll be an understated, vintage-inspired pattern with a bit of edge please, just because that's the kind of pattern I like to wear or have around the house.
What was the most important lesson you took away from UPB?
To push myself to try different subject matter and not to always fall back on florals (although I do love a good floral). The flash cards and topic prompts were a great way to break out of my normal comfort zone and try something completely new.
What difference did it make to have a supportive community of fellow students and how important do you think that will be going forward?
The supportive community on the courses is absolutely integral to how much you get out of the whole experience. There's always someone there with some encouragement or a suggestion or an answer to a question.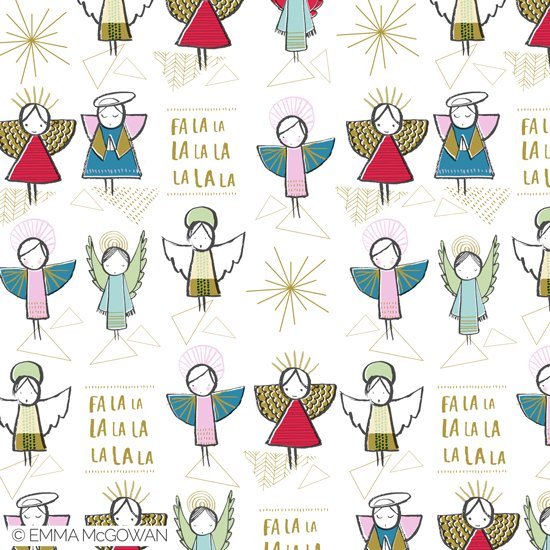 Please tell us about your experience of the live briefs and student work reviews.
I loved having my work reviewed. It's not always easy to get perspective on your own work. To have Rachael talk about what she thought worked and what didn't, and give specific suggestions for making improvements was incredibly helpful. Plus you get to watch all the other reviews too, so you pick up loads of good tips.
The live briefs were a great chance to respond to a real brief from a real client. I'd encourage anyone doing the course to really go for all the briefs and put everything into them. I felt really stretched and challenged by them – in a good way – and was really thrilled to get into the Top 8 for the Printsource Competition. It felt like the cherry on the cake to get that endorsement right at the end of the class.
---
I'm a surface pattern designer and illustrator living in the seaside city of Brighton on the sunny south coast of England. I design laid back, luxurious placement prints and repeat patterns for stationery, paper and gift markets, packaging, home wares and apparel. I made the move from copywriter to artist just over two years ago and highlights so far include illustrating a weekly column in the Guardian, seeing my first book published and reaching the semi finals of the 2015 Global Talent Search. In 2016 I'll be making my debut at SURTEX in New York, exhibiting with Four Corners, the collective I formed last year with six other surface pattern designers.
Website | Instagram | Pinterest | Twitter | Four Corners Art Collective
---
Amazed by what you see above from our talented students? Join our latest class of The Ultimate Portfolio Builder registration ends March 24, 2016.

---