To kick off our live tour of Sketch Doodle Draw we started in Rachael's home city of LIVERPOOL, UK on Monday May 16, 2016 at the beautiful Palm House at Sefton Park.
Rachael Taylor and the Make it in Design team were joined by ABSPD alumni, school and college students, architects, designers, press, families and friends from both the local community and further afield in the serene and beautiful setting of the Palm House in Sefton Park, a Victorian glasshouse displaying plants from around the world.
In this BOTANICAL themed, informal drawing event, Rachael was on hand to discuss how she gathers pattern inspiration from nature – one of her favourite subject matters! Explaining how her early signature style of layering, textures and quirky hand drawn line-work developed and how these nature-inspired patterns have led to some of her most popular work to now feature on many different products including homeware, stationery, textiles and many others which are sold around the world.
We calculated over 65 people attended (based on the number of goody bags handed out!) and probably lots more who just stopped by for a spot of colouring!
 The goody bags went down really well which had a free sketchpad, pen like the one Rachael uses for her doodles, Rachael Taylor goodies, a subscription offer to
Mollie Makes
which had been kindly donated by the magazine, sweets and more!
 This was the very first event of it's kind and feedback has been fantastic and we're looking forward to replicating the event in New York in August (and are looking to our friends in the USA for recommendations of where to hold it!)
Image courtesy of Cutie and the Feast
We arrived ahead of the start time and found people eagerly waiting, the team were able to chat to just about everyone who joined us and it was an absolute delight. We finally left at about 4:30 after a busy but lovely day and we hope all those who joined us thought it was a great day too!
This free drawing event was open to all and Rachael and the Make it in Design team hopefully provided encouragement, fun and insight into the pattern techniques Rachael uses as a professional artist as well as giving all those who attended the opportunity to meet the Make it in Design team and ask any questions!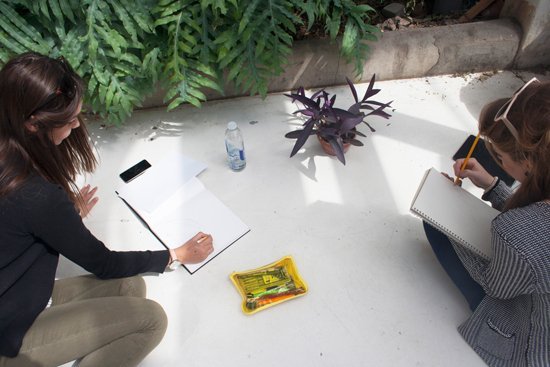 This was a free, open event, which The Palm House very kindly allowed us to host in their glorious surroundings. It was wonderful to meet so many lovely people and do what we love – draw!
I'm thrilled to have launched the first ever Sketch Doodle Draw in Liverpool. After living away from Merseyside for twelve years it feels so great to be back and be creatively involved in a wonderful, vibrant place. The Palm House is one of the most beautiful botanical attractions that we have to offer and it was such a wonderful afternoon spent of celebrating the power of doodle therapy with creatives and the community in such a stunning surrounding. – Rachael xox
A HUGE thank you to everyone who came along to this event, we were so honoured to meet and speak with you all and a SPECIAL thank you to all the staff at The Palm House, especially Laura and Keith! Keep an eye out for news of our next live event here. We loved every minute of the day and we do hope you did too!
Did you attend the event? We'd love to know what you thought of it so please do send us your feedback at learn@makeitindesign.com and we'd love to see your pictures from those who attended so please use #sketchdoodledraw when posting on social media so we can find you!
WHERE NEXT? Sketch Doodle Draw will be heading to New York in August. Click here for more information!
BIG THANKS: to all the staff at The Palm House for allowing us to hold this event in their beautiful venue and for all their help and friendliness on the day. If you're interested in visiting The Palm House visit their website.
Save

---