Earlier this week we brought you Part 1 in our three part showcase of beautiful and amazing work from our very talented students from The Ultimate Portfolio Builder of The Art and Business of Surface Pattern Design who took the course in March 2016. Here are some of our talented students and the work they have created in class Part 2!
The next round of The Ultimate Portfolio Builder will commence September 5, 2016 – so why not join in the fun now!
---
Karyn Johnstone | UK | Website
"This course not only taught me technical aspects of pattern design but also the invaluable tool of thinking out of your comfort zone, encouraging you as a designer to go back to the drawing board. Full of information, ideas and tips. I thoroughly enjoyed this ABSPD, The Ultimate Portfolio Builder".
Katy Bloss | UK | Website
"The Ultimate Portfolio Builder has been the best thing I have done for my professional design career so far!
Learning how to tweak my work to fit a different genre or attract new clients in a different market has been invaluable.
The live review was such a highlight, with loads of tips and suggestions, I got a great confidence boost from the feedback".
Kirsten Katz | Australia | Website
"The UPB course has enabled me to create designs with different subject matter, style and genre. I have started to create character based designs and also have been incorporating hand lettering into my work".

Jill O'Connor | UK | Website
"This course has crystallised several strands of the work I have been doing and allowed me to focus on a more distinctive style with better commercial potential.  Really excellent, insightful and useful reviews that really helped to assess my work".
Lisa Lane | USA | Website
"For me, the most powerful part of the course has been the weekly drawing assignments to explore our style and the creative briefs which puts theory into action.  By providing us opportunities to get involved with "real world" design briefs, it takes things out of the virtual space or our closed off studios and "forces" us to take action and have some accountability which was really significant to me.  Too often in the past I have taken courses, but not take action on assignments, which is then essentially a waste.  So I appreciate having the "carrot dangled in front of us" with the hope of one of the submissions/contests possibly leading somewhere for us as independent artists.  Before I was too busy with my day job as a corporate textile designer, but now I am more motivated than ever since I'm a freelance designer striving to make this my new career".
Margaret Maier | USA
"I would like to thank the team for giving me the confidence and inspiration to be able to be creative again. Not only were the teachers and tutors amazing but the people that I have met in this class have been so helpful and encouraging".
Marion Lindsay | UK | Website
"I've loved the Ultimate Portfolio Builder and I know I'm going to get so much more from it over time as I go back and catch up on all the exercises I've yet to complete. For me the most powerful elements of the course have been the reviews, the masterclasses and also the live briefs because I need major motivation in order to get things done at the same time as keeping up with my day job! The course has helped me feel so much more confident in what I can do and I'm beginning to feel like a designer as well as an illustrator".
Michela DuPasquier | Vietnam | Website
"The Ultimate Portfolio Builder has been a truly fantastic course, jam-packed with all sort of information that I'll be referring back again and again. Thanks to Janine's thoughtful review, it has definitely encouraged me to put my work in front of many other industry professionals, hopefully without any further feeling of inadequacy. The three previous modules were for me more of a personal creative journey, but I now feel equipped and motivated to explore the licensing route".
---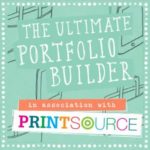 The Ultimate Portfolio Builder is an advanced seven-week online professional surface pattern design course, consisting of an intense five-week class followed by two weeks of design reviews.This powerful course will give you all the tools and advice you need to grow your body of commercially viable work, refine and strengthen your professional design portfolio and give you the fast-track to trade show success.Course alumni have gone on launch their own design studios, win national awards, be featured in design books and on leading blogs and more. Many of our graduates are exhibiting at top shows, forming collectives, signing exciting licensing deals and enjoying lots of surface pattern success.Read a handful of our class testimonials, check out our alumni successes and see what our students are getting up to! Class starts September 5, 2016!

*** Take advantage of our two month payment plan option and spread the cost but hurry it ends midnight (GMT) Thursday August 18, 2016 ***

---