We are so excited to bring you a showcase of amazing work from our very talented students from The Ultimate Portfolio Builder of The Art and Business of Surface Pattern Design who took the course back in September 2016. Here are some of our talented students and the work they have created in class.
The next round of The Ultimate Portfolio Builder will commence February 13, 2017 – so why not join in the fun now!
Camilla Carvalho | Website | Instagram
"The course helped me in so many ways. First of all it helped me to find my signature style, which I didn't think I had :) Also, the course gave me lots of inspiration and boosted my confidence in a way I never thought it would. Being part of a community with such talented people and being able to get an individual review on my portfolio was really valuable.
Thank you so much for this amazing course. I'm very happy now for being able to pursue my dream career."
Clara Dahler | Website
 "The course helped me to simply understand and follow my heart…My passion and what I really love to do is surface pattern design."
Ella Elron-Breitman | Website
"I'd like to thank you for the lovely experience in the UPB course. This course was great for broadening my portfolio. I especially appreciate the professional individual design reviews. They were thoughtful and inspiring as well as motivating and enlightening."
Gail Myerscough | Website
"The most powerful element of the course for me has been the confidence to believe that you can take inspiration from anywhere and everywhere. I've made work that I would never have thought of even attempting."
Grace Andersson | Website
"The most powerful element of the course that has helped me improve myself as a Designer is realizing and finding out my own style.  There's a lot of designs out there and it can be overwhelming to try to compete and even get a foot in the door in the Surface Pattern Design field, but this course has a lot of information to guide a beginner like me and has taught me to try different techniques without forgetting the skills that I already have."
Helen Russell | Website
"What an amazing journey this has been through a fantastic course that really pushes you creatively and expands your way of looking at how and why you design. I have been exposed to an abundance of new techniques, methodology and ideas that I know I will be exploring for a long time to come. It has opened my eyes to new possibilities and given me the confidence to plan for an exciting future."
Ivana Matijevac | Website
"Excellent course, packed with precious information and tips. The most powerful element of the course has been the opportunity to design for real briefs. I'm now feeling much more confident in my work."
Kelly Parker Smith | Website
The Ultimate Portfolio Builder could not have been better for me.  I am building my portfolio and finding my style and this course pushed my limits, my creativity, and my ability to juggle multiple design projects at once.  The practical experience in addition to the live reviews and the amazing community of support, makes this course a must for any surface pattern designer looking to grow their portfolio – amazing!
Kimberley Wilson (Mellow Ground Studio) | Facebook
"This course has been the final in all of the MIID Modules for me and has beautifully wrapped up and pushed everything I have learned. Without doubt exposure to live briefs from real clients and industry experts has forced me to dedicate time to building a strong and market relevant portfolio, ready to showcase when my website is ready. It's also reiterated to me take my time, do my research and understand the audience I am designing for in order to really hone in on just one area of the market and do it well. After that, the world is mine to decorate."
Mary Tanana | Website
"I really love the Ultimate Portfolio Builder course because it really gets me to crank out the work! Lots of awesome creative prompts to motivate you to go in directions that you normally might not go in."
---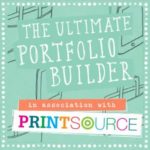 The Ultimate Portfolio Builder is an advanced seven-week online professional surface pattern design course, consisting of an intense five-week class followed by two weeks of design reviews.
This powerful course will give you all the tools and advice you need to grow your body of commercially viable work, refine and strengthen your professional design portfolio and give you the fast-track to trade show success.
Course alumni have gone on launch their own design studios, win national awards, be featured in design books and on leading blogs and more. Many of our graduates are exhibiting at top shows, forming collectives, signing exciting licensing deals and enjoying lots of surface pattern success.
Read a handful of our class testimonials, check out our alumni successes and see what our students are getting up to!

---