'The Art and Business of Surface Pattern Design' is an online e-course run by surface pattern designer Rachael Taylor, with whom Print and Pattern offer an annual scholarship for a free place on all modules of the course, plus a host of other bonus goodies. ABSPD attracts a global audience with students taking part from all over the world.
We are so excited to bring you part 2 of a two part showcase of this amazing work from our very talented students from The Ultimate Portfolio Builder of The Art and Business of Surface Pattern Design who took the course in September 2016. Here are some of our talented students and the work they have created in class.
The next round of The Ultimate Portfolio Builder will commence February 13, 2017 – so why not join in the fun now!
Mimi Hammill | Website
"The portfolio review from Khristian A Howell felt like a real "money can't buy" opportunity that the UPD course made possible. From a technical point of view I really valued Adrian O'Meara's master classes. He explains techniques in Photoshop very clearly."
Patricia Hooning | Website
"The most powerful element of the UPB is the extended review of my designs, the information about the market and audience and the words from Massimo about Printsource. UPB topped up my skills and creativity and put me a step further into the world of surface design."
Rachel Johnston | Instagram
"The best part of the course has to be the live reviews – I feel more confident in designing now and I love that this course is so jam packed with info – the creative possibilities are endless."
Rachel Knowles | Website
"I am so glad I enrolled onto the Ultimate Portfolio Builder course! It has given me the drive, inspiration and challenge to see that surface pattern can be my career. The reviews and tutorials were amazing in giving me the confidence to carry on designing and helped me to understand how to approach a brief and how to improve my design style. I can't thank you enough, I have loved every second."
Rebecca Darlington | Website
Robyn Holmyard
"Thank you for making this wonderful course available, I found it invaluable. For me the most powerful element must have been the live review on my portfolio, it was key to the development of my work. Getting a fresh perspective from a professional in the design industry helped build my confidence and inspired me to keep going. I will be accessing the course for as long as it is still available to me for inspiration and look forward to finalizing a diverse portfolio that I am proud of."
Shannon McNab | Website
"For me, the greatest takeaway from the UPB class was the importance of never throwing out any designs. With that advice, I was able to successfully revisit some old sketches that I had previously discarded as 'unusable'."
Kirsten Lundsgaard Mikkelsen | Website
"The decision to create my own career is one thing, to implement this decision into real life is quite another. The Ultimate Portfolio Builder has given me the tools to keep on challenging myself as a designer. By using the prompt cards we were given, I am able to explore new areas for subject matter in my designs and let me develop as a designer. The business side can seem very daunting but on the Ultimate Portfolio Builder course we have examined which strategies you can take, and that has given me the courage to continue my journey as surface pattern designer. One of my future goals is to sign up for a trade show to sell products with my patterns on them. We have been given a lot of useful information on all the nitty-gritty on how to achieve such a goal."
Suzanne Naidoo | Website
"The Ultimate Portfolio Builder provides a rare opportunity for guided inspiration and experimentation with design, all while being "me". The inclusion of a review by a professional plus limited time access to WGSN is invaluable."
Missed Part 1? Check it out here and see our students featured on the Print & Pattern blog!
---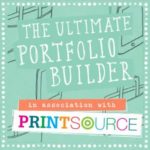 The Ultimate Portfolio Builder is an advanced seven-week online professional surface pattern design course, consisting of an intense five-week class followed by two weeks of design reviews.
This powerful course will give you all the tools and advice you need to grow your body of commercially viable work, refine and strengthen your professional design portfolio and give you the fast-track to trade show success.
Course alumni have gone on launch their own design studios, win national awards, be featured in design books and on leading blogs and more. Many of our graduates are exhibiting at top shows, forming collectives, signing exciting licensing deals and enjoying lots of surface pattern success.
Read a handful of our class testimonials, check out our alumni successes and see what our students are getting up to!

---