Our next classes officially commence in three days time!
On Monday February 20, 2017 we'll be welcoming creatives from around the globe for 5 weeks of design fun, to build a supportive community of new friends and show just what the surface pattern design industry can offer in two classes Module 1: Designing your way and Module 2: Creating your professional identity
Module 1 is all about easing you in, helping you to learn about yourself as a designer, loosening up, having fun and developing your own unique style. If you've been out of the design world for a while it's also a perfect course for a refresh and to kick start your love for design all over again.
Magic happens when you discover what you love doing and why you love doing it and this is such an important part of the process that should never be overlooked. Module 1 gives you the fundamentals and solid grounding that you'll refer back to throughout your career as a designer.
** Plus if you didn't hear Rachael Taylor will be joining this class in real time too! Find out more here! **
Here's 50 reasons why you should join us for Module 1:

It's because you want to….
1) understand more about the exciting world of surface pattern design, the opportunities it offers and how you can get involved
2) find your unique style and use this to brand your business
3) learn how to turn a basic sketch into elements to build a pattern design
Draw along with Rachael Taylor!
4) fall in love with design, find your inner design joy and explore your creativity
5) know where and how to seek design inspiration
6) read two exclusive interviews with Abigail Borg. Hear how it all started and how she gained the success a couple of years ago and then listen to a recent interview and understand what's happened since then, what she's learnt and what's next
Abigail Borg
7) join a supportive community of like-minded creatives from around the world who will offer constructive criticism if you ask for it and plenty of encouragement when you need it
8) understand colour basics and become more confident with colour application
9) get your hands on a super helpful 88 page downloadable pattern source guide
10) take a course that offers a good pace and lots of variety such as videos, interviews, creative exercises, resources, references, links and information
11) learn how to trace an original drawing, edit and manipulate your image and turn it into a simplistic surface pattern concept in Adobe Illustrator
12) get a weekly Q&A with Rachael Taylor – ask her anything, she's happy to impart everything she knows, no question too big or small!
13) learn how to work with Pantone libraries and apply Pantone colours
14) explore how to apply basic colour and layering techniques to your artwork
15) develop your design skills from beginner to pro in a short amount of time and learn all about the tools of the trade
16) build a career in surface pattern design but don't have the time or resources to study at college or university
17) look at print motifs – what they are, how they are used and how you can create your own to use in your patterns
18) learn how to work with your scanned drawing, edit and manipulate your image and turn it into a simplistic surface pattern concept in Adobe Photoshop
19) build your confidence, learn to trust your design instincts and bring out the best in yourself
20) design the types of patterns you dream of
21) gain valuable time-saving tips and tricks in Photoshop, Illustrator and in general as a surface pattern designer
22) get industry insider tips to gain the fast-track to success
23) read an exclusive interview with Marie Perkins from one of the best surface pattern design blogs 'Print & Pattern'
24) explore how to edit and use mixed media artwork, manipulate it and turn it into a surface pattern concept, demonstrated using the work of the world renowned Kelly Rae Roberts
25) start to unveil your true calling be it stationery, homeware, greeting cards, accessories or textiles for example and understand where the key to your success could live
26) explore colour palette creation using your own photography and inspiration
27) get out of your comfort zone (or be totally relaxed in it depending on where you sit) and learn the basics of character creation
28) start working on developing a signature look and actually start designing your own business stationery
29) learn how to use the type and geometric tool, place and embed images and save your file in Photoshop
30) learn in a structured, fun and professional way and see that there's plenty of room and a place for everyone in this exciting industry
31) access a number of brand new technical video tutorials giving you the step-by-step, screen-by-screen, mouse-click by mouse-click how to's in Photoshop and Illustrator (check out the list here!)
32) enjoy doing exercises that get you doing things you would never think to do, but play a vital role in developing the skills needed to create original and exciting pieces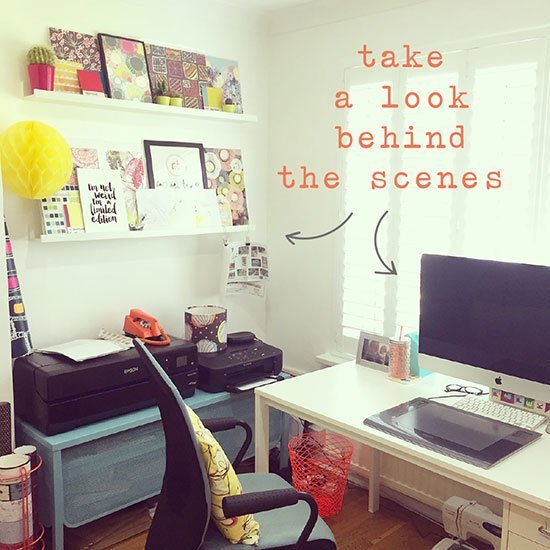 Behind the scenes at the Rachael Taylor Studio
33) get a taster into Rachael Taylor's life as a dynamic and successful professional surface pattern designer
34) learn how to create a technical repeat tile set up to industry standards
35) create mood boards for capturing a concept and keeping you on track with it and to help communicate your ideas to clients
36) access a powerful colour meditation and inspiring interview with colour expert Louise Gale
37) be featured in the Make it in Design graduate pattern showcase and start getting your work into the world (Just like these students from our September 2016 class!)
38) develop your pattern vocabulary (you're going to need it!)

39) loosen up, let go of negative thoughts and move forward with confidence
40) download each course post to refer to time and time again in years to come
41) gain access to a load of Rachael Taylor's previously unpublished designs (you'll love them!)

42) create colour palettes in Adobe Illustrator and Photoshop
43) learn how to design coordinating pieces and understand why its so important for your portfolio
44) want a chance to win a place on Module 2 and lots of other exciting giveaways during class
45) feel more inspired by every day objects, people and the world around you
46) have access to the classroom 24/7 so you can work at your own pace and fit it around your busy life and access the classroom for up to six months after class finishes
47) get an overall view of the design industry and identify where you fit in
48) build your confidence and be truly excited about your future as a successful surface pattern designer
49) gain a graduation certificate and shout about it from the rooftops across your blog, website, social networks or wherever
50) and last but certainly not least, you want to take an acclaimed course that's well-regarded in the surface pattern design industry!

Our next Module 1 class starts in just 3 days time!
We've only just covered the basics in this list above and there is loads more fab content, resources, exclusive interviews, creative exercises, downloads (well we can't ruin all the surprises!).
The key to the start of your success begins when you sign up to 'Designing your way'
Classes start on Monday – join us today!

---