Yay it's part 4 of our 5-part showcase of the beautiful and amazing work from our very talented Module 2 students of The Art and Business of Surface Pattern Design who took the course in April 2016. Here are some of our fantastic students and the work they have created over the 5 weeks in class – hope you enjoy!
---
Louise Brainwood | Website
The most powerful element of the course is the overriding professionalism of the skills I am learning. It has provided me with the tools I needed to develop my work and business into something bigger and better!
Louise Hargreaves |
Module 2 has reignited my passion for pattern and allowed me believe a full time career in surface pattern is within reach.  I still have a long way to go in terms of marketing myself… but I'm up for the challenge!
Megan Carter | Instagram
After delving into Module 1, I didn't want to stop developing my love of creating patterns so Module 2 was a perfect way to continue this. Its given me a great variety of briefs to explore and has opened up a whole new world of possible opportunities in the future that I don't think I would have discovered if I hadn't joined the makeitindesign community.
Maja Rönnbäck | Website
I really enjoyed the part about creating collections. It broadened my perspective and made me realize that collections can be put together in many different ways.
Maria Ofili | Twitter
Thank you for such a brilliant course!
Maria Kosinova | Website
I was so happy to be a participant of the course "Creating your professional identity" from makeitindesign.com.
The exercises are structured in the way, that you can learn step-by-step how to create the real commercial products. I received huge information about the industry requirements as well as tons of inspiration and advices. I always was supported by the Facebook's group of friends and encouraged by our lovely teacher Rachael Taylor.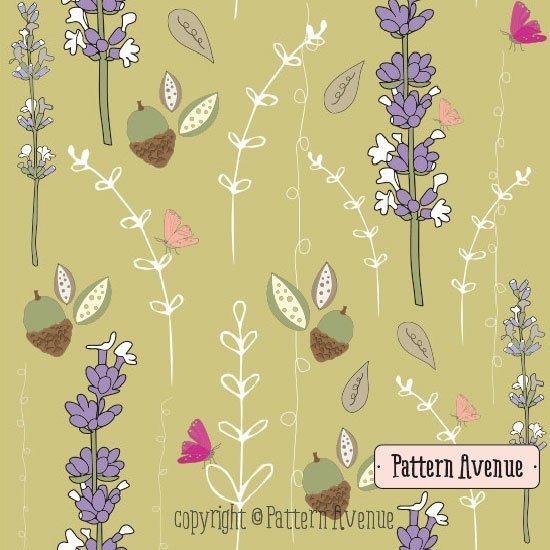 Maureen Quinn | Website
After successfully completing Module 1 I had no hesitation in joining Module 2. The course has been designed by a team of people who are very successful in their own careers so the information that you get is invaluable and you will learn everything you need to get you out into the design world right now.
I loved the fact that you can do this course at your own pace but the information is there just waiting for you so all that you need is the passion and drive to want to want to be a Surface Pattern Designer. Also when you have days where you are unsure of your abilities or you need help you have got the back up of the most supportive Facebook group ever, Thanks Make it in Design Team : )
Megan Carroll | Website
This has been a wonderful course and has made me look at the world of surface pattern design a little differently. I feel armed to move forward and learn even more! Cheers and Thank You.
Mel Armstrong | Website
Module 2 has catapulted my career as a Surface Pattern Designer.  It has given me the courage to share more of my work with the world and to send it to potential clients.  Thank you!
Melissa Taggert | Instagram
ABSPD Module 2 has not only given me the confidence to believe in myself as a designer but the necessary tools and insider knowledge to making in the industry. I wholeheartedly strongly recommend this course to everyone interested in making a professional career out of surface pattern design.
Melissa Hyatt | Website
Taking Module 2 has helped me continue to build my portfolio and my design skills. It's helped me to sketch everyday, see the beauty in the world around me and motivate me to keep doing what I LOVE…. designing and painting.
Michelle Grace | Website
This course has opened my eyes to new possibilities making me experiment and explore whilst having lots of fun!
Thanks to the team for this wonderful course, I have thoroughly enjoyed it!
Monica Mota | Website
It's a fantastic class, such a supportive group of people and so much information! It really helped me grow as a designer! Thanks to all the team that make this class possible!
Montse Soto | Facebook
The most powerful element of the course is difficult to pick because in general all the information it is so valuable and help me gather new knowledge about design world and understand better my identity and my style.
Nadja Sarell | Website
When Module 2 started, I only had a chance to draw on paper at home. Then I realized that it works perfectly for me to draw on paper first, spontaneously, and then make it into a pattern on computer. This was a major insight for me.
I love the Facebook group's support. I'm also impressed by the well-prepared course material, not to mention the inside tips and gorgeous photos. I will dedicate this summer to Module 2 and carry my sketchbook everywhere. I look forward to Module 3!
Natalia Campo | Website
This course has sought me the power of "designing freely". I have learnt so much I have gain a lot of confidence in my work, so much so That I have now started to look at it as a business!
Natalie Couto | Instagram
The most incredible aspect of Module 2 was the opportunity to really explore my design style, to learn how to develop my brand identity and market myself as a designer with integrity and confidence!
I also appreciated the curriculum and how it was presented: there is a ton of highly valuable information to absorb and apply but you are encouraged to discover and learn at your own pace with exciting and challenging creative exercises and briefs to keep you motivated along the way!
Natasha Eveleigh | Instagram
Module 2 has encouraged me to focus on staying true to myself and what I want to achieve. I am now pushing towards limits I had thought not possible. This course is giving me the stepping-stones I need to keep moving forward.
Nieves Herranz | Website
The most powerful elements of the course for me have been:
The community. The opportunity to share, see other people processes, ask questions, receiving/giving feedback and encouragement… Frankly, it has been beyond my expectations.
The exercises. They're demanding and sometimes they've put me in panic mode, but in the end they've push me to go out of my comfort zone and grow, and I'm happy with what I have achieved (even if I am still at week 2!)
Paula Ohreen | Instagram
I've been thinking about creating patterns for quite some time but until I found the Make It In Design course I really had absolutely no clue how I could possibly go about making a career of it so I made no headway.  This course had so much information that it has eliminated any possible excuses I could give myself for not succeeding.  Now I just need to stop procrastinating and focus.
---
The Art and Business of Surface Pattern Design is the definitive guide to becoming a surface pattern design professional.If you have ever dreamed of seeing your designs on stationery, homewares, fabric or other products, this series of interactive online courses is for you! Thriving surface pattern designer Rachael Taylor will guide you along this exciting path from developing your signature style, to putting a collection together, and from protecting your work to monetising your designs. With a rich combination of design inspiration, practical advice, demonstrations, creative exercises, resources and interviews with leading industry practitioners, this is the go-to guide for anyone wanting to develop their design skills and break into the industry. Our next Module 2 class begins February 20, 2017 – we hope to be able to welcome you to class!
Save

---