Fashion Formula is a digital textile, wallpaper and gift wrap printer based in London, UK. We first met Alex on our stand at the New Designers exhibition in 2016 and got chatting about collaborating. Since then we've partnered with Fashion Formula for our popular Summer and Winter School programs and they have created some super new content about digital printing for our e-course, The Art & Business of Surface Pattern Design.
We wanted to find out more about Fashion Formula and it's co-founder, Alex Wills…
What does your business, Fashion Formula, do and how did the idea initially come about?
I was inspired to co-found Fashion Formula because many bureau printers over-complicate the process of ordering fabric. We wanted to find a way for ordinary people to create their own gorgeous fabric, wallpaper or gift wrap. To test how user-friendly our website is I got my 90-year-old grandma to log on and order some fabric and she did it – no problem!
Another reason for creating Fashion Formula was because I want to help small brands and designers. All too often they scrape together enough money to put out a small collection, but then the money gets tied up in stock they can't sell. Fashion Formula means that small designers can sell their designs and products without holding any stock, which reduces risk and exposure. The only work they have to do is upload their designs and then we will print and fulfil their orders, and automatically pay them commission.
My co-founder and partner, Artemis, taught architecture at Manchester School of Art and the Architecture Association. We were excited by the prospect of combining her design skills and passion for art and teaching with my technical ability and experience to create a company geared to helping small designers spread their wings.
Why did you choose London as your base?
It was important for us to be in London as it has a vibrant design community and fashion is at its heart. With so many talented people around, it is a constant source of inspiration and being just 15 minutes from the centre makes it easy to meet customers.
What services do you provide?
Fashion Formula is a fun and easy-to-use online platform whereby customers can create their own printed fabric, wallpaper, accessories or gift-wrap. They can either upload their design or photo or choose from one of the thousands uploaded by our talented design community.
Designers can upload their designs for sale and earn up to 20 per cent commission on any sale they make without the traditional risk of buying and holding stock. Each designer has their own shop where they can showcase their designs and personalise them.
We also have a trade arm which offers manufacturing for fashion houses, interior designers, designer makers and individuals who purchase in larger quantities for their own businesses.
What do you enjoy most about being your own boss?
I love being able to choose my own hours, and control our standards of production. We offer a very high quality printing service and excellent customer service. Being responsible for these things means that our customers can rely on us week in and out for great fabrics and papers.
What do you wish you'd have known before you started out?
I'd have probably employed more staff a lot earlier. When we first set up the business I was finishing an MBA, moving house, and having my first child. It was a mean feat and I lost a few years doing it. We wanted to keep our start-up costs down but staff would have certainly eased the burden.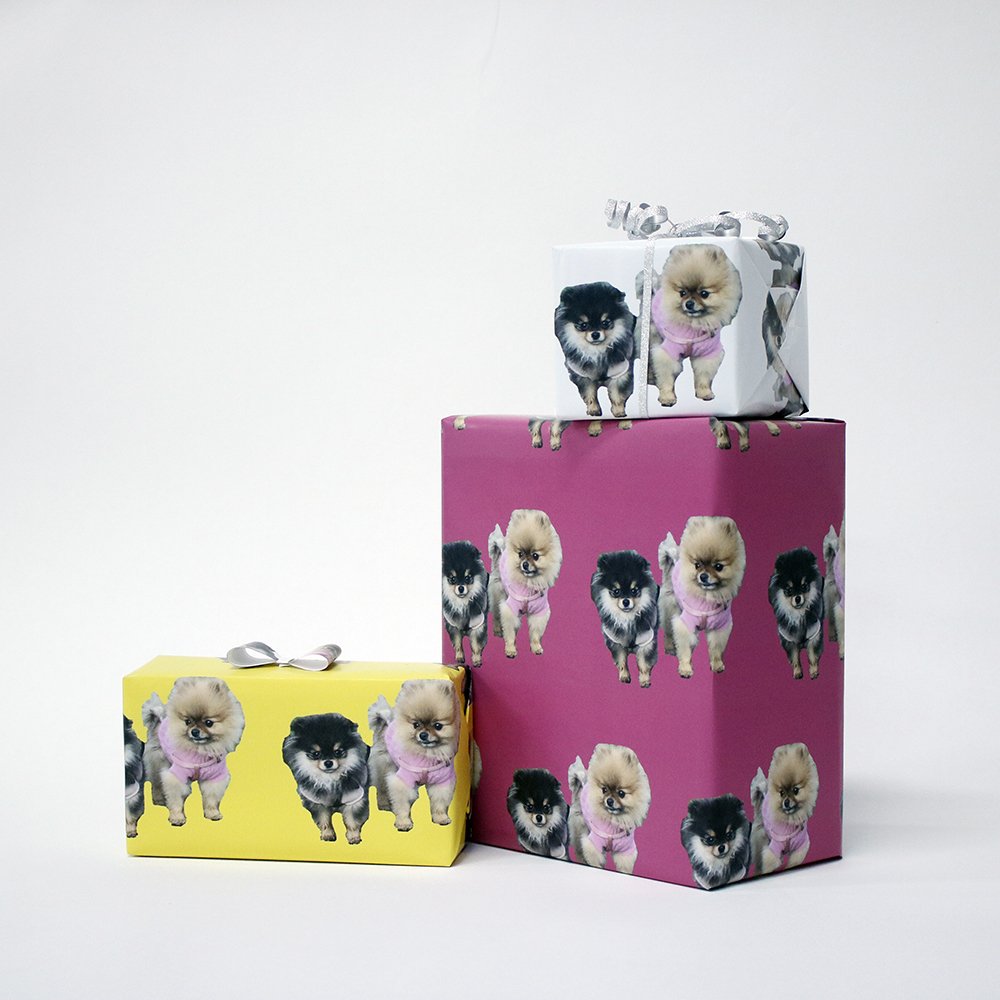 Can you talk us through a typical day in your life…
I normally wake up around 5.30am to help feed my baby and aim to be in work for 7-7.30am. One of the reasons we set up the company was to ensure I can spend time being a dad.
I work 15 minutes from home so I make a few calls on the way in. I generally spend time in the morning preparing the day's production runs across our digital printers and focusing on any bespoke artwork I have. Once staff members come in, we have meetings, work on production or speak to/meet customers. Our customers come from all over the world so it often means emailing a customer at 2am in Australia or America to give them help or support. Then Hermes, our commercial director, often head out of the office to visit customers or welcome people to our showroom.
What three things are you most proud of in terms of how you've grown your business?
That we now have over 750 artists contributing to our site
A friend telling me that his friend in France started a business because of the quality printing she got from us – this was very satisfying
The growing collaborations. We recently did work for Chiara Ferragni (the face of Amazon fashion and Levi's) and printed for Artemis's favorite, Alexander McQueen, which was a big moment for us. We are currently doing printing work for some other really famous artists.
What kind of team do you have around you to support you and your business?
In addition to Artemis, we have:
Hermes, our charismatic commercial director and partner, who liaises with all the customers and finds new projects to work on. He has a great eye for finding new opportunities and pushes us to look beyond our horizons.
Daisy, our super media and editorial manager who handles our social and collaboration side and gets us featured in places like the Huffington Post. She's currently finishing her Masters in Fashion Entrepreneurship.
Thomas, our printer, is a trained and talented illustrator and artist.
Plus various photography / studio assistants, web developers and server team and our PR team.
It's important to create a fun atmosphere at work so we all feel excited about coming in every day.
What are the most challenging parts about running your own business? Why?
Finding time to do everything. Running your own business is all about juggling lots of balls: making sure staff are working as a team; customers are happy; bills are paid on time; regulations are met, etc. I'd work 100 hours a day if I could. I couldn't do my job without the support of Artemis. She keeps me grounded and focused and she is a constant source of new inspiration and ideas for the company.
I recently finished my MBA dissertation on Female Entrepreneurship in the UK and I discovered that the top three struggles entrepreneurs faced are ' Time, Money & expertise and skills'. I tend to agree.
What risks have you taken and what sacrifices have you made as your business has grown?
Well, opening up the factory was a big risk – it's a 3,000sqft premises and we have invested hugely in fantastic machinery and staff to produce the best quality fabrics and papers. We took an educated chance on the success of the business.
We are still growing so the sacrifices are still to be made – but my social life is definitely taking a hit at the moment.
What makes you excited about your business right now?
We are close to hitting 1,000 designers on the site and over 10k Instagram followers. We're also proud to have collections with some of the UK's biggest fashion houses and I am excited to see these hit the shops soon. I love it whenever our work is in the public eye, whether it's showcasing in London Fashion Week or featuring on Etsy for a small creator.
What are your hopes and dreams for the future?
To keep growing and innovating, and inspiring designers to be creative. My dream one day is to have a fully automated factory where designs are put in and finished on fabric before they are even touched by a person. We are close but there is still a lot of work to do.
Finally, for designers, what five things do they need to consider when designing a pattern specifically for printing onto fabric or wallpaper?
Set your colour mode and DPI settings first to ensure you get no surprises later
Always consider what you are designing for in terms of layout and scale
If you are designing a repeat, double and triple check it before sending it to print as those white lines can ruin a beautiful design
Unless it's geometric or repeating, try and design in a more abstract or fluid way or mix in textures or other elements. Often designers get lazy and simply mirror or tile their work, which can make designs less attractive or interesting.
Consider which fabric you are designing for and test it – as different fabrics give massively different effects and can inspire alternate uses
Connect with Fashion Formula:  Website  |  Instagram  | Facebook |  Twitter
---
Quick fire question round
Describe yourself in three words: Energetic, innovative, problem solving
Who or what inspires you? Every day life and all the artists around me.
What saying or quote do you live by? In losing, never lose the lesson –in other words, learn from your mistakes and grow.
In your free time you enjoy… Being with my family, listening to music, classic cars, good food, friends and travelling the world.
What three things don't people don't know about you…
My favourite artist is Rene Magritte
I'm addicted to Kolokithakia (Greek fried courgette)
I've always been mesmerized by the designs of Missoni, Etro and Pucci – they inspired my passion for textiles.
Save

---