Wraptious is a growing community of over thirty artists (Wraptees) who love to create and share innovative, awesome art. Painters, illustrators, photographers, designers who work with typography – it doesn't matter – if the work is cool and different, Wraptious believes it should be shared and enjoyed. The business started with gift wrap, and it now offers cards, cushions, prints, coasters, mugs, placemats and t-shirts too.
We caught up with Simon Wadsworth, founder of Wraptious to find out more about this inspiring company and what he loves about being his own boss…
Tell us about yourself and your journey to this point?
Despite my huge passion for art and design, I was led down a very academic path. Even at school my subjects were science-based. No art, music or languages! Yet away from the classroom, I played guitar and piano, many sports, read widely and attended "Art Club" every week. What this says about our education system, not picking up on creative cues, is a debate for another day however!
Academia continued with studying Geography at The University of Leeds. I love geography – not just for the colouring in – but it offered great opportunities to explore, and I was fortunate to study in Canada and Singapore. Before I knew it, I had enrolled on the John Lewis Partnership Graduate Scheme in London and the career railroad continued for a further seven years.
Working for the John Lewis Partnership was great for a time – challenging, very rewarding and a fab company to work for. But those creative juices kept flowing and after a time found myself questioning why I was doing, what was essentially a 9-5 office job. I had been saving for a deposit on my first house but instead I made the bold or brash decision to use this money to quit my career, move away from London and try something else.
How did the idea for your business come about?
While working in my previous job, I was always doodling. Though I can't claim credit for any creative masterpieces, my friends always proclaimed that these would look great on wrapping paper. That sounded like fun! I began exploring the market, learning what works, where there may be opportunities and I set myself the mission of creating some awesome giftwrap!
At the same time, I joined Shillington College in Manchester for an intense, three-month graphic design course. It was fantastic, and provided much needed skills and confidence to get me started. It also introduced me to many very talented Manchester artists and designers, who I began collaborating with to create beautiful wrapping paper.
How did you get Wraptious off the ground?
I set up my very first market stall at Manchester's Castlefield Market, and lasted a full half-day before I made a sharp exit as the heavens opened and my stand was blown away! Selling gift wrap sounds great on paper, but it was becoming clear quickly that the practicalities were difficult – storing, shipping, selling outside – all had challenges you don't think through unless you give it a go. It was clear I needed to evolve the initial plan, and so I started selling other products too, like art prints and greeting cards.
Wraptious would not be where it is today if it wasn't for these artisan markets. We are lucky in Manchester to have a wide selection with strong footfall, allowing me to attend over 250 markets days in my first two years! It was tiring – setting up and closing down each time – but after a bumpy few months, I began to learn what sold well, what didn't, price points, and our message.
Markets were also great for cashflow, and they allowed us to introduce new artists and products, open a website, and attend our first trade show, Spring Fair at the Birmingham NEC in February 2015. Three years after our first stall at Castlefield, Wraptious's mission has very much evolved from creating wrapping paper, to being about supporting and providing opportunities for all artists, and sharing their work across a breadth of cool products. It's been a fun journey so far. The more we grow, the more we can support each other and bring exciting new talent, products and stories to you.
How did the name 'Wraptious' come about?
It harks back to the days when the business plan was all about wrapping paper. I wanted a name that sounded fun, was memorable and had some relevance to what we're about. Also importantly, was the need for the name to not be found anywhere else online.
What do you most enjoy most about being your own boss?
Working in my pyjamas and not setting an alarm in the mornings? I joke! Being my own boss is in equal parts extremely rewarding and absolutely terrifying. Just knowing I am making a small difference, creating jobs and supporting artists, keeps me motivated every day. I really enjoy the flexibility of working from home too – or anywhere where there's an Internet connection, it's nice to not feel 'trapped' in a work office environment every day. Ultimately, I enjoy the freedom to be able to set my own path and not have to compromise on what I believe is the right thing to do.
What do you wish you'd have known before you started out?
If I could start over, I would go back further than when I started Wraptious, back to when I was 17 and not have gone to University. I loved my time at University, don't get me wrong, and was lucky to study a subject I truly enjoyed. But I wish I had followed by heart rather than my head and used my time more practically in building something meaningful and making a difference. It's great to see the UK's apprenticeship opportunities continuing to grow in popularity as young people consider alternate options, not least due to the rising cost of education.
Talk us through a typical day in your life…
It sounds like a cliché but every day really is different. For many weeks a year, you'll find us at the various markets and shows that we exhibit at. But when not attending these I am generally a late riser – waking around 10am, and spending the first couple of hours having breakfast, reading, going for a run, and replying to quick emails. I become more focused from early afternoon, and then generally work through until 3am. I work mostly from home, though pop to our warehouse a couple of times a week to check up on our stock and the team. All our meetings with the team are in local coffee shops too. It's a nice mixture.
Much of my work is reactive – creating invoices, responding to emails, taking calls, ordering more products etc. But it is the proactive work I most enjoy – working with our artists creating new products, improving our online presence, designing our show stands and catalogues, visiting our trade customers, developing our new website, thinking about the future.
I'm a workaholic and will do about 14-16 hours work a day, seven days a week. Working on improving my work-life balance is one of my aims for 2017. Learning to say 'no' to things, being more selective about how I spend my time and delegating more. The latter is something I'm now fortunately able to do more and more with a strong growing team and higher revenue. Another tip I'm working on is how I manage my phone – turning off email notifications for example. Even just leaving my phone to charge overnight downstairs rather than by my bed, has really improved my morning routine and balance!
What three things are you most proud of in terms of how you've grown your business?
As a business we are constantly in a struggle to keep prices reasonable, even more so when working with trade customers where margins are tight. Many of our competitors import their products from places like China so competing against them often feels like an uphill battle! Though there is always a temptation to move manufacturing abroad ourselves, I am proud that we have stuck to our principles in supporting British manufacturing across all our products and, in turn, are spreading the word about how important we think it is for shops to get behind this message too.
Secondly, I am immensely proud of my team that has worked extremely hard the last two years in allowing Wraptious to grow 600 per cent. It has been a huge learning curve for all of us, but the way everyone has stuck together, and been willing to step outside their comfort zones with boundless energy, has been fantastic.
Mostly though, I am proud of the growing opportunities that we are able to provide to artists. There is far more talent than opportunity out there, and the more we are able to grow the better we can support artists. We have our biannual competitions that allow anyone to have their work on our site and social media, while the winners have gone on to work with us on creating great products – most notably Katherine Williams, who was a student when she won our competition, and subsequently won Gift of the Year 2016 for her range of cushions!
We have also just launched a new service to help artists create their own products. We're really excited by this – we hear from artists often that creating new products is hard – finding the right suppliers, or very expensive, etc. We are now able to take some of these headaches away and help artists develop their own ranges to sell on.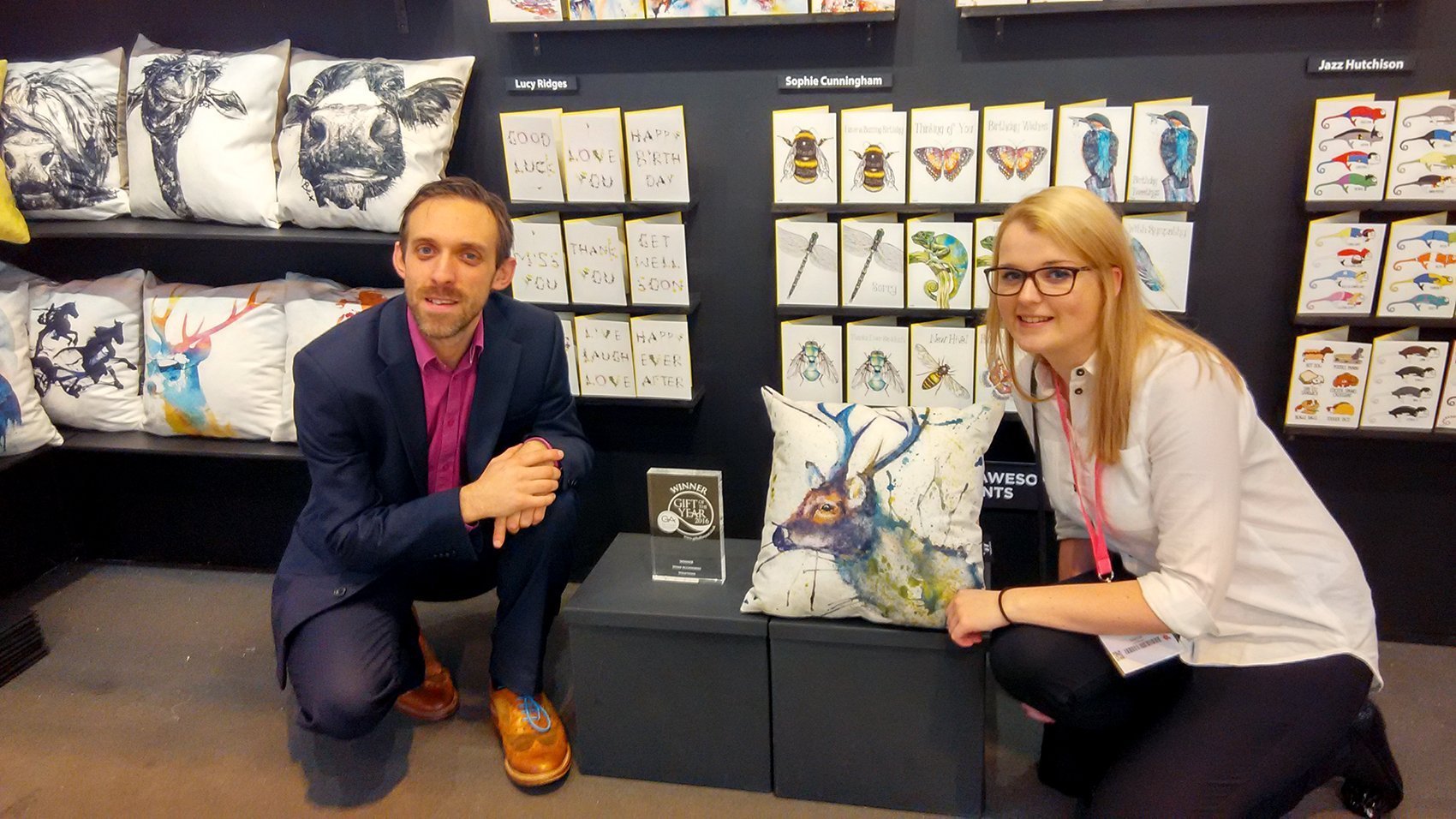 What kind of team do you have around you to support you and your business?
I feel very fortunate to have a fantastic team around me – Wraptious would not be where it is without them. There is my business partner and good friend of over 20 years, John-Paul, who is gifted at all things programming and web-design. Naomi who heads up our marketing and photography has done a fantastic job building our brand, after casually approaching me at a market stall two years ago asking if I needed any support! We also have a team of meticulous packers in our warehouse, amazing agents across the UK who keep us busy, and suppliers who are so passionate about what they make that it's a privilege to work with them all. All of us have come together to do the best we can to support our many talented artists who continue to create awesome work.
What are the most challenging parts about running your own business? Why?
For me, the most challenging aspect of running my business is staying focused. There are a myriad of ways we could choose to go, but if we chose them all we'd run out of time and money very quickly. Not to mention that we'd probably do none of them justice, as we'd spread our efforts and skills too thinly. So, the hardest challenge is choosing what not to do – to not be tempted by every salesman and friend who gives you ideas.
The other major challenge is cash flow. This is the main reason why small businesses go bust. You could have the best product in the world, but if you have no cash available to pay suppliers or staff, for example, then you're a sitting duck. It's like a real-life game of Monopoly, and it's a challenge that we need to be mindful of at all times.
How has the industry changed since you started Wraptious back in 2013?
Even in the few years that Wraptious has been going, I have seen lot of changes in the industry. For me, one of the key drivers of this is the improvement in quality and cost-effectiveness of digital printing, which has opened up so many doors for emerging artists wanting to have a go selling their wares. Trade shows are becoming more accessible (and therefore more competitive!), such as the greeting card focused PG Live. Even Spring Fair has recently introduced small stand opportunities, including a GCA introductory area, new for 2017. Couple this with the ever-increasing popularity of sites like Etsy and Not On The High Street and you have an industry that has become extremely accessible for artists wanting to explore, with an explosion of new micro businesses forming. It's an exciting time!
What advice would you give any artist interested in becoming a wraptee?
Have fun! This joy and positivity always comes across in the strongest work we receive. Be memorable, but also be aware of what sells well – maybe try some local craft markets or sell on Facebook or Etsy and find out which pieces do best for you. Though our customers have a strong affinity to animal work, we are always looking for something that bit different.
What excites you most about your business right now and what are your big dreams for the future?
I love this industry. Everyone is so friendly and supportive. Even at shows where we are all competing with each other, it does not feel like it. Support, advice, encouragement (and hugs) are all shared willingly. If only everywhere was like this! Every week I'm excited about who we may come into contact with, and what opportunities we may stumble upon or create. Finally, I'm extremely excited about a new web platform we're building that will open Wraptious's doors to every artist – allowing everyone to have their own permanent Wraptious Profile and ability to have their work on up to 100 products instantaneously, for free. It's part of my vision to make this industry inclusive and accessible for all. Watch this space…!
Connect with Wraptious:  Website  |  Instagram  |  Facebook  | Twitter  |  LinkedIn 
---
Quick fire questions
Describe yourself in three words: Resourceful, driven, honest.
Who or what inspires you? Artists who have the courage to share their work with us.
In your spare time you enjoy… Running, cooking and travelling.
What three things don't people know about you?

I've been to the Glastonbury Festival 14 times
My weird party trick is being able to hammer a nail into my nose…
I have a huge sweet tooth.
---
Save

---