Last year, the Make it in Design team travelled 1,127 miles (1813 Kilometers) from the UK to the capital city of Finland, Helsinki. One of the main reasons for our visit was to take a exclusive, behind the scenes factory tour of one of the world's first lifestyle brands – Marimekko!
We featured our fabulous trip inside the pages of Issue 10 of MOYO Magazine, and we will be sharing TONS of exclusive, behind-the-scenes content in manufacturing week of Module 3: Monetising Your Designs.
---
STEPPING INSIDE THE FACTORY…
Marimekko is one of those inspirational brands that really has stood the test of time. For decades it has been bringing bold pattern and stunning colour to people's homes and wardrobes and the ideas and inspiration just keep flowing. It's no wonder that today the brand is stronger than ever!
As soon as we enter Marimekko HQ, we found ourselves grabbing our cameras and snapping away. Block colours, florals, stripes – everywhere we looked we were reminded of Marimekko's brand power and the endless possibilities the surface pattern design arena offers. Chairs, curtains, cushions, rugs, serviettes, tablecloths, teapots, plates, cutlery – you name it, Marimekko is creating or beautifying it. Even the staff members were dressed head-to-toe in Marimekko fashion. We truly were in heaven!
We received a warm welcome from Marimekko's Communications and PR Coordinator, Lila, who explained that everyone was working hard on the Spring/Summer 2017 collection ready to launch at Paris Fashion Week – WOW! We felt so lucky to walk the factory floor and get an exclusive look at the collection in production! Here's a fabulous snap featured on the Marimekko Facebook page from that exact collection!
---
MANUFACTURING GALORE!
We could barely hear our own voices as the huge rotary and flatbed printing machines beat rhythmically away. The tour started with original screens of some of the very first printed patterns, and then we embarked on an amazing journey from sketch and pattern, to colour and print, to production and finally, end product. It was fascinating and we stopped to take photos and video as much of the process as we're allowed to.
Here are some fabulous photos of the manufacturing side of things – we were truly in awe when we saw just how much work, care, brain power, creativity, and technical expertise goes into running this phenomenal factory.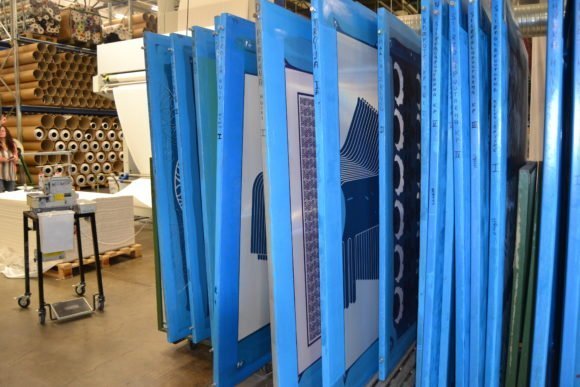 Here's a fabulous video from the Marimekko Facebook page showing their streamlined manufacturing process – we LOVE it!
---
THE TEAM LOVED…
Overall it was a wonderful trip – each one of us had a special part of the tour that we liked the most, with Rachael Taylor loving the old screens from historic iconic Marimekko prints; Beth Kempton being impressed by the print process; Vic Lem being fascinated by the collection-making process; and Kelly Crossley excited by the machines running churning out amazing designer products right in front of her!
Here's a video Rachael shared of the tour and a lovely team photo!
---
Check out the rest of our Helsinki trip in MOYO Magazine!
---
THANK YOU NADJA SARELL!
We wish to thank Nadja Sarell who helped us to plan our trip to Helsinki and who made arrangements on our behalf to visit the Marimekko factory. We are all truly grateful for ALL of your kind help and it was such a joy to meet you. So glad you could take the factory tour with us too!
---
FOLLOW MARIMEKKO!
Website / Instagram / Facebook / Twitter / Pinterest / YouTube / LinkedIn
---