Today we are thrilled to be bring you our interview with the amazing, talented, and super-creative Mr Doodle!  A true doodle addict, Mr Doodle spends his days with a marker pen in-hand, turning the world into his canvas. We recently caught up with Mr Doodle to hear a bit more about how he came to be 'Mr Doodle,' and some of the challenges, exciting moments, and things that have inspired him along the way.
---
All About Mr Doodle
Mr Doodle is UK based artist who's work features a mixture of characters, objects, and patterns influenced by cereal boxes, video games, and retro cartoons. The result? A quirky, fun, and unique blend of doodle craziness! Mr Doodle began doodling in his sketchbooks as a child, and his rapid doodle craze took him on a fun journey to doodling on all kinds of objects. His work is described as "Graffiti Spaghetti" because it twists and tangles over everything in its path, resulting in pieces of work that have been completely consumed by the 'Mr Doodle bug!' You can see most of Mr Doodle's work in London in the form of murals and installations in people's homes, offices and in the street.
---
Fun Q&A
Could you share a little about yourself and your journey to where you are in your artistic career?
I'm Mr Doodle! But my real name is Sam. I'm 23 years old and I've been doodling for as long as I can remember. I have always loved to doodle because I think it is really fun and a very quick and accessible way to express yourself. I doodled over all my exercise books at school and this eventually lead to me doodling over the school walls and bits of furniture too. This has snowballed into my life as 'Mr Doodle..'
What's it like being Mr Doodle? Can you describe a typical day in your life?
It is fun! Each day is quite different to the next, some days I am spray doodling a van and some days I am drawing over an office table. Sometimes I am working on digital animation commissions and others I am performing wacky doodle dances for my Instagram feed. I usually work for about 14-16 hours a day and this consists of iPhone doodling, sketchbook doodling, e mails, commissioned work and anything else that falls under my list of things to do that day.
What are some big challenges you have faced in establishing yourself as an artist? What lessons have you learnt, and how have you grown from them?
I represent myself for commissioned work so things like pricing my work and dealing with clients is something that takes some getting used to, but it get's easier after you've done it the first few times. It's also a learning process to figure out what kind of work is best for bringing you further work and focusing your energy on those kinds of projects. I have grown because I have become less attached to each thing I make and less precious about everything being completely correct.
What's the smallest, biggest, and weirdest things you've ever doodled?
A leaf, a construction tunnel, and a chucked out microwave outside someone's house.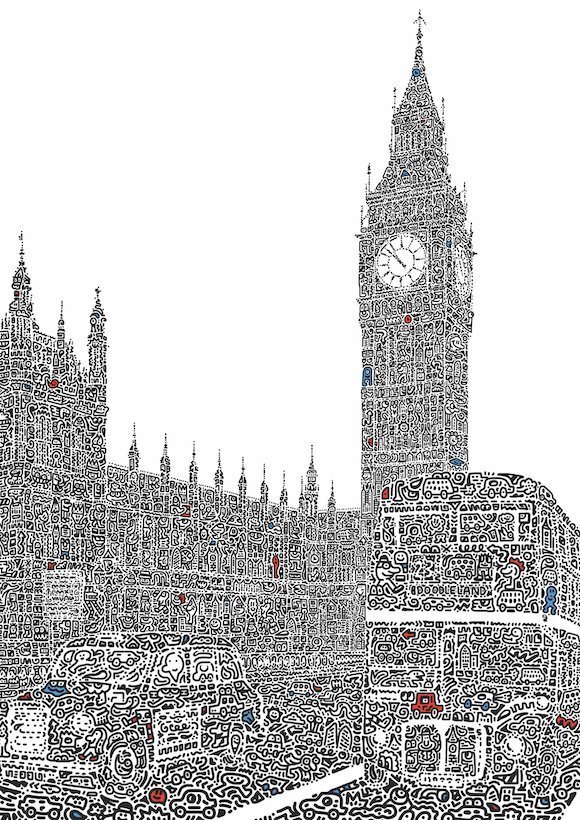 What have been the highlights of your career to date in terms of making it as an independent artist?
Walking down the street and having kids tell me that they think my doodles are awesome.
Where do you find your inspiration and what/who are your big influences?
I don't ever seek out inspiration because that's just not what works for me. I know that a lot of my work has stemmed from my interest in video games, comic books and cartoon based food packaging that I studied as a child.
Can you tell us some of your favourite commissions you've worked on, what you're working on at the moment and what's next?
Yes! Some of my favourites have been the MTV wall, the 48 Hour doodle marathon, and Project Doodledface where I drew over 339 of my followers faces. I have some cool projects lined up too! Festivals, exhibitions and perhaps even another doodle marathon!
Aside from art, what are your big passions in life? What do you do in your free time, and how do these things help you focus/work better?
Nothing else at all, I am definitely the wrong person to ask for this, all my energy goes to Mr Doodle.
What advice would you give anyone who wants to make a living in the art world?
Experiment, find what you like, and then blow that up.
What's the big dream for Mr Doodle and why?
World domination through doodling! Because I want to see my drawings everywhere.
---
Quick Fire Questions
• What three words best describe you?
Obsessive compulsive doodler
• What's your preferred social media platform?
Instagram
• What's your most treasured possession?
Sketchbooks
• Can you share three things people don't know about you?
I used to sell sweets when I was at school to save up for University to study Illustration. I like listening to UFO conspiracy theories sometimes when I work. I have a cardboard dog called Doodle Dog.
• What quote or saying do you live by?
Doodle.
---
Follow Mr Doodle
Instagram / Website / Facebook

---