A fun bit of news from the Rachael Taylor Studio…
---
Hi everyone!
I have been busily preparing for Surtex over the last few weeks where I am so excited to be exhibiting my brand new portfolio on the Lilla Rogers Studio stand (2810).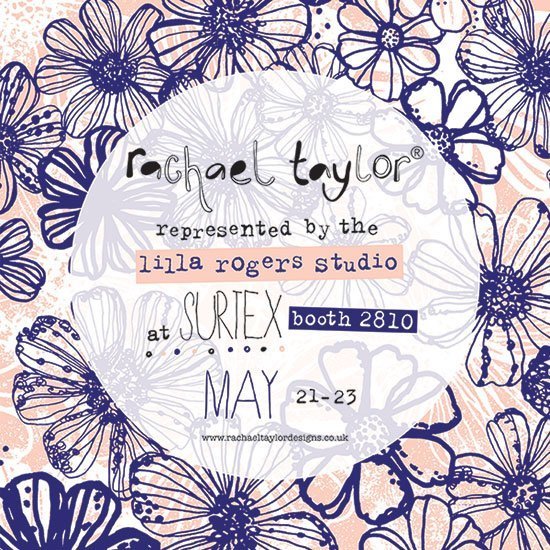 ---
>> Let's meet up! <<
Surtex meet up / for the Make it in Design School students:
Sunday 21 May – 2.30pm If you are part of my online design community and you are at the show already, I would love for you to meet up with me at Surtex. I've arranged an informal meet up where we will go for a coffee (wherever looks quiet). Our meeting location will be at the internal doorway in the entrance of Surtex on at 2.30pm. Please note this will be an informal chat so I won't be offering any portfolio reviews – it's just a chance to have a creative catch up!
If you are one of my lovely clients or you are a company wanting to view my new work then you will be able to view my portfolio on the Lilla Rogers Studio stand (2810), which is looked after by my wonderful agents. However, if you would like to arrange a meeting with me in person please get in touch – rachael@rachaeltaylordesigns.co.uk
I'll also be walking around Surtex on Sunday 21 and Monday 22 so say hello if you spot me.
Guggenheim art gallery meet up:
Tuesday 23 May – 3.00pm If you'd like the chance to meet up with me outside of Surtex I will be visiting the Guggenheim art gallery. I'll wait outside at 3pm on Tuesday 23 May by the doors before going to to buy a ticket. I'll likely be there until it closes at 5.45pm and you are welcome to come and chat with me as we walk round the gallery. Again, this will just be an informal meet up and I won't be doing any portfolio reviews. This is just a creative gathering whilst we get to appreciate the beautiful artwork the gallery has to offer!
---
Hope to see you there!
Rachael xoxo

---