Monica Mota is a talented and passionate surface pattern designer and recent graduate of the Make it in Design Ultimate Portfolio Builder. With a colourful and expressive portfolio behind her, Monica has big aspirations within the surface pattern industry and has already seen lots of success within the MIID community and has been featured in various creative press. Today, Monica shares on her design journey and her experience with Make it in Design.
---
About Monica
Monica is an artist and designer, based in Porto, Portugal. Her major influences lie within nature, cities and other inspiring places that she visits.
---
When did your interest in design first start and how did that come about?
I have always loved to draw and paint, more or less a year ago I signed up for the Make it in Design Courses and discovered the world of patterns. I fell in love. Since that moment, I have done all the surface pattern design classes that I have come across.
What steps did you take to get to where you are now as a designer?
My art education has been primarily online with very few in person classes. I made the Art and Business Surface Design Course M1 and have subsequently taken M2, M3 and the UPB. It gave me the skills to start designing. Also i have been consistently educating myself in design practice and also take courses in Illustrator and Photoshop.
How would you describe your style?
Hand drawn, colourful and fun.
What kind of designer do you want to be known as?
I would like to be known as a designer with distinctive and recognisable style.
What are you working on currently?
I'm currently working on building my portfolio.
What advice would you give emerging designers wanting to build their portfolios?
Be yourself, find your voice, work hard and always be persistent. I would definitely recommend to do The Art and Business Surface Design and also UPB Courses from Make it in Design.
What would be your dream design gig?
To do a range of patterns for a top brand.
Looking ahead what are your major goals for the next couple of years?
Continue designing and build my own brand. Do a trade show and gain clients.
If you were a pattern what kind of a pattern would you be and why?
I would be a colourful kitchen pattern. Kitchen utensils and food are my favourite things to draw!
What was the most important lesson you took away from UPB?
Not to throw anything away and create what you are passionate about.
What difference did it make to have a supportive community of fellow students and how important do you think that will be going forward?
The Make it in Design community / Facebook groups are one of the most valuable aspects of the course. It's very helpful to receive constructive feedback and knowledge and there is always someone to help you and answer your questions.
Can you share on your experience of the live briefs and student work reviews?
The live briefs are a great challenge and took a lot of hard work. They are awesome; you get your work in front real companies. I was shortlisted for the Printsource competition; this gave me lots of confidence. The reviews were extremely helpful and gave you ideas how to improve your designs!
Follow Monica!
---
About Ultimate Portfolio Builder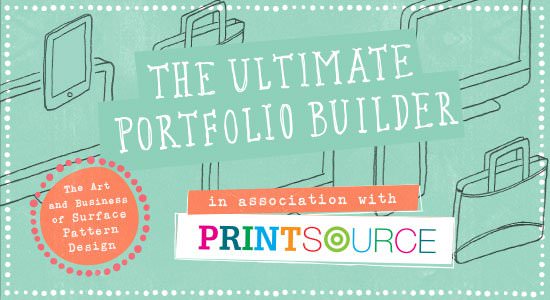 The Ultimate Portfolio Builder is an advanced seven-week online professional surface pattern design course, consisting of an intense five-week class followed by two weeks of design reviews.
This powerful course will give you all the tools and advice you need to grow your body of commercially viable work, refine and strengthen your professional design portfolio and give you the fast-track to trade show success.
Brought to you in association with Printsource New York, one of the top surface and textile design shows in the world, this course will provide you with exclusive insight to help you secure the right buyers for your work, deal effectively with clients, get trade show ready and discover the secrets to landing work you dream of.
UPB Class begins September 11th 
---

---