We are delighted to share this inspiring interview with Laura Bethmann – a talented watercolour painter who gardens, prints plants, and writes books (Read on for details how to win one of two free copies of her amazing book!)
Laura's paintings and nature print paintings are informed by a deep appreciation for the beauty and mystery of the natural world. Her work is exhibited in museums, galleries, and online and she regularly teaches workshops and gives presentations.
This interview has been extracted from MOYO magazine issue 9 and here she talks business, books and botanicals and explains why nature is the key to living a life she loves.
Laura Bethmann – artist and author
Tell us about yourself and your journey to this point…
In grade school, during class, I'd keep my open notebook half hidden inside my desk and draw. In high school, I wrote stories and painted pictures directly on the walls of my room. I was never encouraged to pursue art as a career, but I loved it and never worried about whether or not I had any talent. Sometimes life just steers you in a certain direction.
I enrolled in an advertising design curriculum in college but later switched to fine arts. Watercolour and printmaking quickly became my favourite mediums. The natural world has influenced my work for a long time. The night sky, drifting autumn leaves, ice crystals on the windowpane, plants springing up through the earth like magic…
One day, while painting by a riverside, I picked up a leaf covered with pigment from the iron-rich waters of the Pine Barrens in southern New Jersey. I pressed it to my damp watercolour paper and thought "WOW!" Then I brushed some watercolour paint on the leaf, printed it again, and I was hooked.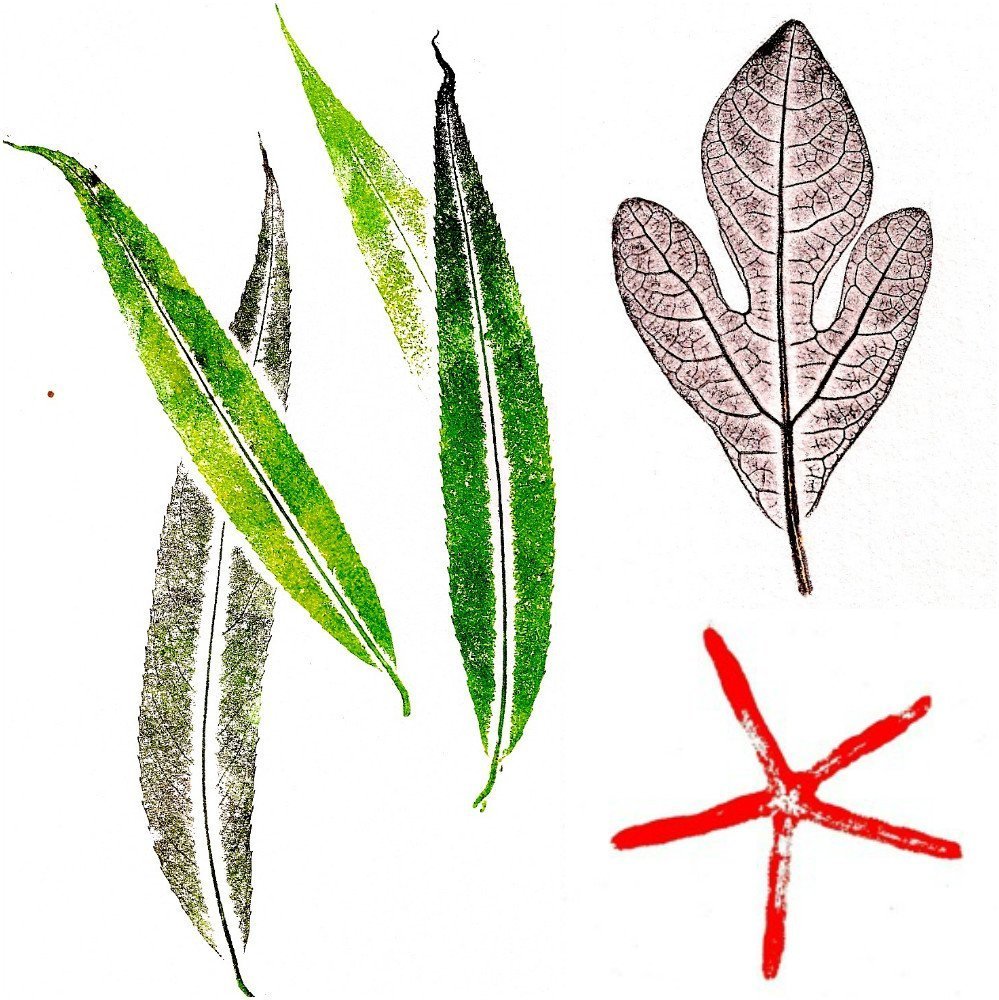 Laura Bethmann's Willow Leaves, Sassafras Leaf and Starfish nature prints
I was routinely adding leaf and flower prints to my watercolour paintings. About a year later, I came across a library book, Plant Prints and Collages by Ida Geary, and discovered that I had been nature printing! The more I found out about the fascinating history and widespread use of this ancient practice, the more I was intrigued. That was nearly four decades ago. I've been experimenting with the nature printing technique, and painting in watercolour, ever since.
Laura Bethmann nature prints
How has your business evolved over the years and what are you most proud of?
When my husband and I moved permanently to southern New Jersey I began painting and drawing on commission for several local businesses. This proved to be a valuable experience, especially learning about business practices. Six years later, when my second baby was born, I found it too difficult trying to balance being a mum with all the commission work I'd been doing.
Laura Bethmann – my garden gate daylilies
Nature printing requires less time and concentration than painting and so, with my garden providing a variety of plants to play with, I began printing in a serious way in my home/studio. I framed dozens of prints, created a display and some marketing materials and headed off, with my young daughters in tow, to community art shows and festivals. My husband, thankfully, was a huge help. I'm proud of having been able to set up my home/studio with a play space so that I could work while my kids played alongside me. I shared with them the value of art and the botanical world.
Laura Bethmann giving an artist talk at Monmouth Museum, New Jersey
The shows I entered led to teaching workshops. After writing an article for a national magazine devoted to the herbs I loved to grow and nature print, I received a call from a herb grower/author asking if I'd ever thought of writing a book about nature printing. She generously gave me the name of her publisher and the confidence to send them a proposal. This introduction led to my first book Nature Printing with Herbs, Fruits and Flowers (Storey Publishing).
I've gone on to teach workshops on the east and west coasts in the U.S. and in England, give nature-printing presentations, and write two more books.
What do you most enjoy about these creative processes?
My artwork is about bright colour, and light and dark contrast, and I create images that are brimming with life. I thoroughly enjoy working with fresh plants and making a design plan. Often, I combine painting and nature printing. There are always changes to the original plan, but having a guide to begin works for me.
'Pears' ink & watercolour nature print painting

What is your creative work space/studio like?
My studio is the third floor of my Victorian-era home. It was an unfinished attic when we moved in, and it has since undergone two renovations. It's a 250 square foot space which is very well-lit and filled with works-in-progress, books, reference materials, a large drafting table, a matting and framing table, a cabinet of large paper file drawers, a desk, and shelves full of supplies. I bring in fresh plants as I need them.
Laura Bethmann – a watercolour palette on my worktable
Talk us through a typical day in your life…
About 65 per cent of my work time is spent painting or nature printing. Creating art is, of course, the best part. Taking care of business is important and can be exciting, but I find I have to make myself do it. Deadlines are helpful, and necessary, for getting the business side of things accomplished!
Laura Bethmann 'Moons in Mind' Tiger Lilies watercolour
I keep track of the notes and sketches for ongoing projects on separate clipboards. I always work on several pieces at time. When I get blocked on one, I move to another. It helps to put a piece away in a drawer for a few days because when I take it out again, I have a fresh perspective.
I listen to music, podcasts or audio books while working. And drink lots of tea! Most of my relaxing and inspirational activities are botanical or art-related. I like gardening, and visiting public gardens and museums.
Laura Bethmann 'Tomato' ink & watercolour nature print painting with hand lettering
You're a keen photographer. What role does photography play in your work?
Photographs are a valuable reference. When painting, I begin with fresh plants, but I need to take lots of photos to refer to once the flowers fade. I take photos of plants in their natural habitats for creating compositions.
Laura Bethmann – 'Four Moons in the Shade' Garden Sweet Woodruff watercolour
How will your most recent book, Hand Printing From Nature, help us to take decorative printing to the next level?
Hand-printed natural objects are direct impressions of life. Freshly picked bits of nature – carefully inked and pressed to paper, fabric, and other surfaces – make organic, life-sized images. The forms, patterns, and textures of flowers, leaves, roots, wood grain, fruits, vegetables, feathers, shells, and a host of other found objects can produce detailed, expressive art.
My book, Hand Printing from Nature, contains step-by-step instructions and special tips for creating dozens of designs and 50 projects. It offers inspiration that will spark creative personalities forward, and encourage them to expand on their own ideas by finding ways to hand print the natural designs and colours of nature.
Notebooks, ink, nature prints of flowers and leaves on paper, featured in Hand Printing from Nature
'Teapot Wrap' textile paint, nature printed gingko leaves on fabric, featured in Hand Printing from Nature.
Image credit (c) Adam Mastoon
What essential tools and supplies do you keep in your hand printing toolbox?
Nature printing doesn't need to involve special equipment. The basic tools and supplies are a simple affair. The most important are the pigments and substrates. I believe it's essential to use the best quality inks, paints, papers and fabrics available.
My nature printing tool-kit contains:
Professional quality oil-based water-soluble relief inks, heavy-bodied acrylic paints and textile paints
Museum grade papers; cotton, linen and silk fabrics, and blends
A large glass palette for inks; plastic cups for paints
Mat board scraps cut into small rectangles for scooping and mixing pigments.
Pigment applicators – I use cosmetic foam wedge sponges, soft rubber brayers, and bristle brushes
Watercolours and colour pencils
Paper towels and water for cleaning up
A large plastic container to cover my ink palette between printing sessions. The inks I use remain workable for at least a week.
In my studio with hand printing tools and materials
Where do you go to dream up new creative ideas and how do you record all your thoughts?
Ideas can come from anywhere at anytime – when driving, taking a walk, pulling weeds, or frying eggs. One thought leads to another, and ideas are easily forgotten so I have to write or sketch them out ASAP. This is key to my working process. I can't think or organise ideas and pictures in my head, I have to do it on paper.
'Tomato Vine' ink, nature printed wall mural, featured in Hand Printing from Nature.
Image credit (c) Adam Mastoon

What exciting projects are you working on at the moment? Where can we see your work, and when?
I'm currently working on a series of nature print paintings of garden edibles and other foods presented on colourful plates surrounded by a patterned background of geometric designs, garden plants, kitchen paraphernalia or whatever comes to mind. I'm having fun with this series! My work can be seen on my website www.laurabethmann.com and at www.artsysharkgallery.com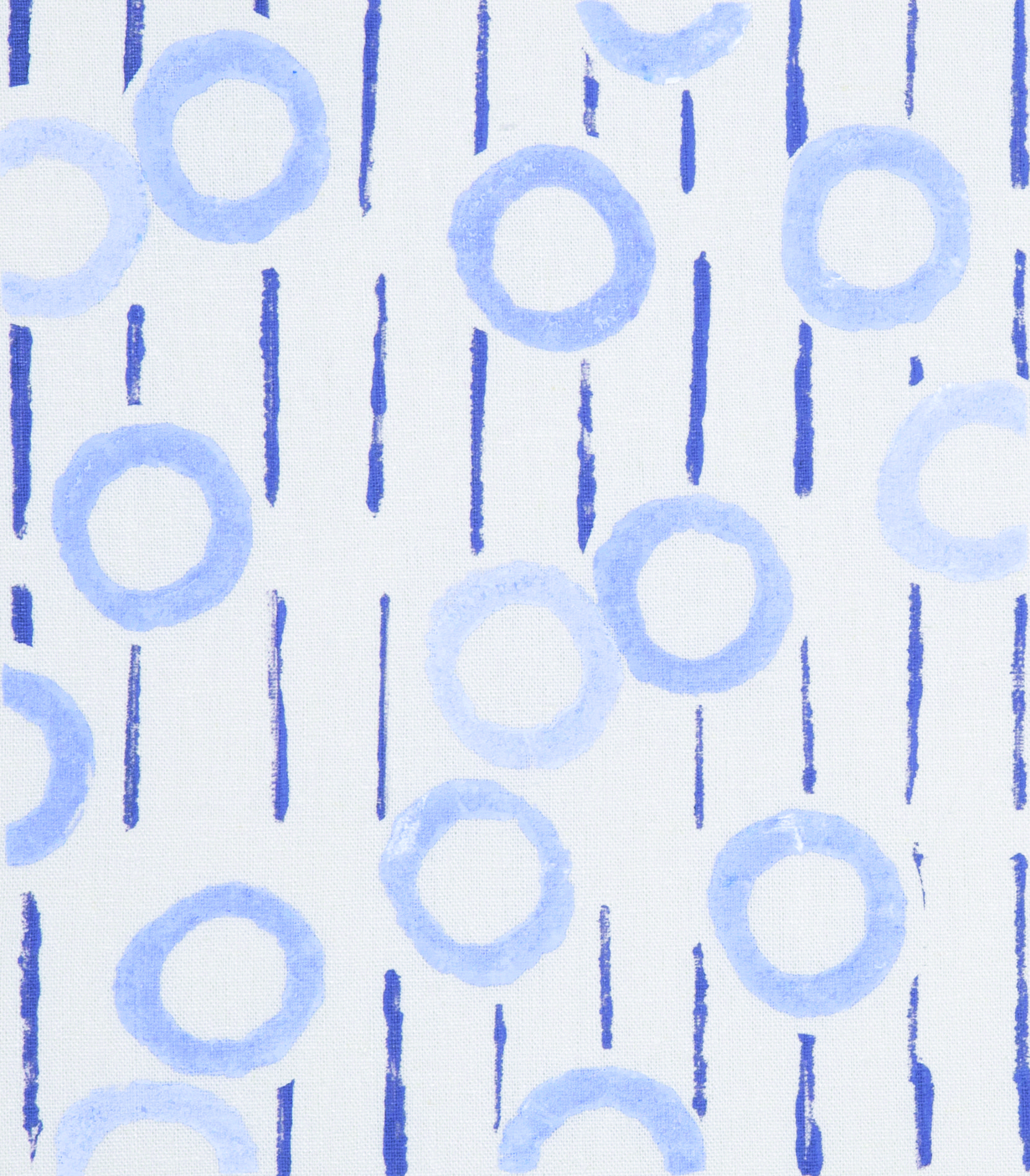 Laura Bethmann – Botanical Geometry, acrylic paint, nature printed mushroom caps and cinnamon sticks on linen
Which nature-inspired artists – past and present – do you most admire and appreciate, and why?
Many fabulous artists have inspired and influenced me, especially artists whose work explores nature including Maria Sibylla Merian, Pandora Sellars, Georgia O'Keeffe, Carolyn Brady, Joseph Raffael, Anne Bevan, and Andy Goldsworthy. And nature printers such as Joseph Breintnall and Henry Bradbury.
Laura Bethmann – 'Garden' hand lettering ink & watercolour nature print painting
You believe that "art is life translated". What do you mean by this?
I mean that we create art from the life we lead. Experience is the real thing but when we create art we marry the real sensory experience to something within ourselves that is beyond the senses. It's the ability to combine experience with our unexplainable something and translate this onto paper and canvas, or sculpted forms, or notes of music, or words on paper, or dance or theatre. And in that translation, the art becomes as real as the experience that inspired it.
Laura Bethmann giving a nature printing demonstration
What skills and qualities are essential if you want to work with watercolour or experiment in hand printing with nature, and what are your tips for experimenting with these forms?
One of the benefits of hand printing nature is that nature has already done most of the work for us! An understanding of the objects we're printing helps quite a bit. I tend to look for interesting textures and forms and it's useful to learn how to prepare nature's objects.
I experiment with how much pigment to use and how much pressure to apply when printing. With a little practice it's quite easy to make an excellent nature printed leaf. A flower is more fragile and requires careful handling and patience. Roots, feathers, glossy plants and other natural objects have their challenges, too. Experimentation is key. Luckily there are many bits of nature out there, and in great quantity. There's actually a section in my book about knowing what to look for and checking endangered and poisonous plants lists, and other precautions. The skill required to make nature printed designs is more on the order of having knowledge of important pictorial elements such as colour theory, form, focal point, and composition.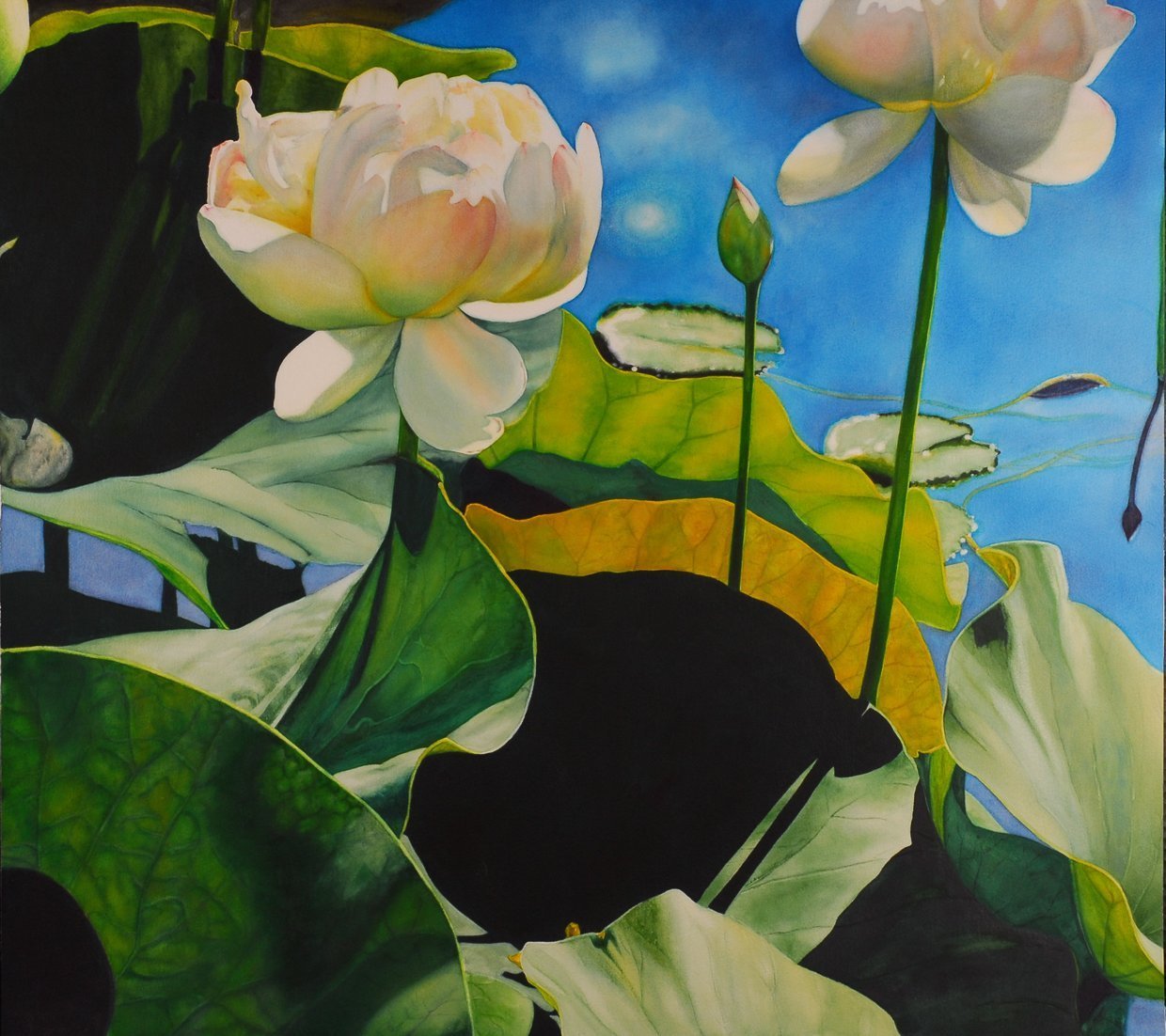 Laura Bethmann – 'Beauty Passing Through' Lotus watercolour
Watercolour painting requires learning the various techniques necessary to achieve the results you're looking for, but three critical things to note are:
Buy high quality supplies – go for the best paints you can afford
Find your preferred paper/s – experiment to find which you prefer
Control the amount of water you use. Remember, it's called watercolour for a reason. Wet-in-wet refers to flowing paint on wet paper. Use this technique if you want a watery look, unruly 'blooms', and hard edges as the paint dries. Dry brush refers to using very little water. The brush is just damp with water and paint. This technique lets you have control. The paint stays where you put it. The amount of water ultimately affects how the paint will behave.
Laura Bethmann – 'Orange' ink & watercolour nature print painting
What are your plans for the year ahead?
I'm submitting work to several national and international juried exhibits. My artwork was just accepted into the new online gallery, www.artsysharkgallery.com Museum quality reproductions of my work, and some originals, are on offered for people to buy. I'm always on the look out for new venues to exhibit. I also have several ideas for my fourth book; I just have to decide which idea I'm most committed to.
One of Laura Bethmann's exhibits in a museum
What advice would you offer anyone who dreams of selling their work?
Here are my tips:
Any artist who plans to sell their work should think about working in series and telling the story behind each piece.
Spend time with your work. Don't be in too much of a hurry to put it out there. And when you do, make sure it's your best work, and that you're proud of it.
Don't let negative people or negative comments hold you back.
Laura Bethmann – Living Connection' Poppies watercolour
Connect with Laura: Website | Facebook
---
Laura's guide to making a 'Feather Bed' headboard
I chose the feather motif and muted colours for this headboard because they feel restful and whispery – perfect for a bedroom.
I chose to print individual panels for this headboard instead of one large fabric panel as there's always the worry that that after hours of work, you'll make a mistake that's difficult to rectify. Each panel is different, but they're designed to coordinate.
What you need:
Feathers to print
Pigment: water-soluble ink
Plywood
Glue
Nails
Hammer
Silvery grey ironing board fabric
1" thick foam or batting
Spray adhesive
Trim molding and silver/gray paint
Staple gun and ⅜" staples
Heavy-duty Velcro strips
Assembly:
Add panels to an existing flat headboard or design your own. To determine the number of panels needed, I measured the width and desired height of my headboard and then divided the total space evenly. had a sheet of ½" thick plywood cut into six 11″ x 20″ pieces.
I cut six pieces of 1″ thick foam to 11″ x 20'' and fixed them to the plywood with spray adhesive. I then cut rolled batting and fabric into six pieces, 6" larger, measuring 17″ x 26″.
I then printed my fabric, let it dry and sprayed it with clear acrylic coating.
I layered a piece of batting and fabric onto each plywood panel and wrapped it around the edges, stapling to the back of the wood with ⅜" staples.
I glued and nailed on some trim molding to the top edge of the plywood and painted it.
To finish my headboard I attached fabric panels to the plywood using heavy-duty Velcro strips.
Tip!
Test prints are especially important when working with untried materials. In this case, I wanted to print with ink rather than paint, to achieve as much feather detail as possible. But even after a few days, the ink rubbed off on my fingers because it hadn't adhered to the metallic fabric. I sprayed the test prints with a few light coats of acrylic sealer and, happily, it worked.
This step-by-step guide is taken from Laura's book, Hand Printing From Nature, which is available from bookstores and on Amazon.
Cover image (c) Adam Mastoon
Save