Scandinavian-born, New York-based Lotta Jansdotter is a self-taught designer and style icon. Her timeless designs reflect both her deep appreciation for nature and her love of modern urban life. Her designs adorn everything from rugs, bedding and clothes, to dishware, kids toys and stationery. Lotta is the author of 10 beautiful books, and she also teaches workshops in surface design and hand printing all over the world.
We are delighted to extract this interview recently published in Issue 9 of MOYO magazine. Enjoy!
Tell us a bit about yourself…
I have been making with my hands since I was very little. I grew up on Åland Islands in Stockholm, Sweden, along with great makers – my grandmothers – who were an important influence. I loved drawing and being crafty and kept doing that throughout my school years.
When I was 19, I ended up in a town called Santa Cruz in CA, close to San Francisco, USA. There I enrolled in a community school and explored lots of different classes; ceramics, sculpture, shibori, jazz appreciation, anthropology, art history… I was searching for what to do when I grew up.
I wanted a creative job, but I didn't know what sort of thing would be best for me.
Then I took a screen printing class and immediately took to it; something just "clicked". I realised that I could print my designs and patterns on fabrics and perhaps make products in fabric with my designs. I quit school and I started my company Lotta Jansdotter a few months after that in 1996.
How has your business grown over the years?
It's grown a lot since I started for certain. At times I felt I wanted to expand further, and then I changed my mind because I decided I wanted a smaller company. It has been an ebb and flow feeling for 20 years. For me, bigger is not better; for me what is most important, is how I feel about my work every day, that I feel good and happy about my daily tasks and that I have flexibility and freedom overall.
I am proud that I have kept this company going for 20 years. It has been a lot of hard work and incredibly challenging at times, but it's also brought so, so many rewards and above all, it's been a fantastic journey.
I have learned so much along the way, and met many wonderful people, plus I do get to do what I love the most: I create with my hands for a living.
Now I hope to dedicate even more time to creating with my hands.
I also feel extremely proud, and immensely happy, when people reach out and tell me how my work has inspired them to create. It's an incredible feeling!
What have been your biggest challenges to date and would you do anything differently if you were starting over again?
I am a fiercely independent person, and very headstrong, so I like to do things on my own and by myself. However, I do wish that I'd had a business partner in the early days – someone who was focused on the business end of the company. I am pretty good at making those kind of decisions, and I do know what works for me, and I have taken this company far on my own, but I think I could have taken it further with help. It would have also freed me up to focus on what I'm best at: creating patterns and motifs, product ideas, styling, book making and design.
How would you describe your style? And how has it evolved over the years?
My style is simple, simple, simple! And also joyous, inspiring and timeless.
Many of the patterns and motifs I created 20 years ago still feel current, and those designs still relate to the motifs I create now. But I do think things have evolved.
For example, when I started, my colour palette was quite muted. It's got brighter and bolder over the last 10 years but now I want to go muted again… I think?!
Talk us through your creative process…
Ah… there really is no "set" way for me. I create when I can, which is not often enough. I work well under deadlines and have always been able to "crank" things out when I have to. I tend to do things real last minute, which used to irritate and frustrate me. Why did I leave it so late? I'd ask myself. Why don't I plan better and start my design work earlier? But I've come to realise that that is who I am, that's the way I'm wired, and actually that's how I do my best work. I try and trust the process.
I've come to realise that that is who I am, that's the way I'm wired
I take workshops and travel a lot but ideas come to me wherever or whenever. Often it's when I'm working in my studio or just pottering around at home. There is input and inspiration all the time. Thoughts and images tend to mill around in my head for a while and come out when they are ready to, or when the timing is right… bah: my creative process is not easy to describe! It's not at all linear.
Do you have a favourite method of hand printing?
Yes, you can print on so many different surfaces using stencils, rubber stamps, home made screens and other techniques. My favourite techniques vary, depending on my mood or passion projects. Right now I am real into block printing and I also want to explore woodcuts. I have not done so much of that, and I am keen to learn more about it.
What 10 basic tools form the basis of a great hand printing toolkit?
A set of carving tools, a brayer, inks and a palette, and materials to print on for block printing. For stencilling: a stencil, a cutting knife, a stencil brush, inks and materials to print on… simple!
In your book, Lotta Prints: How to Print with Anything, you say that anyone can print by hand. What hand-printing techniques would you suggest the following people try?
A complete beginner with no experience: Printing with the potato is such an easy start, with little pressure: it is such a low cost material, so it doesn't feel too intimidating to use. It is easy to carve as long as you create simple, basic designs!
Someone who has tried hand-printing before and who'd like to do a project, for example, print a dress, cushion cover, scarf or tea towel: All print techniques can be more elaborate and developed… you can work with more colour separations and start planning more advanced designs using any printing technique.
A mum who'd like to introduce her children to hand printing in a fun and easy way: I'd suggest potato printing again and also stenciling! Both techniques are fun, easy and fast to do.
Colour plays a big role in your designs. How do you decide on colour schemes and what's the secret to a well-coordinated collection?
This is difficult to explain. I just have a feeling for colours and what works for me, and my work. For collections I usually pick colours based on my mood. At times I take into account what colours works best for certain products. For example, when I design for the home, I'll ask myself what are the most popular colours for rugs? What are the best colours for dinner plates?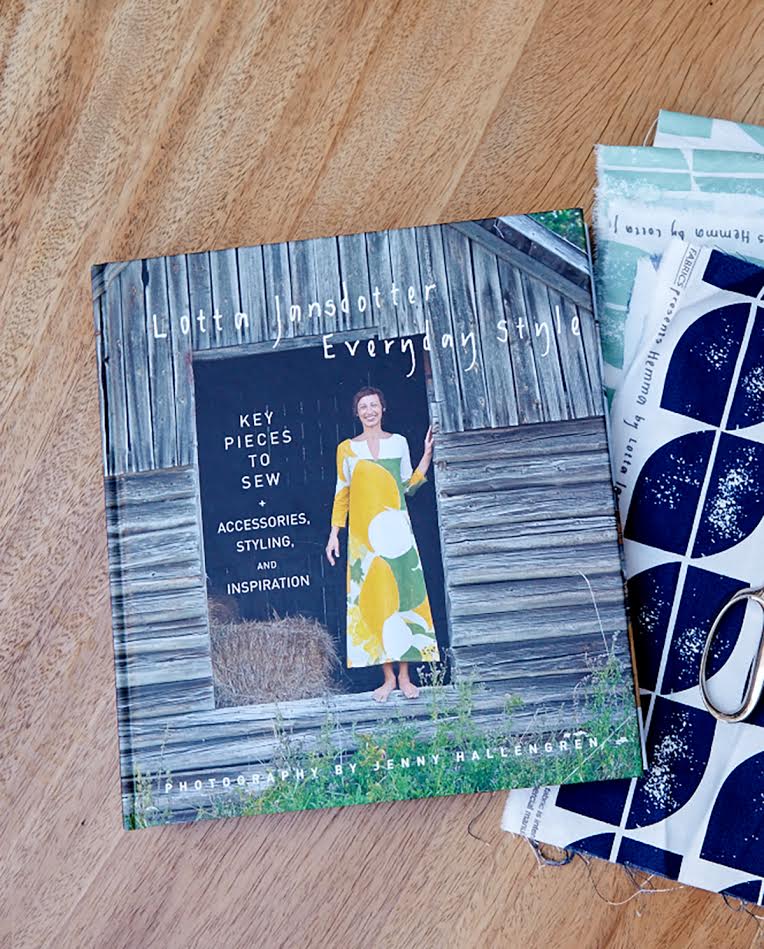 Tell us about your gorgeous new sewing book, Lotta Jansdotter Everyday Style… why should we all go and buy a copy?
Thank you. I am very proud of this book and I loved making it. It contains inspiring projects, easy-to-follow instructions, and great stories. I design my own fabric by the yard and I hope that people will use it to make some of the garments in the book.
As I don't know how to sew clothes myself I collaborated with talented seamstress Alexia Abegg, who drafted all the patterns for the book based on my ideas and creative direction. I think anyone who is interested in making simple, cute and functional garments for themselves will find it useful.
You've just launched your seventh line of fabrics. Congratulations! What inspired your latest collection?
I pulled together old and new designs I have in my design library and from my piles of bits and bobs of designs and motifs. There was no specific source of inspiration; my collections are often a patchwork of new and old ideas, which I pull together as one.
Has your new book and fabric range inspired you to start any passion projects of your own, for your new house, for example? What are they and how are they coming along?
All my work is my passion projects of sorts. Some more than others! I truly LOVE creating fabric collections. I really enjoy that process; it's like solving a puzzle of patterns, scale and colours.
Building my own house together with my husband Nick and my 9-year-old son this autumn is a real dream come true. My husband is an architect and he drew up the plans, and together we have the vision. Nick has many brilliant ideas, and so much knowledge about space and how one feels and moves in it, and I just push for lots of closets and storage space! We are a good team together.
We are taking a sabbatical this fall to spend time together, in nature, back home on Åland Islands, and to build this house together. I'm looking forward to making things by hand for this little house of ours: weave the rag rugs for the floor; sew curtains; make the quilts for the guest bed; throw the tea cups; paint the floor tiles in the bathroom; and so on.
I'll bring ideas and inspiration in from all my travels, experiences and projects I have done, so yes, this is the most amazing project!
You run classes in your own studio and creative retreats all over the world. What do you love most about sharing your knowledge and what can people expect from your upcoming workshops in Jaipur, India and Tokyo?
I really enjoy seeing how happy and engaged most people become when they print in my workshops. It is so important to make with your hands and have that tactile experience. It is very rewarding to see people create successful prints and textile items that they can use in their everyday lives, or give as gifts. They feel proud and joyful.
I also love the interaction between different kinds of people, from different cultures, from all over the world. The conversations, the sharing of ideas, curiosity, inspiration and techniques is very enriching for me personally on my own creative journey in life. The fact I get to travel around the world teaching these workshops is just so, so special, and I feel very lucky to be able to call it my work.
As I am writing this I am currently on Åland Island, hosting my yearly workshop retreat where we have had the most fantastic four days together. We've printed on paper and fabrics in the barn every day, eaten superb meals made from local food, taken saunas at midnight, and shared conversations, insights and laughs. It's been wonderful.
What are your plans and big dreams for the future?
I am so utterly happy to be building this little house on Åland with my family this autumn and I would love to be able to find a way to spend more time here on Åland in the future: from May to September perhaps, and then spend the remainder of the year somewhere else. I'm not sure where yet, but I'd like to move away from Brooklyn NY. I'd like more calm and peace at this point in life.
I would also love to spend more time creating by hand, just make things because I love making them, exploring new ways of doing things for fun and not because I need to make a living from them. Right now I want to become a "part-time housewife", which for me means spending more time tending to my home: folding laundry without stressing out about it; sewing curtains for my windows; cooking healthy meals and decorating… things like that.
AND, I want to learn how to sing, or rather, practice so I feel more confident doing it. I hope that dream will come true this fall as I plan to join a local choir here on Åland.
What advice would you give anyone who is just starting out in the design industry and who has a passion for hand printing?
Simply just start. Take one step, do one action: you do not need to figure out your whole career and future all at once… one thing leads to another.
Remember step by step. Just make a move. You really don't need to have it all figured out at the very start.
If you are hoping to print your own products and sell them, simply start doing it. Print and make a few products and sell them to friends, at local markets, online or whenever you get an opportunity. This will give you good experience and help you figure out your pricing structure and profitability, and how much you can actually produce on your own. After that you can assess what's working, what sells best, what you most enjoy about what you are doing, if you're earning enough money, if there's anything you could delegate, or if you'd benefit from taking a small business planning class.
Remember step by step. Just make a move. You really don't need to have it all figured out at the very start.
---
Connect with Lotta: website | Instagram | Facebook
This interview was published alongside many other fantastic articles, interviews, design tips, DIY projects and competitions in Issue 9 of MOYO Magazine – the handmade and bespoke edition! Read it now:
Save
Save