Featured in these Bundle Offers
OVERVIEW
This Florals and Nature Design Masterclass has been a phenomenal hit with our students since it's launch. In this visually stunning course led by surface pattern designer Rachael Taylor, you will:
Build up a bank of floral motifs and drawing
Develop your creative skills
Learn new ways to approach drawing and motif making
Explore mark-making techniques
Get an exclusive insight into professional surface pattern design Rachael Taylor's design practice
Dive in today!
INSTANT ACCESS CLASS (Start whenever you're ready and enjoy full access until Dec 31, 2024)
INCLUDED IN CLASS:
13 x beautiful and professionally shot videos filmed on location at Arley Hall & Gardens, Cheshire, UK as well as a visit to Course Leader Rachael Taylor's garden, indoor studio and outdoor studio spaces
An in-depth look into the portfolio of renowned and globally licensed print and pattern designer Rachael Taylor
2 x screen-capture based, technical videos in Adobe Illustrator and Photoshop taught by Course Leader Rachael showing you how to turn your floral and nature drawings into designs and patterns
1 x exclusive video tour that dives deep into Rachael's 15 years of floral and nature-based design experience
Bonus materials such as a gorgeous downloadable pdfs and motivational, portfolio-enhancing creative exercises
An in-depth look into one of the UK's most varied and stunning gardens, Arley Hall
Over 70 x visual downloads including gorgeous photography of florals and nature taken at Arley Hall & Gardens as well as styled photography to use as drawing reference and portfolio inspiration
Over 40 x stock photographs for you to mock-up your brand new designs on
Bonus EXCLUSIVE Facebook lives with Course Leader Rachael Taylor
Bonus trend insights on creating commercial selling designs with Sarah Porter of Porter & Brawn
Bonus video content from expert Textile Designer Davinder Madaher
Bonus video content from Watercolour Artist and Designer Maria Montiel
WHAT YOU'LL LEARN:
Inspiration:
How to seek inspiration from florals and nature with several video tutorials shot around Arley Hall & Gardens
How to gather inspiration from a local space available to you or even your own garden, that can really help enhance your creative portfolio
How to be inspired by the seasons and create artwork all year round
Get inspired by Rachael's varied archive of floral and nature-based design from drawings and designs to physical products
Draw inspiration from our celebration of floral and nature-based Make it in Design community student work
How to use the inspiration you have gathered to form a new collection of floral and nature-based designs
'Bloom Freedom' and 'Quirky Floral Stems' – original drawings and digital designs by Rachael Taylor
'Bloom Freedom' and 'Quirky Floral Stems' on Rachael Taylor's branded and licensed products
Technical:
How to scan in and manipulate your original drawings and motifs in both Adobe Illustrator and Photoshop
How to create a floral and nature inspired pattern within Adobe Illustrator and Photoshop
How to use textures and scanned backgrounds within your designs
How to design a placement print or design concept
How to create a seamlessly repeating pattern design
How to add colour to your designs within Adobe Illustrator and Photoshop
How to use colour to change the dynamic of your design
How to save your file ready for print
How to name your designs and file them in an organised way
'Hydratrope Dance' and 'Swiss Forest' designs by Rachael shown in Adobe Illustrator and Photoshop
Portfolio:
How to create your own plant hybrids and species to really add originality to your design work
Learn to loosen up and experiment with our exciting and fun drawing exercises
How to create motifs in a variety of styles from detailed and realistic to simple and abstract
Learn how to present your floral and nature-based design portfolio in a professional and beautiful way
Tips on how to name your designs using inspiration from florals and nature
Understanding floral and nature trends and the power they hold
How to create florals for fashion
Creating watercolour art and how to digitise it to create print ready repeats
A selection of Rachael Taylor's floral and nature based drawings, branded products and licensed ranges
TESTIMONIALS:
"Thanks to Rachael Taylor and the Make it in Design Team for providing this course to concentrate on the natural world."
"This course could not have come at a better time for me. I started taking Rachael's courses in 2012! I can't believe it's been that long."
 "I'm very grateful to be a student here, especially at this time. This class is full of so much beauty and positivity which is needed very much right now!" 
"I know you didn't have any idea what the world would be like now when you conceived this class last year but it's what the world needs right now"
"Yes it's perfect timing, distraction and a calming haven from the anxiety and social distancing"
"Thank you Rachael. Those videos of Arley Hall Gardens were so lovely and much needed. As is this course. It's come at such a perfect time as we all try and navigate the spectrum of emotions during this pandemic."
"This course is perfect for me and I'm excited to use the current lock down situation to develop and grow creatively."
Our alumni have gone on to win amazing awards, set up their own design studios and labels, land major design gigs with household brand names, signed exciting licensing deals and built thriving design careers.
TERMS AND CONDITIONS:
Check out our Terms & Conditions page. We strongly encourage you to read these before registering, as registering for one or more courses or bundles acknowledges acceptance of these Terms & Conditions.
EXPERIENCE AND REQUIREMENTS:
This course is aimed at all skills levels. You will be in safe hands with Rachael as she makes her tutorials very easy to follow. You do not need to have taken any of our other courses in order to take part.
Software
In the course Rachael Taylor will be teaching her workshops in Adobe Illustrator and Photoshop. If you wish to follow the technical workshops then you will need to have these programmes available to you. If you are new to the software, don't worry, as Course Leader Rachael has been teaching the software for 8+ years and her tutorials are very easy to pick up and follow. Please note that the software is not included in class and it will need to be purchased separately from Adobe. We advise getting in touch with them directly for the best deals. Adobe programmes are widely used in the design industry and are an essential investment if you are serious about a creative career or learning to apply the skills you will learn. However, we always advise our students to take the courses at their own pace so if you wish to save the technical sections of the course for later when you feel you are more ready we would encourage this.
Materials
For the motif making and drawing part of the class you may need access to simple drawing equipment such as pens, pencils, inks or paints depending on the media you prefer to create with. Rachael likes to use pens from Derwent, UniPin and Berol in a variety of weights.
Devices
We do not have a set device requirement other than if you wish to follow the technical section of the course then your device will need to be able to run Adobe programmes sufficiently. The team works on Apple devices but we have had students also work on PC's. If you have a scanner for uploading your drawings then this is great, but you can upload photography of your drawings to work on too.
Sound good? Scroll up to get going today, or down to see the class curriculum!
What our graduates say
"I just love being part of this community and thank my lucky stars that I did all the modules! It's literally changed my life."
Catherine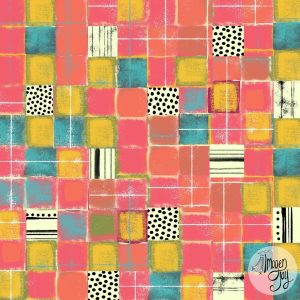 "Each course I have taken is an absolute Aladdin's cave packed with delights. The level of support is unparalleled."
Imogen
"The courses have helped me rediscover my passion and love for all things print and pattern."
Nina
"I have made massive growth as a designer. My confidence levels have never been so high."
Shelley
Inspiration
Creative Drawing Exercises
Technical
Portfolio
Other courses in this series
Core Classes
Build your design skills, confidence and creative business with our core online classes. Get 50% off or 70% off in our bundle deals!