Featured in these Bundle Offers
OVERVIEW
Creating Your Professional Identity (Module 2) is an inspiring, flexible online course to create a solid foundation for your brilliant design career. It includes everything you need to create a professional design identity, actionable advice for brand-building, PR and marketing, guidance for establishing your own label (yes you can!), advanced technical training for Adobe Photoshop & Illustrator (incl. repeats), and downloadable product templates to make your life easy!
You will learn how to put a collection together, how to get noticed and get press, and how to protect your work. If you're interested in becoming a professional surface pattern designer, this module will get you started!
Begin your professional design journey.
INSTANT ACCESS CLASS (Start whenever you're ready and enjoy full access until Dec 31, 2024)
INCLUDED IN MODULE 2
New and EXCLUSIVE content!
10 in-depth technical videos by Course Leader Rachael Taylor
How to build your brand image and get people talking about you the way you want them to
How to start your own design label – you will do this by actually creating a sample collection, mini brand look book, press release, and market research report
How to develop your signature design identity
How to understand and predict trends (and how to layout a professional trend report in Adobe Illustrator)
How to put a design collection together
How to get noticed and get in the press
How to market yourself and build your online presence
How to protect your intellectual property and copyright
BONUS industry insider tips
Specifications for product printing and manufacturing
PLUS a series of bonus PDFs:
Product templates
How to set up and work with layered files
Separating layers support notes
Hints and tips for saving your files
Top tips for trend reports
Hints and tips for manufacturing
PLUS…
BONUS TECHNICAL WORKSHOP VIDEOS giving you a step-by-step guides to design using Photoshop and Illustrator.
BONUS TECHNICAL WORKSHOPS
In our technical videos Course Leader Rachael introduces you to the fundamental elements for creating professional patterns, design presentations, products and branding elements and includes 10 in-depth videos:
Creating a room set mock-up in Adobe Photoshop – learn how to apply your design work to room set photography. Through our professional editing tips you will understand how to create eye-catching mock-ups that will entice buyers and expand your portfolio.
Working with a product template in Adobe Illustrator – how to work with industry standard product templates and understand how to set up your design files for manufacturing.
Working with tints and creating spot colours in Adobe Illustrator – understand how to work with Pantone colours, standard swatches, how to create tints and set up spot colours.
Creating a professional trend report in Adobe Illustrator – learn how to work with layout, typography, effects and composition and discover the tricks of the trade for professional presentation.
Creating a pattern swatch in Adobe Illustrator – understand how to use the geometric tool, explore pattern swatch creation and apply a pattern to hand drawn shapes.
Adding a watermark and file information in Adobe Photoshop – understand smart objects, learn how to work with text and adding a watermark and design logo to your files. Plus learn how to save important copyright information when creating web safe images.
Creating a basic technical repeat tile in Adobe Photoshop – learn how duplicate and copy an object, how to use the transform tool, understand how to save a layered file and how to set up a technical repeat tile to industry standards.
Defining patterns and filling shapes in Adobe Photoshop – learn how to define a pattern and save a pattern swatch, how to add a drop shadow, work with the type tool and use a geometric shape.
Creating an industry standard wallpaper repeat in Adobe Illustrator – explore adapting an existing non-repeating design and converting it to a technical repeat tile within a restricted size. You will learn how to gain confidence when experimenting with composition and the layout of a layered pattern tile.
Creating static and rotating adverts in Adobe Photoshop – how to create a simplistic static advert and a rotating advert. Explore smart objects, the animation tool and how to save a gif file.
THIS CLASS IS FOR YOU IF...
You have completed Designing Your Way (although this is not a prerequisite) and have a basic working knowledge of Adobe Photoshop/Illustrator
You have a basic understanding of surface pattern design and now want to start getting your work noticed
You want to learn how to create more complex repeat patterns and build them into a sellable collection
You want to set up your own design label or brand
You want to put the foundations in place to pave the way for licensing and other ways of selling your work
You want to connect with others with similar passions to you
You are excited about the thought of making a name for yourself
Please note this course is not assessed and does not include individual critique of your work.
You will need at least basic knowledge of Adobe Photoshop and Illustrator to get the most out of this module. Please note we do not offer technical guidance for any other software programmes (including free software).
TESTIMONIALS AND SUCCESSES
Here are a handful of words used by previous students to describe this module:
"life-changing"
"invaluable to your career"
"oozing with creativity"
"inspiring and motivating"
"incredibly empowering"
"a fantastic way to learn"
"overflowing with information and exciting ideas"
"loved it!"
"a real leap into the world of surface design"
Our alumni have gone on to win amazing awards, set up their own design studios and labels, land major design gigs with household brand names, signed exciting licensing deals and built thriving design careers.
TERMS AND CONDITIONS:
Check out our Terms & Conditions page. We strongly encourage you to read these before registering, as registering for one or more courses or bundles acknowledges acceptance of these Terms & Conditions.
EXPERIENCE AND REQUIREMENTS
This course is aimed at intermediate level designers but is also beneficial for those with more advanced skills. You will be in safe hands with Rachael as she makes her tutorials and content very easy to follow. You do not need to have taken any of our other courses in order to take part but this is a natural follow on course from Designing Your Way (Module 1). We have welcomed over 18,000 students onto our courses from over 100 countries around the world, and our classrooms are accessible on-line 24/7, so you can join us from any time zone and fit the course into your busy life.
Software
In the course Rachael Taylor will be teaching her video workshops in Adobe Illustrator and Photoshop. If you wish to follow the technical workshops then you will need to have these programmes available to you and have some experience using them. Please note that the software is not included in class and it will need to be purchased separately from Adobe. We advise getting in touch with them directly for the best deals. Adobe programmes are widely used in the design industry and are an essential investment if you are serious about a creative career or learning to apply the skills you will learn. However, we always advise our students to take the courses at their own pace so if you wish to save the technical sections of the course for later when you feel you are more ready we would encourage this.
Devices
We do not have a set device requirement other than if you wish to follow the technical section of the course then your device will need to be able to run Adobe programmes sufficiently. The team works on Apple devices but we have had students also work on PC's. If you have a scanner for uploading your drawings then this is great, but you can upload photography of your drawings to work on too.
Sound good? Scroll up to register, or down to see  the course curriculum
What our graduates say
"I just love being part of this community and thank my lucky stars that I did all the modules! It's literally changed my life."
Catherine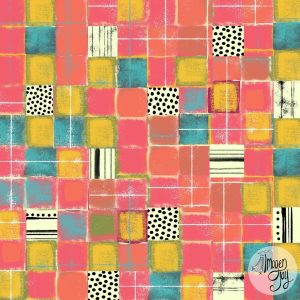 "Each course I have taken is an absolute Aladdin's cave packed with delights. The level of support is unparalleled."
Imogen
"The courses have helped me rediscover my passion and love for all things print and pattern."
Nina
"I have made massive growth as a designer. My confidence levels have never been so high."
Shelley
Collections
Trends (Part 1)
Trends (Part 2)
Brand (Part 1)
Brand (Part 2)
Other courses in this series
Core Classes
Build your design skills, confidence and creative business with our core online classes. Get 50% off or 70% off in our bundle deals!