Featured in these Bundle Offers
OVERVIEW
The Ultimate Portfolio Builder (UPB) is an advanced and powerful online professional surface pattern design course.
This powerful course will give you all the tools and advice you need to grow your body of commercially viable work, refine and strengthen your professional design portfolio and give you the fast-track to trade show success.
Brought to you in association with Printsource New York, one of the top surface and textile design shows in the world, this course will provide you with exclusive insight to help you secure the right buyers for your work, deal effectively with clients, get trade show ready and discover the secrets to landing work you dream of.
BOOST YOUR PORTFOLIO TODAY
INSTANT ACCESS CLASS (Start whenever you're ready and enjoy full access until Dec 31, 2024)
INCLUDED IN THE ULTIMATE PORTFOLIO BUILDER
New and EXCLUSIVE content
Exceptional in-depth teaching on various subject matter (objects, characters, nature, geometrics, typography and abstract), colour and media, the power of recolouring, designing for occasions, genre and style, audience and market and so much more
A series of fun creative design challenges to help you grow as a designer and build a strong, rounded portfolio
12 video based technical masterclasses from guest expert designers on typography, characters, photography, mixed media collages and more, to hone your professional design skills.
Insight into the practicalities of managing a growing design studio
Trade show planning advice direct from the experts
An incredible four-part creative brief from Printsource to help you attract the clients you want and the kind of work you dream of
Bonus material on managing your finances, how to be your own career strategist and thinking outside the box
Access to a huge library of textures to give your work depth and distinction
Access to professionally shot, exclusively styled room set and stock photography images ready-made for you to render your designs on
A selection of colour palettes intended to help you push your colour choices
One awesome global design community
And a whole lot more – this course really is jam-packed full of goodness!
MASTERCLASSES
This course includes a series of 12 video-based technical masterclasses led by four brilliant designers.
This is what we have in store for you…
Character Design led by Allison Cole: Tips for creating a successful character and digitising hand drawn illustrations
Typography Design led by Faye Brown: Hints and tips for creating graphic styles of typography and creating your own typefaces and hand drawn styles
Mixed Media & Collage led by Adrian O'Meara: Hints and tips for working with art originals and creating a half-drop repeat from mixed media artwork
Photography led by Adrian O'Meara: Hints and tips for editing and manipulating photography and Photographic repeats
Repeat Design led by Jessica Hogarth: Hints and tips for creating half drop repeats and creating wallpaper repeats
Mock Ups led by Adrian O'Meara: How to render patterns onto stock photography PLUS How to use the warp, perspective and shadow tools to create a realistic fabric product mock-up
THIS CLASS IS FOR YOU IF...
You have completed Module 3 (although this is not a pre-requisite)
You want to expand and develop your professional portfolio to show your versatility as a designer
You want to learn more complex techniques for sophisticated and commercially-appealing surface pattern design
You want to connect with other established designers and learn from industry experts
You want to know how to secure top deals at trade shows and attract the right work
You want to generate more income from your existing designs and create a new body of work
You want to be pushed outside your comfort zone so you're ready to handle any brief
You want to make it as a professional surface pattern designer
You will need to be proficient in Adobe Photoshop and Illustrator to get the most out of this course. Please note we do not offer technical guidance for any other software programmes (including free software).
TESTIMONIALS AND SUCCESSES
Rachel Lang talks about taking the course after working several years in-house:
Imogen Joy talks about her highlights from the course and what's next:
Here are a handful of words used by previous students to describe this module:
"a great investment" 
" an amazing experience " 
"a great motivator"
"an intense, highly focused course that will propel you to the next level"
"highly recommended for anyone serious about a career as a surface pattern designer
"insightful, thorough and encouraging"
"jam packed with opportunities"
"potentially life changing"
"real-world experience"
"totally motivating" 
Our alumni have gone on to win amazing awards, set up their own design studios and labels, land major design gigs with household brand names, signed exciting licensing deals and built thriving design careers.
TERMS AND CONDITIONS:
Check out our Terms & Conditions page. We strongly encourage you to read these before registering, as registering for one or more courses or bundles acknowledges acceptance of these Terms & Conditions.
EXPERIENCE AND REQUIREMENTS
This course is aimed at advanced level designers. Each of our Masterclass tutors have created tutorials and content which is very easy to follow. We have welcomed over 25,000 students onto our courses from over 100 countries around the world, and our classrooms are accessible on-line 24/7, so you can join us from any time zone and fit the course into your busy life.
Software
The masterclass video workshops are taught in Adobe Illustrator and Photoshop. If you wish to follow the Masterclasses then you will need to have these programmes available to you and have experience using them. Please note that the software is not included in class and it will need to be purchased separately from Adobe. We advise getting in touch with them directly for the best deals. Adobe programmes are widely used in the design industry and are an essential investment if you are serious about a creative career or learning to apply the skills you will learn. However, we always advise our students to take the courses at their own pace so if you wish to save the technical sections of the course for later when you feel you are more ready we would encourage this.
Devices
We do not have a set device requirement other than if you wish to follow the technical section of the course then your device will need to be able to run Adobe programmes sufficiently. The team works on Apple devices but we have had students also work on PC's. If you have a scanner for uploading your drawings then this is great, but you can upload photography of your drawings to work on too.
Sound good? Scroll up to register or down to see the class curriculum
What our graduates say
"I just love being part of this community and thank my lucky stars that I did all the modules! It's literally changed my life."
Catherine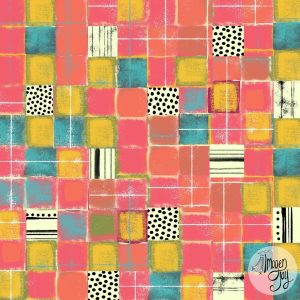 "Each course I have taken is an absolute Aladdin's cave packed with delights. The level of support is unparalleled."
Imogen
"The courses have helped me rediscover my passion and love for all things print and pattern."
Nina
"I have made massive growth as a designer. My confidence levels have never been so high."
Shelley
Week 1: Subject Matter
Week 2: Subject Matter
Week 3: Media & Colour
Week 4: Genre & Style
Week 5: Audience & Market
Other courses in this series
Core Classes
Build your design skills, confidence and creative business with our core online classes. Get 50% off or 70% off in our bundle deals!