---
All About Team MIID
Make it in Design is a collaboration between two very talented ladies; surface pattern designer and illustrator Rachael Taylor and successful entrepreneur Beth Kempton and a dedicated team behind the scenes!
---
Rachael Taylor
Co Founder of Make it in Design, Surface Pattern Designer and Author.
Rachael Taylor is a fun and energetic surface pattern designer, illustrator and author with over several years industry experience in a variety of fields. Since graduating from university in 2005, Rachael has been lucky enough to have worked for a number of prestigious clients worldwide.
In 2008 Rachael left her full time design job to fly solo! Early on in her career she developed her signature style of layering, textures and quirky hand drawn linework. Shortly after in 2010 her product label was officially born.
After a large demand, Rachael expanded the product line and launched an exciting, fun brand. Rachael has also successfully licensed a number of global branded collections. Rachael's designs feature on fashion, home décor, stationery, greetings, gadgets and ceramics.
---
---
In addition Rachael is the sole author of '20 Ways To Draw a Doodle' and 'Draw 500 Dazzling Doodles' published with Quarry Books! They are the perfect design resources for illustrators, cartoonists, doodlers, and anyone who loves to sketch!
She also had over fifty pieces of her work published in numerous design books including 'Print and Pattern', 'Print and Pattern 2' and 'Print & Pattern Geometric' by Bowie Style (LKP Publishing), 'Patterns' by Drusilla Cole (LKP Publishing), 'The Exciting World of Pattern Design' by Zeixs Feierabend (Unique Books)', 'Patterns' by Maomao (booQs publishing), 'Best of Greeting Cards' by Zeixs Feierabend (Unique Books), 'Websites 3' by Zeixs Feierabend (Unique Books), 'Logo' by Zeixs Feierabend (Unique Books) and 'A House Beautiful Home Business' by Emma Jones (Brightword Publishing).
Rachael is regularly hired to deliver seminars at lectures around the UK and USA. Projects have included working for: The University of Leeds, Cleveland College of Art, The Design Initiative, St Mary's College, The Association of Illustrators (AOI), Maryland Institute College of Art (MICA), Printsource New York, The Design Trust Start Up Day, New Designers and The Teenage Cancer Trust.
Check out some of her notable clientele to the right!
---
---
Rachael also plays an important role on the ACID Advisory Council. ACID is one of the leading voices for design and intellectual property in the UK. With Rachael on board, the council will look to strengthen its position in the marketplace and gain more traction within Intellectual Property (IP) policy making. You can read more about it here.
---
5 Fun Facts About Rachael…

Rachael likes to design to all types of music
She LOVES colour!
She loves to travel and see the world
She's a fan of living spontaneously
She believes in working hard but having lots of fun!
Connect on Facebook, Twitter, Instagram or Pinterest. Visit Rachael's website, blog and shop.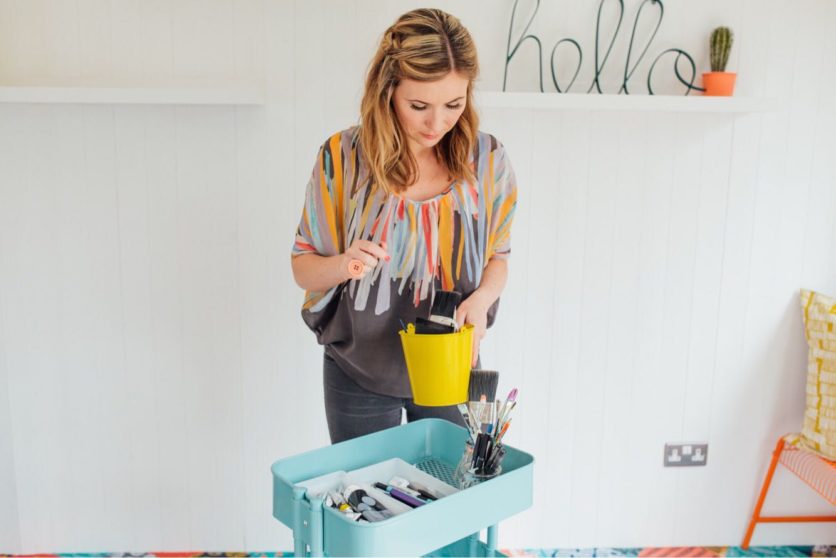 ---
Beth Kempton
Co-Founder of Make it in Design, Award Winning Entrepreneur and Author.
Beth Kempton is a mother, writer and entrepreneur committed to helping women achieve their full potential. She has worked with UN agencies, global brands, charities and individuals all across the world. Her company, Do What You Love, has helped thousands of people find personal, professional and financial freedom through transformational online courses and workshops.
She is the author of 'Freedom Seeker: Live more. Worry less. Do what you love.' (Hay House, 2017) and mum to two sweet girls.
Beth was recently named a 'Rising Star' by Spirit & Destiny Magazine and was 2017 Kindred Spirit Magazine Mind Body Spirit Blogger of the Year (runner up). She was has been named as one of the UK's 16 most exciting young female entrepreneurs by Marie Claire magazine, 'Top 35 Under 35' for Yorkshire, UK and was a finalist in the Digital Entrepreneur of the Year Awards in recognition of her company's groundbreaking online courses.
---
Beth believes that 'waiting for the weekend' is no way to live your life — or design your career. And she's living proof that there's another option — one where the way that you feel about your work is just as important as the salary you take home. Through collaborations like Make It In Design she wants to help you live more, worry less and do what you love!
Beth's book Freedom Seeker is filled with tons of uplifting and inspirational advice for anyone wanting to live a more free and creative life. If you're feeling a little stuck take a peek on Beth's website to find out more about this transformational book!
Beth is an avid adventurer and has lived, worked and travelled in over 50 countries on every continent.
She speaks fluent Japanese and is inspired by all things Oriental. Beth loves photography, mixed media and of course, pattern! The first artwork she ever sold was a celebrity collaboration which went for a staggering $10,000 at auction.
Beth is also co-Founder of Make Art That Sells and the Hello Soul Hello Business sisterhood for women in business.
Find out more on her website or connect on Instagram, Facebook or Twitter.
---
Vic Lem
Vic is our Make it in Design Manager and looks after all our amazing students during and after class.
Vic has a BA (Hons) 1st class degree in Interior Design from De Montfort University Leicester and also a Master of Arts in Design and Art Direction from MMU. Vic previously worked at Tigerprint where she managed the Tigerprint Design Competitions and social media and was heavily involved with working with design students setting live commercial briefs. Further experience includes design management for greeting cards and also creative and product photography.
At the beginning of 2014 Vic became a mum to daughter Lily who has provided her with a fresh perspective on doing the things in life that make her most happy and fulfilled.
---
5 Fun Facts About Vic…

She used to be a cheerleader for her local rugby league club and could be seen strutting her stuff on Sky Sports
For her final show at Leeds Art College, she choreographed and performed in a black sack!
For her Master of Arts, photographed abandoned places including a hospital in Cheade and a fire station in Manchester (all legally)
Turned down the chance to audition for BBC Newsround to take her mock GCSE art exam
At the age of 15, visited No.10 Downing Street and was sent to Europol in The Hague after winning a national art competition to be an 'Ambassador for the day"
---
Holly Wells
Holly Wells is our Marketing and Community Officer. With a BA in English Literature and Film studies, Holly is an avid writer who loves to create engaging content for other designers and artists, DIY lovers, techies, and interior designers.
As an all-around creative, Holly describes herself as a musician, a visual artist, and a hands-on problem solver. She is thrilled to be working in a industry where she can support the creative process of others and be part of a fabulous team of positive, like-minded people.
Within the MIID team, Holly ensures that the student community are supported and inspired through the modules. From responding to student questions to writing inspirational content, Holly sees that the MIID student's journey is the best it can be. She's also passionate about growing the MIID brand by creating fun-to-read, engaging content and sharing lots of lovely, on-trend visuals with our amazing social following.
---
5 Fun Facts About Holly…
She grew up on a Canadian island called Newfoundland
She loves making people laugh, and is told she should have been a comedian
She always has fresh cut flowers and plants throughout her home
She absolutely loves unique, handmade ceramics
She loves working with her hands and building her own furniture
Connect on Facebook!
---
Kelly Crossley
Kelly Crossley is our Designer, getting to work daily in an industry that she absolutely loves. Not only does she work for Make it in Design, she is also the studio manager at the Rachael Taylor Studio,  layout designer for MOYO magazine and as a designer for 'Do What You Love'.
An eternal optimist and all round positive person, Kelly is constantly curious about the world around her. Her biggest achievements to date are; spending three weeks in Sri Lanka helping children with disabilities, gaining a 1st Class Honours in Textile Design at The University of Leeds and getting to be a part of, and being able to work in, a thrilling, inspiring and growing industry.
Ever since she was young, Kelly has been a creative individual and has always been on a creative journey whether that is through education or in her spare time. She is looking forward to being part of even more wonderful developments with the companies she works for, and watch them become the places to go to as hubs for creative individuals across the globe.
---
5 Fun Facts About Kelly…

She is an avid reader … seriously, she's obsessed!
She loves to ski (and the snow)
She's a real candle enthusiast
She likes to play video games
She loves a good thunderstorm!
---
Paul Kempton
Paul is a husband, a father and a sport and film enthusiast.
Previously a civil engineer managing multi-million pound contracts, Paul now manages the finances and HR for the team.
When he's not chasing his two small daughters around the garden he loves to travel, cycle, run and watch superhero films.
Paul's idea of a "perfect day" would be "dreaming up new plans and figuring out how to make them come true." In fact, that's what he spends most of his weekends doing…
---

---
All courses from Make it in Design are produced and managed by Do What You Love Limited on behalf of The Art and Business of Surface Pattern Design.
Company Name: Do What You Love Limited
Company Number: 06862873
Registered Address:
Suite 4.5, Empress Business Centre
380 Chester Road
MANCHESTER
M16 9EA
UK
email: learn [at] makeitindesign.com
---