We are a passionate multi-disciplined team all with very diverse expertise, backgrounds and personalities. Together we work incredibly hard to make our creative community the best and most supportive place it can be. We have helped 1000's of designers globally to take the leap, grow their careers, skills and businesses, create multiple income streams, win awards, land those dream design gigs and so much more. Many have described our services as "life changing", "essential" and "a wonderful place to be".
Below you will find out a little bit more about us individually: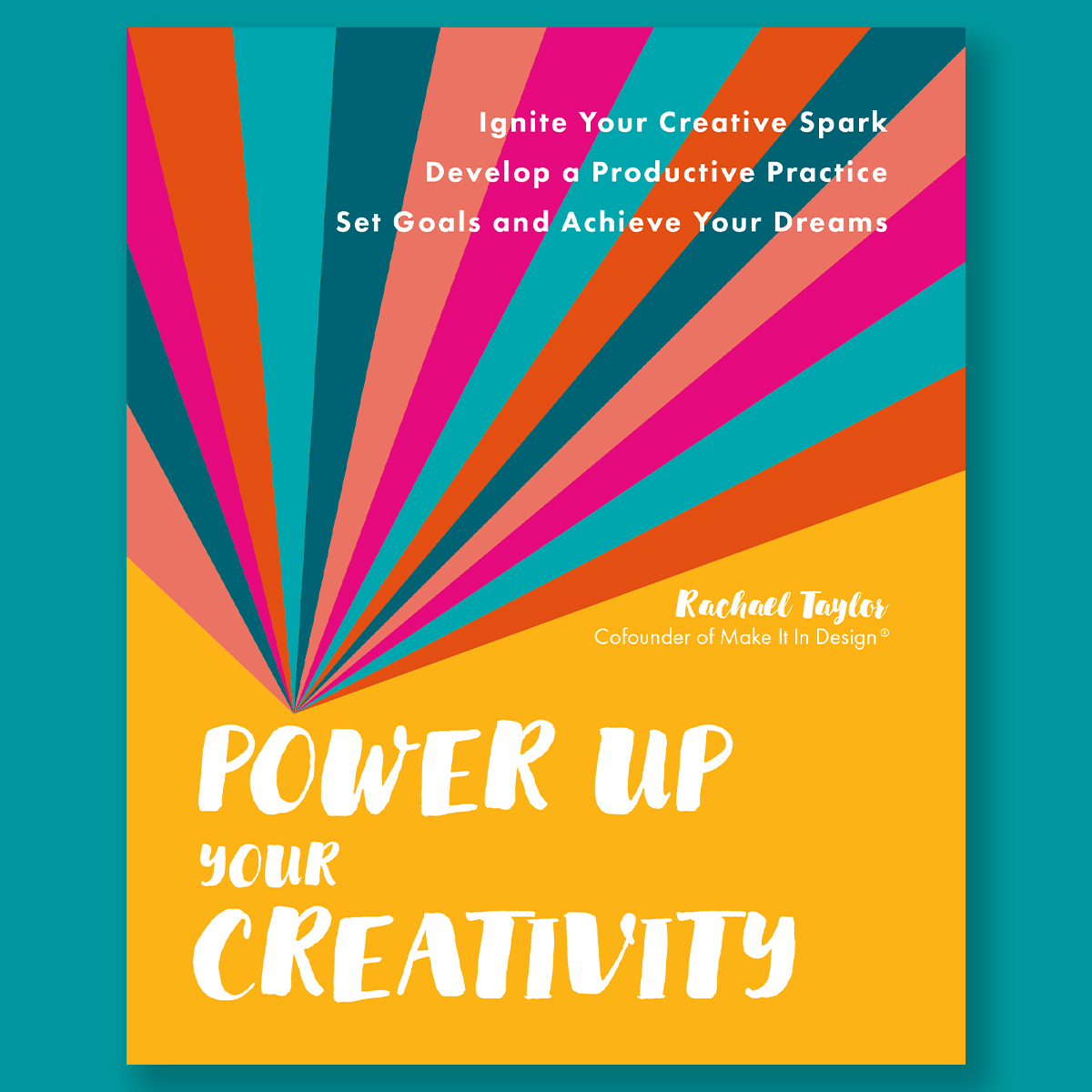 Rachael Taylor
Co-Founder of Make it in Design and award winning Creative Leader, Bestselling Author, Mentor and Print and Pattern Designer 
Rachael is a renowned creativepreneur who is most known for her quirky style, daring use of colour and unique innovation.
She regularly takes on design commissions for various companies and has created prints and patterns for almost every area in the marketplace. She is also a trademarked brand with a number of licensed ranges worldwide.
She is a much-loved creative mentor and is often told that her style is infectious, friendly, honest, informative and motivational. Rachael approaches her students and clients with a sense of relatability and her services are often described as "talking to an old friend who has the answers".
As Co-Founder (and lead course instructor) of Make it in Design, Rachael has developed an educational online platform, delivered many comprehensive online design courses along with a members' club and taught over 30,000 individual students across 100 countries.
Rachael also offers a one-to-one online Creative Coaching service through her studio and she has been fortunate enough to mentor a number of inspiring designers from all around the globe.
You can also find Rachael regularly featured in the media from biographic pieces to her own articles sharing design advice. Popular mentions include, ITV, Channel 4, BBC, Red, Where Women Create, Uppercase, Mollie Makes and Homestyle to name a few. She is also a member of the UK government's Anti-Copying in Design Sector Council and an Adobe Live expert.
Her new book Power Up Your Creativity – Ignite Your Creative Spark. Develop a Productive Practice. Set Goals and Achieve Your Dreams is out now! Order your copy here.
5 fun facts about Rachael…
She's learning Spanish (well poco a poco)
Her son is named after two famous musicians
Her second creative home is Cuba!
She used to be an actress
She drives a vintage pink Nissan Figaro
Connect with Rachael:
www.rachaeltaylordesigns.com| Instagram @rachaeltaylor_/ | @rachaeltstudio Facebook @RachaelTaylorDesigns | Twitter @rachael_taylor_
Beth Kempton
Co-Founder of Make it in Design, award winning Entrepreneur and Bestselling Author
Beth is an award-winning entrepreneur and self-help author, who has dedicated her business and career to helping people achieve their full potential.
Before starting her own company Do What You Love a decade ago, Beth worked with UN agencies, global brands, and NGOs all over the world, advising on corporate social responsibility, instigating projects that have raised over $10 million for charity, and earning a Master's degree in Japanese.
These days, together with her husband Mr K, she runs three different businesses – Do What You Love (Founder), Make Art That Sells (Co-Founder) and Make It In Design (Co-Founder), all of which offer tools, resources and online courses for living an inspired life.
Beth's inspiring self-help books have been translated into 24 languages, and recommended by the likes of TIME Magazine, the Sunday Telegraph, Sunday Times Style, British Vogue, and Psychologies Magazine. The audiobook of Wabi Sabi, read by Beth, was selected as an iTunes Must Listen in 2019. Beth is also a mentor to other authors with her life-changing course The Book Proposal Masterclass (for non-fiction).
You can find Beth's books here.
5 fun facts about Beth…
She could happily eat chocolate for every meal
She owns a lot more than a thousand books
She can speak Japanese
She used to have her own TV show
She sometimes swims in the sea in winter
Connect with Beth:
www.bethkempton.com | Instagram @bethkempton | Facebook @dowhatyoulovexx | Twitter @dowhatyoulovexx | Podcast: www.bethkempton.com/podcast
Vic Lem
Manager
Vic has a BA (Hons) 1st class degree in Interior Design from De Montfort University Leicester and also a Master of Arts in Design and Art Direction from MMU. Vic previously worked at Tigerprint where she managed the Tigerprint Design Competitions and social media and was heavily involved with working with design students setting live commercial briefs. Further experience includes design management for greeting cards and also creative and product photography.
At the beginning of 2014 Vic became a mum to daughter Lily and in the summer of 2021 her son Henry. Both provide her with a fresh perspective on doing the things in life that make her most happy and fulfilled and of course plenty of smiles and giggles!
Vic says: "I love nothing more than getting outdoors for a walk – real food for the soul. I have a real passion for photography and love to keep a camera on hand ready for an unexpected inspiration!"
5 fun facts about Vic…
She used to be a cheerleader for her local rugby league club and could be seen strutting her stuff on Sky Sports
For her final show at Leeds Art College, she choreographed and performed in a black lycra sack!
For her Master of Arts, photographed abandoned places including a hospital in Cheade and a fire station in Manchester (all legally)
Turned down the chance to audition for BBC Newsround to take her mock GCSE art exam
At the age of 15, visited No.10 Downing Street and the Blairs and was sent to Europol in The Hague after winning a national art competition to be an 'Ambassador for the day'
Connect with Vic:
Instagram @vixter1228 | Facebook Vic Lem
Kelly Crossley
Designer and Social Media Manager

Kelly enjoys working daily in an industry that she absolutely loves. Not only does she work for Make it in Design, she is also the Studio Manager at the Rachael Taylor Studio.
An eternal optimist and all round positive person, Kelly is constantly curious about the world around her.
Her biggest achievements to date are: spending three weeks in Sri Lanka helping children with disabilities, gaining a 1st Class Honours in Textile Design at The University of Leeds, being able to work in a thrilling, inspiring and growing industry every day and starting her own design brand sundownmoonup.
Ever since she was young, Kelly has been a creative individual and has always been on a creative journey through education or in her spare time.
She loves being part of the the wonderful developments within the companies she works for, and looks forward to watching them become the go-to hubs for creative individuals across the globe.
5 fun facts about Kelly…

She is an avid reader… seriously, she's obsessed!
She loves walking and enjoying the outdoors
She's a real candle enthusiast
She likes to play video games
She loves a good thunderstorm!
Connect with Kelly:
Instagram @kellyecrossley @sundownmoonup_ | Facebook Kelly Crossley
Paul Kempton
Operations, Finances and HR
Previously a civil engineer managing multi-million pound contracts, Paul now manages the global operations, finances and HR for the team.
Paul is a recently trained Pilates teacher, budding SUP boarder and runner. A perfect day would be spent with his family enjoying the great outdoors and great food of Devon.
Five fun facts about Paul…
Loves all things comics
Pilates teacher
Learning to play the guitar
Becoming increasingly interested in stock markets
The question 'where are you from? ' proves to be one of the most difficult to answer
Simion Hawtin-Smith
Co-Course Instructor and Creative Director of Reloved Upholstery and Design
Simion Hawtin-Smith is the Creative Director of Reloved Upholstery and Design in Manchester. He started Reloved Upholstery in 2014, and specialises in giving iconic chairs a new lease of life, using a combination of traditional and modern methods.
He is an upholsterer for the BBC One TV show, Money for Nothing, and has a monthly column in Reclaim magazine sharing the inspirations behind his work.
We are thrilled to have Simion on board featuring as an expert guest tutor in the "hands on" Make It In Design interior masterclassess: Surface Pattern Design + Cushion Making and Pattern Creation + Chair Upholstery.
Five fun facts about Simion…
Simion loves running and is signed up for the London Landmarks Half Marathon later this year
He has a French Bulldog called Gypsy
His favourite snack is a Tunnocks Tea Cake
Vivienne Westwood is his favourite designer
He has a huge collection of houseplants which he enjoys caring for on a Sunday
Connect with Simion:
Instagram @relovedupholsteryanddesign | Facebook @relovedupholsteryanddesign | Twitter @relovedsimion
Victoria Brawn
Trends Content Provider and Co-Founder of Trend Consultancy, Porter & Brawn
Victoria trained as a graphic designer and moved into the retail sector after discovering her love for interiors.  She spent 12 years working with multiple high street retailers and gained expertise in art direction and visual merchandising as well as product design and trend forecasting.
She has a broad experience across a variety of different category areas as well as brand development and creative direction. Victoria's knowledge of design, manufacturing, and styling enables her to successfully support clients from initial concept development right through to launch.
Five fun facts about Victoria…
A city girl at heart – she loves London exploring her home city with family and friends
As a self-confessed beauty addict Victoria is often found with her nose in a fashion magazine or browsing around her favourite beauty store
Her favourite way to relax is to listen to a crime audiobook
She loves the snow
She's a coffee snob and will go to great lengths to hunt down a good barista!
Connect with Porter & Brawn:
www.porterandbrawn.com | Instagram @porter_and_brawn | Facebook @porterandbrawn
Simon Brown
Online Course Developer and Search Engines Optimisation Specialist
Simon is a website developer and search engines optimisation (SEO) expert who's been developing and optimising websites for over 20 years. He heads up a freelance web design service in Brighton.
When he's not busy working on the Make It In Design website he can be found long-distance cycling around Europe. His last trip took him from Barcelona over the Pyrenees, across France into Italy then over the Alps into Switzerland.
Five fun facts about Simon…
He's learning Spanish (well, trying to)
He likes to produce music in his studio
He's a keen photographer
He once had his palm read by Dave Davies from the Kinks
He's watched Withnail & I over 30 times
Connect with Simon:
www.vitalized.co.uk | LinkedIn Simon Brown
PARTNERS + COLLABORATIONS
We have partnered and worked with some of the world's leading companies in the design industry to bring our community exclusive resources, exciting live briefs and competitions. Below are just a few examples:
Masters of their craft
Guest expert collaborators
Make It In Design works in collaboration with some amazingly talented industry specialists from a vast range of design disciplines. Masters of their craft, from Barcelona to New York, these experts offer our community insider insights and the creative know-how to succeed!
From left to right: Janine Burrows, Davinder Madaher, Jessica Hogarth, Adobe's Mike Scrutton, Alison Cole.
Rebecca Richardson, Maria Montiel, Adrian O'Meara, Faye Brown, Jess Williams
Pranav Bhardwaj, Fizah Malik, Moni Escobar, Mark Knowles, Charlotte Jade
Tamsin Rennie, Alexander Wills, Kelle Boyd, Kieron Lewis, Fred Wolter
All courses from Make it in Design are produced and managed by Do What You Love Limited on behalf of The Art and Business of Surface Pattern Design.
Company Name:
Do What You Love Limited
Company Number:
06862873
Registered Address:
The Art & Business of Surface Pattern Design
PO Box 61
COLYTON
EX12 9AT
Email:  [email protected]