THE BRIEF:
We'd love for you to have a go at our just for fun design competition and create a quote from our Co-founder Rachael Taylor's book Power Up Your Creativity. Win exclusive prizes!
Your design needs to be as colourful, vibrant and dynamic as the book design and Rachael's brand. Use the same colours from the cover for your design, or we'd love to see your own interpretation. Designs could be text based or a combination of typography, illustration or print and pattern design. We want you to have fun and share your unique style!
You can find out more about the book here.
Full artwork submission details and terms and conditions for this design competition are available below.
QUOTE EXAMPLES:
There's beauty in every step of the journey.
Always stay true to your authentic self
If we dream small, we act small.
Sprinkle your magic and see where it lands.
I'd rather look back knowing that I tried, grabbed life with both hands, and gave everything a go.
The more we go after our dreams, the more we become fearless.
Everyone will go through life at their own pace, and that's okay.
You deserve all of the good things.
Follow your weird.
Create from the heart.
We all need to be able to give ourselves permission to have more than one finish line.
When things don't go how we expected, I love to say it's just a "plot twist" and carry on!
Let things out, welcome things in.
Why not dream that little bit bigger.
Don't deny what your creative heart wants.
Success is for everyone (not just the people you admire).
Growth can be uncomfortable and painful but also necessary and beautiful.
Start your day with "I get to" rather than "I have to."
Creativity is a magical power we each hold within us.
Create the work you want to attract.
Always have faith in your own magic.
Become a champion of powering up your creativity.
Make things happen and have the courage to dream big.
If you believe it, you can achieve it.
When you make magic, the world deserves to see it.
Live the creative life you have always imagined.
HOW TO ENTER:
Follow @makeitindesign AND @rachaeltstudio on Instagram
>> Enter your artwork via the online submission gallery HERE <<
DEADLINE:
Enter by Monday 16th October midnight (UK time) and the winners will be announced soon after.
ARTWORK SUBMISSION:
Please submit your artwork to the gallery as 1200 x 1200px square or 1200 x 1500px portrait, save for web jpgs.
No. of submission images allowed: Unlimited
Please use the following naming convention for your work in your image file: FIRST NAME_LAST NAME _PUYC QUOTE COMPETITION_NUMBER.jpg
e.g. RACHAEL_TAYLOR_PUYC QUOTE COMPETITION_1.jpg.
Please do not add a watermark or your name/logo to the design itself, you will always be fully credited.
*Please note that you will retain full copyright to your design and it will not be used for any other purpose, however Rachael will retain full copyright for quotes taken from the book.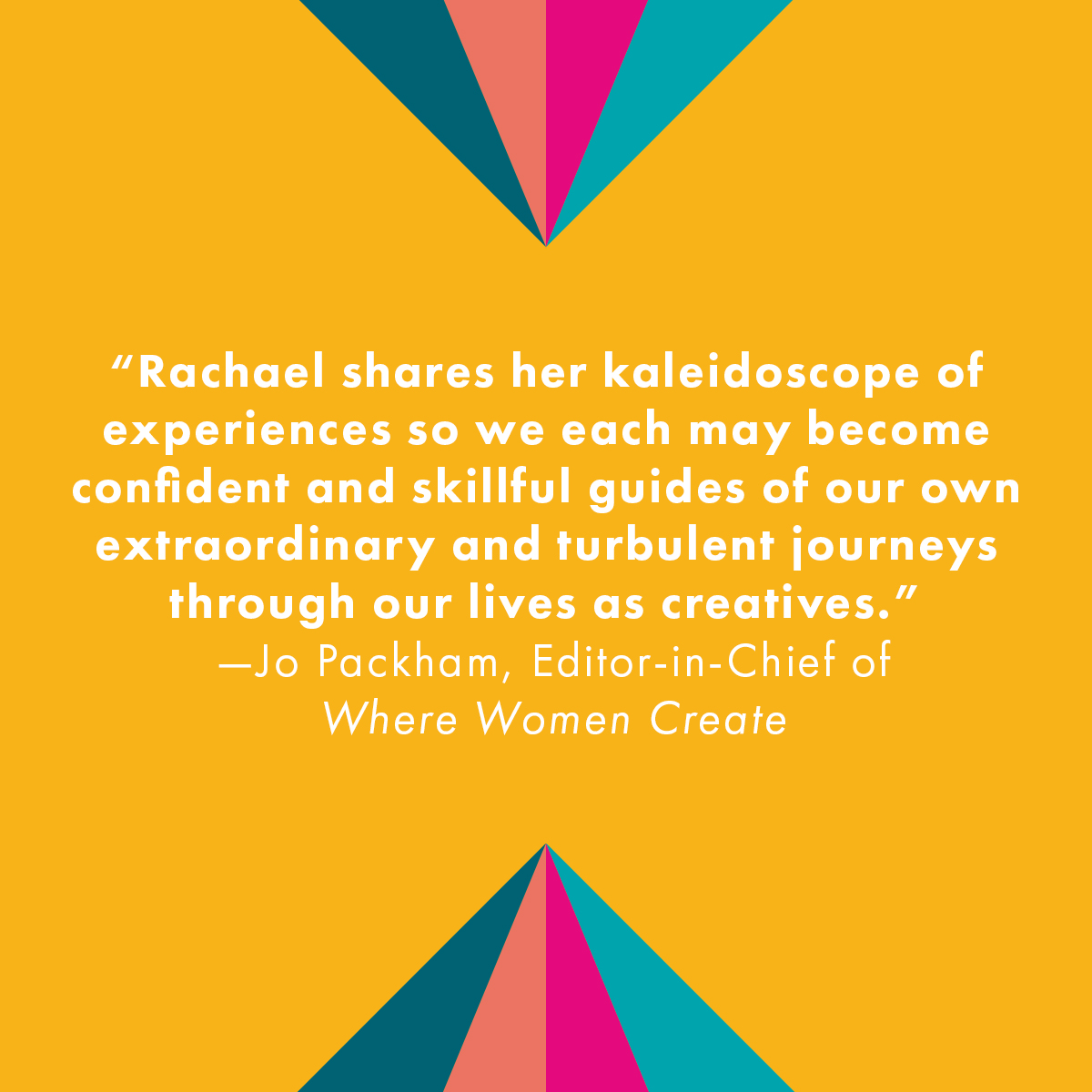 T'S & C'S:
The decision on the winners will be final and no correspondence will be entered into. There is also no cash alternative.
This giveaway is open to anyone from anywhere in the world.
You will retain full copyright to your design and it will not be used for any other purpose.
Rachael Taylor is a trademarked brand and will retain full copyright to the title and design of Power Up Your Creativity and any quotes taken from the book.
The coaching sessions and any Make it in Design classes will be delivered online and there is no requirement to be in a particular location. No purchase is necessary to enter.
If you have already purchased a coaching session, then this will be considered an additional session.
If you have already purchased an online course then you will need to choose an additional course for your prize, refunds will not be given.
You give permission for your details to be shared with our prize partners.
Book prizes will be sent by Quarto. This will not be the responsibility of the Rachael Taylor Studio or Make it in Design. Queries about this prize will need to be sent directly to Quarto.
Only entries left by midnight (UK time) on Monday 16th October will be entered into the giveaway, and you must be following @makeitindesign and @rachaeltstudio on Instagram and have correctly submitted your artwork to the online gallery for entries to be valid.
The online coaching sessions are run by the Rachael Taylor Studio and not Make it in Design. If you have questions please email [email protected] or find out more here.