We are so proud of all of our alumni, many have sold work, been licensed and started their own labels which are known all over the world. Today we are featuring Elizabeth Olwen who speaks of her success since taking "The Art and Business of Surface Pattern Design"
A Video from Elizabeth
Elizabeth was kind enough to record this short video for us about her experience on the course

What was your motivation for taking ABSPD?
I had been making patterns for fun, but didn't really have any direction. I was trying to find the next step, a way to take things to the next level but was just feeling lost and overwhelmed. When I heard about this class, I thought it could be just the ticket and could show me the possibilities of a career in surface design.
Think back to where you were before taking ABSPD. How far have do you feel you have come on your surface pattern design journey since then?
Oh my goodness, I've come so far! Sometimes I can't even believe that two years ago I was very much at the beginning of this journey, so much has happened since then. Two years ago I was an aimless doodler with a fire in my belly, perhaps a bit of pent up frustration of not knowing how to take things to the next level. Cut to today — I'm preparing to exhibit at Surtex for the second year, I have fabric lines launching in both the independent and mass markets, I have a growing collection of products in the market, I'm working with my dream clients, and have been featured in Magazines like Uppercase (Canada) and Frankie (Australia).
What was the most important thing you learnt in the course?
I learned so many things. But if I had to choose, I would have to say that the course really helped me to understand that having your own unique, personal style is the absolutely essential. It taught me how important it is put in the time figuring that out, because it's your most valuable asset if you want to build a brand. In addition to that, the course helped me lay the groundwork for my business — it helped me get a grasp on the industry and gave me a ton of confidence in approaching companies with my work. If I felt unsure of myself at the beginning of the course, I felt like I'd found solid ground by the end.
How important was the community aspect of the course? What kind of people did you 'meet' through it?
This was so important! Having never gone to school for surface design, I didn't know anybody at all in this world. Through the course I met a ton of other people who were in the exact same boat as me, and we were able to encourage each other and help each other along. It was so helpful to have a forum for sharing your work — to see what people responded to, to see how others could interpret a brief, to get an idea of where your work fit in. We could all be each others' cheerleaders, which is so important, especially in the beginning!
How has your work changed since before the course?
It's changed so much! My work in the beginning showed potential but it was so tentative and unsure of itself. Like I was just learning how to walk, and not quite mastering it. I needed to explore and find my style and find some confidence. In addition, I actually built my files in a totally different way, largely hand-drawn geometrics in Photoshop that steered clear of difficult or intricate repeats (such as the design above from before the course). After putting in the time to experiment and figure out my style during the course, I found myself creating far more impactful, dynamic patterns and tons florals and only working in Illustrator (my favourite program). My work feels more free and happy and far more whimsical.
How would you describe your brand look, and how did the course help you develop that?
I would describe my brand as whimsical, organic, illustrative and beautiful with a modern vintage feel. There is one exercise from the course that I go back to often, which was to create a mood board for your brand, which included images and keywords. That exercise resonated with me and I kept it pinned up at my desk and when I created new work I would refer back to it to see if it was fitting within my brand. It helped give my work a solid direction and kept me from veering off without a distinctive style.
Since taking the course what kind of work have you secured?
I have done boxed notecards with teNeues. A really big selection of stationery products for Madison Park Greetings including gift wraps, boxes and bags, washi tapes, iPhone covers and a ton of greeting cards. I am working on my second collection with Cloud9 Fabrics. I have little girls dresses and rompers out this spring at Target. I have worked with American Greetings, Amy Smyth Co., Dioton, iPops and more. I have also worked on some super exciting packaging, bedding, housewares projects, and fabrics for mass market, all of which are yet to launch and therefore can't be shared quite yet, but when the time comes I'll be shouting them from the rooftops.
What challenges have you faced in launching/growing your business and how have you tackled them?
One of my biggest challenges is time management (there doesn't seem to be enough time in the day!) and finding work/life balance. To help with this, I took a time management class on Skillshare that taught me some basic tools for keeping things under control and making the best use of my time as possible. Also, staying organised was a real challenge in the beginning! To help with this, I've invested in some software that helps to make my life easier and help me keep track of things — contact management software, a system for tracking all of my licensing agreements, as well as an easy-to-use bookkeeping and invoicing system.
What are you working on now?
I am finalising my second collection with Cloud9 Fabrics, as well as fabrics for the mass market. I am working with Madison Park Greetings on some new greeting cards, and just finished up some Holiday 2015 products with them too. And I'm gearing up for Surtex in May, which requires a ton of preparation. All very, very exciting things!
Who are your dream clients?
Well, I'm already working with some of them, which continually blows my mind. I would really love to work with Chronicle Books, Galison, Hygge & West and Land of Nod. I'm working on it! I'd love to do more packaging work for a perfume or cosmetics line, and would love to see my work on Kleenex boxes, since it's a product that finds its way into so many homes.
What is next for you?
Frankly, I'm in the middle of figuring this out — in the past two years, I've been achieving goals that I thought were years away, so the need to set big goals for the future is once again upon me. For now, I'm focused on the very exciting product launches that are happening in 2014 and seeing where they will take me.
***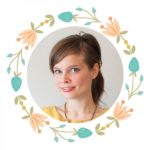 Elizabeth Olwen is a Toronto-based surface designer. Inspired by pastoral beauty, nature in its most playful forms, folklore, and romance, Elizabeth's work is driven by the desire to leave something beautiful behind with every step she takes.
Elizabeth loves old wallpapers and vintage fabrics, cannot be forced to choose a favourite colour, and is hopelessly devoted to travel. She has a growing collection of products in the market, with clients like TeNeues, Landor, Cloud9 Fabrics, Target and Madison Park Greetings. She will be exhibiting at Surtex for the second time this coming May.
Connect here: Website | Facebook | Twitter
Still time to join us
If you would like to jump start your design career in Surface Pattern Design, please take a look at our Design School courses

---