Katherine Lenius | Minneapolis, Minnesota USA
Today we share the work of Katherine Lenius who took Modules 1-3 from March 2014 – January 2015 and Summer School 2014 and 2015.
Where are you now and what successes have you enjoyed along the way?
I started the MIID ABSPD Modules as a scholarship runner-up recipient and they've been very valuable to building my career as a surface pattern designer. In the time since I completed the ABSPD modules I've gotten my first licensing contract, opened my Etsy shop and started manufacturing my own products, and have developed a portfolio I'm proud to share. I'm also going to be included in the new Print & Pattern Nature book. I was lucky to meet a host of wonderful designers who have been very supportive in my journey. Embarking on this new path really wouldn't have been possible without MIID.
Thank you & Happy Birthday!
Find out more about Katherine at the following links:
facebook.com/katherineleniusdesign
Make it in Design's #100daysofpattern Week 1 is all about CELEBRATIONS. Be sure to share your images across social media by adding #makeitindesign and #100daysofpattern and watch out for the spot prizes we will be awarding.
---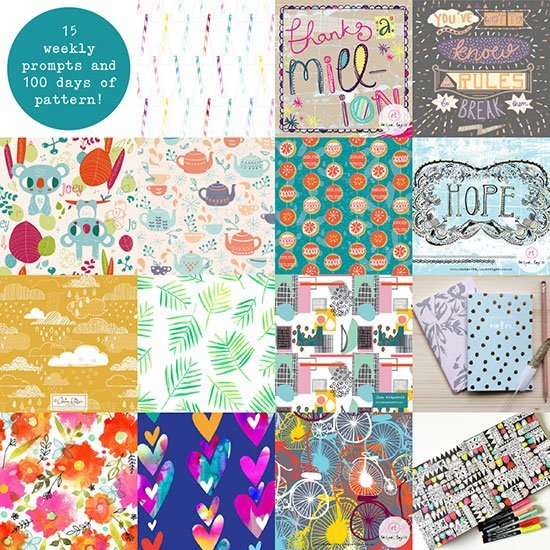 Want to get involved in #100daysofpattern?
Starting on Monday November 16 each week we will announce a fabulous new theme and will be posting daily inspirations on the blog featuring designs from Rachael Taylor, our students, contributors and other amazing industry professionals for 100 days! Dip in and out or create every day for 100 days, it's totally up to you. Just be sure to add #makeitindesign and #100daysofpattern to the images you post on-line. Watch out for the spot prizes handed out along the way too including Pattern of the Week!

---