To tie in with the #100daysofpattern project, we are absolutely thrilled to bring you a whole host of alumni success stories over the next 100 days.
Here we've invited our students over the last four years to share some of their designs created on our Art and Business of Surface Pattern Design course, and their stories of what they've been up to since they completed our course and where they are now. For all those wanting to know how our courses really make a difference to your career – this is the series to watch.
Today we are delighted to share with you the success of Saskia Van Cleef.
When did your interest in design first start and how did that come about?
A relative studied Fashion & Design and I really wanted to know more about it. So at the age of 16 I participated in the same training.
What steps did you take to get to where you are now as a designer?
I took several training courses, such as Fashion & Design, Graphic Design and Interaction Design. I worked as a Visual Designer in a company for many years. However, the interest in fashion remained so in 2013 I quit my daily job to start the e-course 'The Art and Business of Surface Pattern Design' to become a professional in the field of surface pattern design, with focus on the graphic designs of textiles. I created my own brand identity called "Haakje Sluiten Design", took part in sewing classes to improve my skills and created several items, mainly clothes for adults.
In 2014 I founded my company 'Haakje Sluiten Design.
What was the most important lesson you took away from "The Art and business of Surface Pattern" e-course?
How to gather information about upcoming trends, what steps to take to see my patterns on products and most of all not being afraid of just doing it. You can only learn by doing it.
What difference did it make to have a supportive community of fellow students and how important do you think that will be going forward?
It's very valuable to have lots of support when you have questions, need feedback or just want to show your designs to fellow students. By gaining all that information you know if the outside world likes your design style.
How would you describe your style?
My style is graphic with a freeminded twist. I get inspired by the underground music scene, nature and characters.
What kind of designer do you want to be known as?
As a versatile passionate designer, with attention to detail and quality.
What are you working on currently?
Currently I'm working on different projects. I'm busy creating my fashion line as well as designing textile patterns, websites & apps.
What advice would you give emerging designers wanting to build their portfolios?
You have to put a lot of effort, such as time and work in building your portfolio. Stay focused and be patient. Always have a clear vision of what you want to achieve and by what time you want to accomplish that. Explore, take a look at other portfolios to see how they handled it and try different approaches to figure out what works best for you and your audience.
What would be your dream design gig?
My own fashion line consisting of fabrics and clothes I designed and manufactured and selling it to the world.
Looking ahead what are your major goals for the next couple of years?
Further developing my design agency by expanding my clothing line and fabric designs, setting up my own webshop, as well as gaining more graphic and web assignments.
If you were a pattern what kind of a pattern would you be and why?
A conversational pattern. I combine a variety of skills and disciplines into my work.
***
In 2005 I joined an international company, where I started as a Visual Designer to work on graphically designing interfaces for applications, websites, apps and touch screens aimed at the printing industry. However in 2013, due a lack of freedom when it comes to designing, I wanted to make a change and started the e-course "The Art and Business of Surface Pattern Design". At the same time I took lessons to create clothes. In 2014 I founded my company Haakje Sluiten Design. I'm currently designing printwork, websites and apps, as well as fabrics and busy creating my fashion line.
Website | Etsy | Facebook | Twitter
---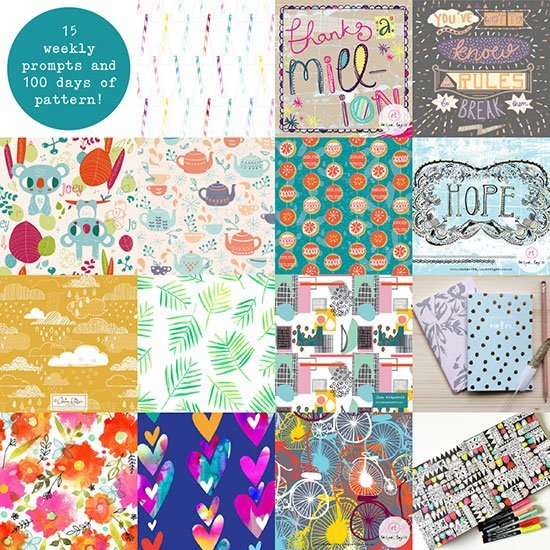 Want to get involved in #100daysofpattern?
Starting on Monday November 16 each week we will announce a fabulous new theme and will be posting daily inspirations on the blog featuring designs from Rachael Taylor, our students, contributors and other amazing industry professionals for 100 days! Dip in and out or create every day for 100 days, it's totally up to you. Just be sure to add #makeitindesign and #100daysofpattern to the images you post on-line. Watch out for the spot prizes handed out along the way too including Pattern of the Week!

---