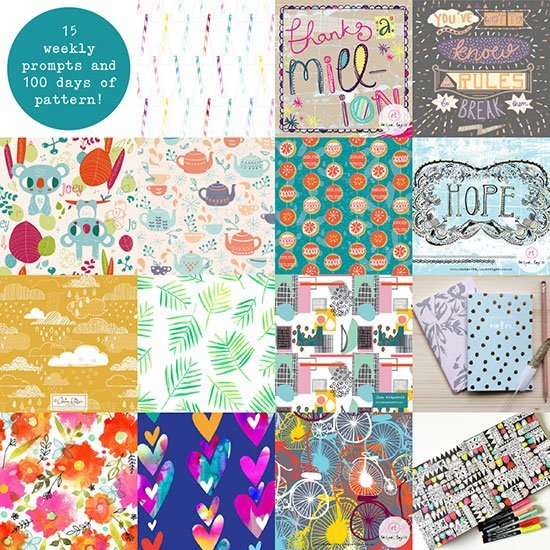 We are now into the eighth week of #makeitindesign #100daysofpattern and Day 50! Follow it day by day or dip in and out. Gain inspiration, get involved, build your portfolio and have fun. Draw, doodle, paint, sketch, post a picture … whatever! Just be sure to add #makeitindesign and #100daysofpattern to the images you post on-line.Watch out for our alumni success stories to see 'where our alumni are now' after taking our courses.
Week 8 theme is LOOK UP!

Viktoria Rodek |Portfolio
Viktoria Rodek is a Hungarian Designer living in London who is an alumni of Make it in Design Modules 1-3.
"I am building my portfolio at the moment. I have discovered many things during this 1.5 years, and I have had to learn a lot, because I am from a different culture, with different experiences, background, but I think I am on the right track now :) The modules helped me a lot, and I am still studying, I keep rereading the lessons".
3 interesting facts about me:
*My best projects start with something I need – e.g: I used to sew bumbags, because I wanted to have more pockets, colourful decorations etc, but I never found the perfect one, so I designed the perfect for me, and sold quite a few afterwards, and later I started to think about fabrics I never found, so I started to design them for myself, for the bumbags as well, that's why I started to study surface pattern design.
*I am very-very organized and crazy messy at the same time.
*I am learning to draw with my left-hand just in case if I'd break my right hand.. :)
Instagram | Pinterest | Twitter | Facebook
Be sure to share your images across social media by adding #makeitindesign and #100daysofpattern and watch out for the spot prizes we will be awarding.
---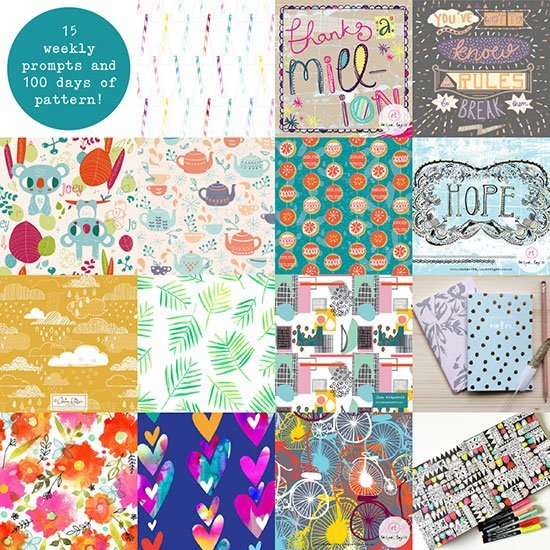 Want to get involved in #100daysofpattern?
Our #100daysofpattern officially started Monday November 16 but it's not to late to join in. Each week we will announce a fabulous new theme and will be posting daily inspirations on the blog featuring designs from Rachael Taylor, our students, contributors and other amazing industry professionals for 100 days! Dip in and out or create every day for 100 days, it's totally up to you. Just be sure to add #makeitindesign and #100daysofpattern to the images you post on-line. Watch out for the spot prizes handed out along the way too including Pattern of the Week!

---