We are so excited to bring you a showcase of this beautiful and amazing work from our very talented students from The Ultimate Portfolio Builder of The Art and Business of Surface Pattern Design who took the course in September 2015. Here are some of our talented students and the work they have created in class.
The next round of The Ultimate Portfolio Builder will commence March 21, 2016.
 "This class helped me stretch my design perspective, expand my portfolio, and opened my eyes to what kind of designer I really am. The review from Rachel not only boosted my confidence, but confirmed that my unique style is marketable and innovative".
Bridgette Burton | USA | Website
"To be honest, I loved the whole module and I'm still trying to digest and work through all the amazing information and advice shared. I particularly loved weeks 1 & 2 which focused on subject matter as it really pushed me out of my comfort zone and encouraged me to try new things. The prompt cards and drawing exercises are a great way of helping when you're stuck in a creative rut – I've been drawing and doodling things that I would have previously avoided or never even considered! As a result, I feel like my portfolio is really taking shape and it's given me a huge confidence boost so I'd like to say a huge thank you to the amazing team at MIID for such a fantastic course. I hope to be able to share some great success stories with you in the future".
Claire Wilson | UK | Website
"First, I'd like to thank you for the lovely experience in the UPB course. This course was great for broadening my portfolio. I especially appreciate the professional individual design reviews. They were kind and encouraging as well as inspiring and informative".
Ella Elron-Breitman | Jerusalem, Israel | Website
"The ultimate portfolio builder has really encouraged me to try new subject matter, and has given me enough inspiration to last a very long time after the course! The feedback from Khristian A Howell was so lovely and useful and a real confidence boost".
Ginette Guiver | Website
"The course has given me an enormous boost. In just 7 weeks, with the extra time on the live briefs, I am able to realize patterns in new creative and technical ways".
Inge van Bruggen | The Netherlands | Instagram
"The ABSPD series of courses have been amazingly fun and informative and I will miss them greatly. I feel they have equipped me to go out into the world of design and make my mark – in repeating pattern of course and totally colour coordinated! Thank you all so much for you support, generosity and patience". 
Jan Olive | UK | Website
"For me, the most useful part of the course is how it gave me so many ideas for subjects to draw, different ways to draw them, and color palette suggestions. I tend to get stuck in art ruts, drawing the same motifs the same way and in the same colors, so I found these exercises extremely helpful to successfully add variety and depth to my collections".
Jennifer L. Wambach | USA | Website
---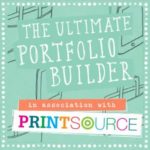 Take part in our fun typographic design challenge and you could win a free place on our advanced The Ultimate Portfolio Builder surface pattern design course worth £579 ($805) starting March 21, 2016.

---