Today we bring you the final part in our showcase of this beautiful and amazing work from our very talented students from The Ultimate Portfolio Builder of The Art and Business of Surface Pattern Design who took the course in September 2015. Here are some of our talented students and the work they have created in class.
The next round of The Ultimate Portfolio Builder will commence March 21, 2016.
"The UPB class was perfect to give me a boost to develop my portfolio, topped with an invaluable review of some of my work and awesome masterclasses".
Natacha Devaud | Website
Pupapop Print and Pattern Designer | Spain | Website
"The UPB was another brilliant, jam-packed module. It wasn't always easy because I was pushed way out of my comfort zone to create patterns and images I would never ever have dreamed of creating but  when I look at them now I am amazed at how far my portfolio has actually come! I think I now have a varied and far more interesting portfolio which is growing in unprecedented and exciting ways and which will hopefully attract a much wider range of buyers. For me the masterclasses were a major highlight of the UPB. The great new skills and techniques I have learned through them will be a huge asset to building my portfolio".
Ruth Lazerson | Australia | Website
"There is so much in the UPB course that it is hard to narrow down the best parts. The personal reviews were so helpful and showed me how to improve each of my designs. The masterclasses were packed with hands on and step-by-step instructions that you can't find anywhere else. And whenever I feel stuck, I can just pull out my prompt cards for ideas. I'm now light years ahead of where I would have been without this class".
Shanna Craft | USA | Website
"For me, the most powerful element of the course was experimenting with new styles I normally wouldn't design or draw in. It has made me a more confident designer, unafraid of trying out new styles and stepping out of my comfort zone".
Zoe Elsdon | UK | Website
"The most important thing ABSPD has done for me is help me find my signature style. This UPB submission and my new brand ID feel like 'me' at last, and reflect the kind of designer I want to be and the kind of work I want to make. In May 2016 – almost exactly two years since I started Module 1- I'll be exhibiting in BOOTH 229 at SURTEX with Four Corners Art Collective, a group of artist friends I made in class. I am absolutely thrilled to be heading to NYC and it's all thanks to ABSPD. I literally wouldn't be doing this if it weren't for you all. So, thank you".
Emma McGowan | UK | Website
"Ultimate portfolio builder was an all around, powerful experience for me.  All the creative exercises and live briefs gave me the challenge I needed to go beyond my comfort zone, push myself further than ever before and really develop my style as an artist".
Kristi Caterson | USA | Website
Missed part 1? See it here.
Missed part 2? See it here.
---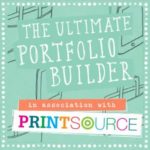 Take part in our fun typographic design challenge and you could win a free place on our advanced The Ultimate Portfolio Builder surface pattern design course worth £579 ($805) starting March 21, 2016.

---