We are excited to share with you the success of our ABSPD alumni Tracy Miller  whose designs recently featured in Cardmaking & Papercraft Magazine. This was a result of a live brief in our advanced seven week course The Ultimate Portfolio Builder which Tracy commenced in May last year. Tracy and fellow student Metka Hiti, had designs selected to appear in the magazine. Fantastic news and such an amazing opportunity for both our talented students.
Tracy is a freelance graphic designer based in the USA and you can find out more about Tracy in an interview we published last year here.
The Ultimate Portfolio Builder is an advanced seven-week online professional surface pattern design course, consisting of an intense five-week class followed by two weeks of design reviews.
This powerful course will give you all the tools and advice you need to grow your body of commercially viable work, refine and strengthen your professional design portfolio and give you the fast-track to trade show success.
Brought to you in association with Printsource New York, one of the top surface and textile design shows in the world, this course will provide you with exclusive insight to help you secure the right buyers for your work, deal effectively with clients, get trade show ready and discover the secrets to landing your work you dream of.
We have welcomed students onto our courses from over 60 countries around the world, and our classrooms are accessible on-line 24/7, so you can join us from any time zone and fit the course into your busy life. Plus, you can access the classroom for up to six months after the course finishes.
Take part in our fun typographic design challenge and you could win a free place on our advanced The Ultimate Portfolio Builder surface pattern design course worth £579 ($805) starting March 21, 2016.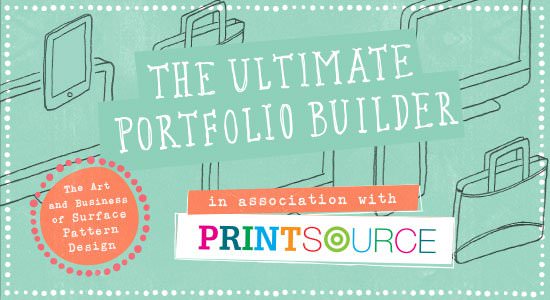 ---
The Art and Business of Surface Pattern Design is the definitive guide to becoming a surface pattern design professional.If you have ever dreamed of seeing your designs on stationery, homewares, fabric or other products, this series of interactive online courses is for you! Thriving surface pattern designer Rachael Taylor will guide you along this exciting path from developing your signature style, to putting a collection together, and from protecting your work to monetising your designs. With a rich combination of design inspiration, practical advice, demonstrations, creative exercises, resources and interviews with leading industry practitioners, this is the go-to guide for anyone wanting to develop their design skills and break into the industry. Our next class begins March 21, 2016 – we hope to be able to welcome you to class!

---