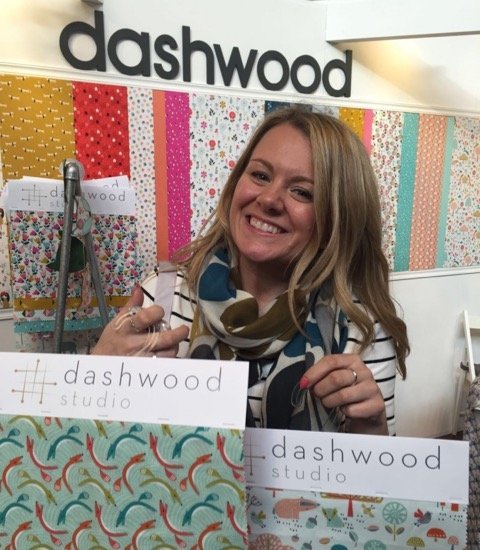 When did your interest in design first start and how did that come about?
Since I can remember! I grew up in a very creative environment where there was always an art or craft project to get involved in, from making wooden pencil cases (and decorating it with felt-pens), sewing and pottery I could always be found making and creating. These childhood experiences have definitely influenced the designer I have become today.
What steps did you take to get to where you are now as a designer?
I went to college after school and completed my A levels and a foundation course in Art & design. College opened up the different areas of design to me and helped me focus on my passion and strengths in design.
Working in a design studio for a wallpaper firm was my first design job. I don't think you can beat first hand experience; I learnt so much from this role and loved the studio environment. That was 18 years ago now and since then I have worked as a designer for numerous textile and wallpaper companies until 3 years ago I decided to go for it and go freelance.
What was the most important lesson you took away from "The Art and business of Surface Pattern" e-course?
That there is no right or wrong. You create your own path and the course really helped and guided you on the way. It also helped me find own style, creating your own work and having free reign to design from your heart is always exciting and leads to some of your best work.
What difference did it make to have a supportive community of fellow students and how important do you think that will be going forward?
This was my first experience of an online community and I didn't quite know what to expect but it was such an important part of the whole experience. The support, feedback and advise from this group was so encouraging and you never felt alone. It was nice that there was a diverse range of students from different countries who all had different strengths and knowledge. I am grateful to have made some lovely friends too who I have since met up with. It's inspiring to follow the success of the designers who I got to experience the courses with and how they have gone from strength to strength.
How would you describe your style?
I would say it's a combination of hand drawn and graphic elements with a fresh, modern approach. I am influenced by Scandinavian and mid-century modern design and I love to combine clean lines and delicious colour palettes. I like to create stories around my designs, experiment with layouts, create patterns within patterns and add interesting textures. Hopefully this recipe is what makes my designs unique.
What kind of designer do you want to be known as?
Approachable, fun and passionate about what I do.
I want to be known for creating designs that bring joy into peoples lives.
My brand vision is to create ' Inspirational designs that are the fabric of peoples everyday life'.
It's also important to me to be reliable and understand the briefs and expectations of my customers. I always want to give the best service I can.
What are you working on currently?
Well excitedly I have just launched my debut fabric collection ' Fablewood' with Dashwood studio
With thanks to the ABSPD courses I was introduced to Dashwood through a live brief and I am thrilled to be collaborating with them today. It was a goal of mine to hopefully work with them one day so I still have to keep pinching myself! I love following what people are creating from my collection on social media there are some talented crafters out there.
I have recently bought a new (old) house so I am working on some new collections that I want to furnish my house with for Cushions, blinds and artwork. After months of renovation I am looking forward to doing the fun bits now and planning the interior for each room.
As well as designing new collections for my own brand 'Jojo Coco Design', I am also really busy with commissions from companies that I freelance for. I have been designing an array of products from furniture, toys and bedding ranges. I love the variety that these projects bring.
I feel very lucky too have these contacts and I value the relationships that I have built up over the years.
What advice would you give emerging designers wanting to build their portfolios?
Do the MIID courses! The courses were fundamental to me, helping me expand my horizons and become the designer I am today. The course (s) taught me to explore my style, question what drives me and helped me focus on what type of brand and designer I wanted to be. Over the past few years my work has evolved and I have built a portfolio of designs that I am now confident and happy with.
Another bit of advice is always take a sketchpad with you wherever you go! My brain never switches off from design and I am constantly sketching ideas down.
Lots of things inspire me; from nature and being in the great outdoors to sitting at my desk and watching the world go by. These are the foundations of your new design (s) and how you translate these ideas is what makes you unique.
What would be your dream design gig?
I would love to see my products and brand in somewhere like John Lewis. I think my designs and collections would translate well across different products areas and this is something I always have in mind when I am designing. I love shopping in their stores!
It would be amazing to see my designs in fashion too, seeing people out and about wearing my designs would give me a great sense of achievement…maybe I will start making my own and see how that goes :-)
Kirsty Hartley who is the founder of the company 'Wild things' is a big inspiration to me. I love her clothes and her dedication to creating lovely products. She has created her business around everything she loves and I would love to collaborate with someone like Kirsty on a clothing line. Coincidentally Kirsty recently made some gorgeous clothes from my Dashwood studio fabric collection 'fablewood'!  I was thrilled as you can imagine as I have long been a fan of Kirsty's brand and  clothes….. you just never know what tomorrow brings !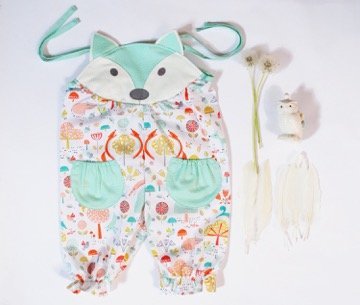 Images above courtesy of Kirsty Hartley https://www.wildthingsdresses.com/
Looking ahead what are your major goals for the next couple of years?
I really have so many ideas but I want to approach more companies to work with on a license basis with my newest collections for my brand. As above I would love to try and collaborate with a retailer or a smaller company, it would be great to work alongside someone with the same dreams and aspirations.
Updating my website is a must as I have a new logo for my brand and I really want to carry this through to my portfolio and all my branding. Building on my 'Jojo coco' brand is something I want to put more time into these next few years and expand on my product offer.
On a personal level I want to learn how to sew again! I am booking myself on a sewing course as its been a whilst and I would love to create some nice things with my fabrics for my new house… I am seeing a tepee in my garden and upcycled deck chairs ready for some summer garden parties!
If you were a pattern what kind of a pattern would you be and why?
I think like my new design 'leaping foxes' fun, free flowing, colourful and always ready for the next adventure!
---
I am a passionate textile and surface pattern designer from Manchester with over 14 years experience in the textile and wallcovering industry. I have my own brand 'Jojo Coco Design' and I create modern, hand-drawn and fun patterns for others to enjoy.
Inspired by nature, my debut fabric collection 'Fablewood' in collaboration with Dashwood studio has just been launched. I hope to expand my brand and product offer and I am looking for new license opportunities across different product areas.
I also work on a freelance basis for clients who produce textiles, bedding ranges, toys, tiles and furniture. Seeing my designs in store is always a proud moment.
I am a Pen, Fabric and paper collector and in need of a new bookshelf to house all my design books.
Website | Facebook | Pinterest | Twitter | Instagram
---

---