'The Art and Business of Surface Pattern Design' is an online e-course run by surface pattern designer Rachael Taylor, with whom Print and Pattern offer an annual scholarship for a free place on all modules of the course, plus a host of other bonus goodies. ABSPD attracts a global audience with students taking part from all over the world. The September Module 1 class finished towards the end of last year and we have a stunning selection of students work to share with you. The next Module 1: Designing you Way class commences February 20, 2017 for those who can't get enough of all things pattern!
Today we are delighted to bring you the second part of our 5-part showcase of the gorgeous work from our super talented Module 1 students of The Art and Business of Surface Pattern Design who took the course in September 2016. Here are some of our wonderful students and the work they have created over the 5 weeks in class.
Becky Bird | Website
I had no idea how many suppressed ideas I had before I started the course. MIID – Mod One is back to design basics and a healthy self-discovery! Rachel and Beth's amazing knowledge, creativity and style, draw out the best from you. I am a stronger, more confident designer now with a group of Facebook friends whose opinions I admire dearly.
Danijela Obst | Website
I'm so happy to have joined this course. It is truly built up professionally. One can feel the passion of the MIID team behind it, which had a strong positive impact on me as a student. As a teacher I can say that this course is well constructed, from easy to complex exercises with a logical continuation, filled with inspiring examples, apt motivation quotes, bright colors, positive spirit and a lovely Facebook group. Even without a design background I was able to follow the instructions easily. This course taught me to create patterns, which I really love.
Deborah Turner | Website
I have found that getting out and about with some of the fun creative exercises has helped me to look at the world in a fresh way and re-sparked my imagination. I'm looking at the world through new eyes—and finding inspiration around every corner.
Diana Briere | Instagram
This course has helped me gain the confidence to move from simple sketchbook doodles to fully realized designs. Experimenting with colour and textures has been a fun way to explore and push my designs further.
Diana Kelley | Instagram
For me the most powerful lesson of the course has been that the building blocks of design are simpler and more abundant that I imagined–that every mark we make is part of the process, that "mistakes" are material, that practice and patience are tools just like pens and paper.
Doreen Jensen | Instagram
The mark making was the most powerful element within this course. It helped me to create my own design motifs adding layers, texture and depth within my pattern designs.
Emma Wilkinson | Instagram
Joining the Make It In Design course (Module1) has to be one of the best decisions I have made in a long time. I have thoroughly enjoyed my journey and found my confidence in my work and ability, all made possible with the support of Rachael and her wonderful team.
Erica Fishler | Instagram
The thing I appreciated most about this course was the safe and supportive community that allows you to stretch your wings as a designer and try new things. It's inspiring to be a part of it.
Erin O Donnell | Pinterest
The courses have motivated me and opened my eyes to another design field other then the one I work in…. so inspiring and exciting.
Franca Westaway | Website
I cannot fully express my gratitude and how great my experience of Module 1 and ABSPD has been so far. I feel like I have found my true path and know that I can make the life and business I want now. My design work is becoming an expression of me that I feel proud of. The content, resources, technical info, pace and group support is a perfect recipe for rapid progression with creative work and the development of a sound and sustainable business model for working in the surface pattern industry. Thank you SO much…and watch this space!!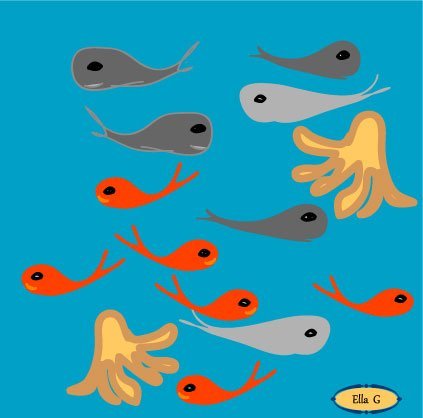 Gabriela Stoica |
Thanks you very much all for this great course.
Goldie Moran |
Module one has steered me in the right direction on an exciting new design journey. I didn't know where to begin! It's given me the confidence to realise I can fulfil my design dreams.
Check out Part 1 of the Student Showcase here.
---
The Art and Business of Surface Pattern Design is the definitive guide to becoming a surface pattern design professional.If you have ever dreamed of seeing your designs on stationery, homewares, fabric or other products, this series of interactive online courses is for you! Thriving surface pattern designer Rachael Taylor will guide you along this exciting path from developing your signature style, to putting a collection together, and from protecting your work to monetising your designs. With a rich combination of design inspiration, practical advice, demonstrations, creative exercises, resources and interviews with leading industry practitioners, this is the go-to guide for anyone wanting to develop their design skills and break into the industry. Our next classes begin February 20, 2017– we hope to be able to welcome you to class!

---