Today we are delighted to bring you an interview with Meria Palin, a talented illustrator, drawing instructor, and Children's book advocate. In addition to illustrating for kids, Meria teaches illustration at The Finnish Museum of Natural History in Helsinki. It was during the MIID Sketch Doodle Draw Live event in Finland that we became acquainted with Meria and got to see her whimsical illustration work.
I'm an illustrator who graduated from university in 2012. Shortly after I finished studying, I started my first drawing workshop, which lead to my first commission for a children's publication called Sieppo Magazine.
Overall, illustration on its own is not something I've done a lot of, but I am very grateful to do some new children's book illustrations next autumn, as my passions are children's picture books, nature, and museums.
Peregrine
Can you share a brief history of your artistic path to where you are now?
I think I am still at the very beginning of my path, which started after I got my business degree and decided that I wanted to fulfil my real dream of becoming an artist. As there's nowhere to study illustration in my own home country, I feel very lucky to have studied illustration in England. My first commission in Sieppo Magazine came about after an artist named Sanna Pellicione recommended me. Sanna is an amazing artist herself, and she is very multitalented; I was so pleased when she turned up to one of my drawing workshops and we got the opportunity to chat!
How would you describe your style and how has it evolved over the years? Where has some of your work been featured and where has it taken you?
I would describe it as a depiction of classic, realistic, and visual language mixed with a bit of quirkiness. Within the nature magazine, I feel that my illustrations are quite naturalistic, accurate, and educational. You can see my work for Sieppo here, and can view more across my website.
I am also obsessed with encouraging people to draw, so I run Drawing workshops at The Finnish Museum of Natural History in Helsinki, Finland. My dream is to become a picture book maker, but let's see how things go!
I also teach illustration at Comic Centre (Basics in illustration) on a weekly basis and run the monthly drawing workshops. I'm also a very active board member of the Finnish Illustration Association, and I curate the gallery at Natural History museum's cafe (in co-operation with Kuvittajat and LUOMUS). I created the drawing workshop concept at LUOMUS, and this concept very much inspired by the Fitzwilliam Museum's FitzFamilies!
Unilintuja
Which of your illustrations is your favourite and why?
I still like my main image from the Recipe for Times Tables book, in which a child drinks a magic timetables-drink while their mum gives them a kiss. The kiss is not mentioned in the written recipe, and is only added visually, so the reader needs to pay attention to the instructions. There is also a bird that asks you to turn the page.
The image itself is strong and stands out, and it also communicates values to my own daughter. It reminds me of a moment of my life in Cambridge and especially of Rob Ryan's exhibition with his loving paper cut work. I love his phrase, "Your job is to take this world apart and then put it back together again but even better!"
Recipe for Times Tables
What is your creative space like? How does it inspire you?
I prefer to sit in my sofa and draw – it makes me feel relaxed and comforted. But I also need books around me, so I use and rely on the library very often. At the same time, I need to feel connected with other people, so the internet and Facebook is handy for lonesome freelancers like me who want to keep connected. I also need to chat and meet friends in café's and do inspiring activities like walking in the forest. At the moment, I live quite close to the sea, the forest, and the city, which I appreciate very much.
Keep the Archipelago Tidy Project 
We see that you run drawing workshops at The Finnish Museum of Natural History in Helsinki – can you tell us a little bit more about these?
The original purpose of my drawing workshops at the museum was to encourage people to draw from observation, but during these five years I have learned how important it is for children to have the whole family, including grandparents, draw together. At times like these, adults cannot run away and say that they have other things to do, so that's ideal for the children. It's also exciting for everyone as the paper, the pencil, and the model are all in front of you, and trying to dig out the character of the model with a pencil is always exciting, even if you have not drawn for years. I believe it is the process of drawing that is the most important in non-stop workshops like these, rather than the final outcome.
I have also learned how frightening drawing can be for some people – some have even started to cry. Because this can happen, I do highlight in the workshops that we all draw in a different ways, and that luckily there are no rights or wrongs in drawing. I always need to be very sensitive when dealing with this sort of thing.
I feel privileged to have this opportunity to run drawing workshops for those who visit the Natural History Museum, because the range of visitors is so much wider than in art museums. Having said that, I would love to hold a workshop also in an art museum.
In my time running the workshops, I have learned plenty from nature, and the more you learn, the more you understand how important it really is. So this has become my way to encourage people to love their families and nature, and to take care of both.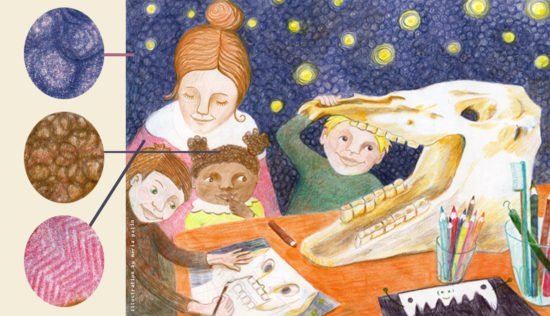 Kalisevat Hampaat – Drawing Workshop Image
We met you at our Sketch Doodle Draw event in Helsinki last year – how important is it for creatives to go to events like these?
I find these kinds of events very inspiring – somehow it feels better to draw together, especially in busy places like Esplanade where we were. You can also learn from other people's doodles and see how each person transforms what they see onto paper in a different way than you. It really felt like we were communicating visually.
Doodling together is also a fun and inspirational way to catch up with new friends from other countries – we should do more of it! I also liked that the event helped me come up with some new doodling-patterns, which I have used in my work since the event.
What makes you excited about your business right now?
I get excited when thinking about my short-term impulsive creativities and long-term constructive planning and how to balance it all. I also get excited by the fact that we are now able to fulfil many of our dreams in a way that wasn't possible for previous generations. At the same time, we must remember that it is our responsibility to keep up the values and knowledge which were given to us.
What is the big dream for you as a designer and your business?
I still would like to become a professional Children's picture-book illustrator, but for now I am looking forward to starting my full-time studies in Cambridge next Autumn. It will be thrilling to meet other like-minded people from all around the world with the same dream!
---
Quick Fire Questions:
How would you describe yourself in 3 words?
Stubborn, passionate, and fair.
Who or what inspires your work?
Nature (so many patterns!) and ordinary everyday life. I love the work of Sarah Fanelli and Astrid Lindgren (I grew up loving her characters – such a fantastic lady!) I also get inspired when I see how other artists are able to mix science and art together.
If you were a pattern, what kind of pattern would you be and why?
A circle or spiral pattern, as they both make you feel like you are always going up-up-upwards (and never backwards!)
What are your favourite hobbies?
I like to walk a lot, but I might try something new soon, such as watching for mice, foxes, bunnies, and birds that have their habitat in the city centre. I think that would be interesting! I also like to read – right now I'm reading a biography e-book about Jari Litmanen. Some other hobbies I like include going to the theatre, the opera, to ballet, to museums, and to concerts. It is nice to see how other artists interpret the world around us in our time.
---
Save

---