---
Printsource New York 2016
Surface pattern designer Rachael Taylor and Make it in Design's sales & marketing manager Lisa Moncrieff will be in New York this August!
---
Location: Metropolitan Pavilion, 125 West 18th Street, New York, NY 10011
Date: August 9 + 10, 2016
Surface Pattern Designer and Illustrator Rachael Taylor is excited to be speaking at Printsource New York!
Rachael is thrilled to be joining the speaker line-up at Printsource New York this August. She'll be taking to the stage, joining the likes of Pantone and Trend House in The Future Cafe, where all the colour and trend seminars will take place.
Unlike all of the other seminars each day, Rachael's presentation is FREE TO ATTEND so don't miss this opportunity to meet Rachael (and Lisa from the Make it in Design team) and learn all about what it takes to make it as a surface pattern designer.
Come and say hello!
---
Rachael's presentations
Rachael will be doing the following presentation on each day of the show:
Tuesday August 9, 2016 @ 4:30pm – How to Make it in Design
Rachael Taylor shares her experiences and insight from her own successful career as a surface pattern designer to help inspire, motivate and show you how you can claim your place in this creative industry too. Plus she'll offer a range of helpful hints, tips and resources to help further your career.
Wednesday August 10, 2016 @ 3:30pm – The Rewarding Surface Pattern Design Industry
So you want a piece of the surface pattern design industry but how do you get it? There is a huge amount of opportunity available in this highly rewarding industry and Rachael will share some ideas and trade secrets on how and where to find it. 
Are you attending or exhibiting at Printsource New York this August? We'd love to meet as many of you as possible so please do let us know if you are planning on attending by emailing us at learn@makeitindesign.com.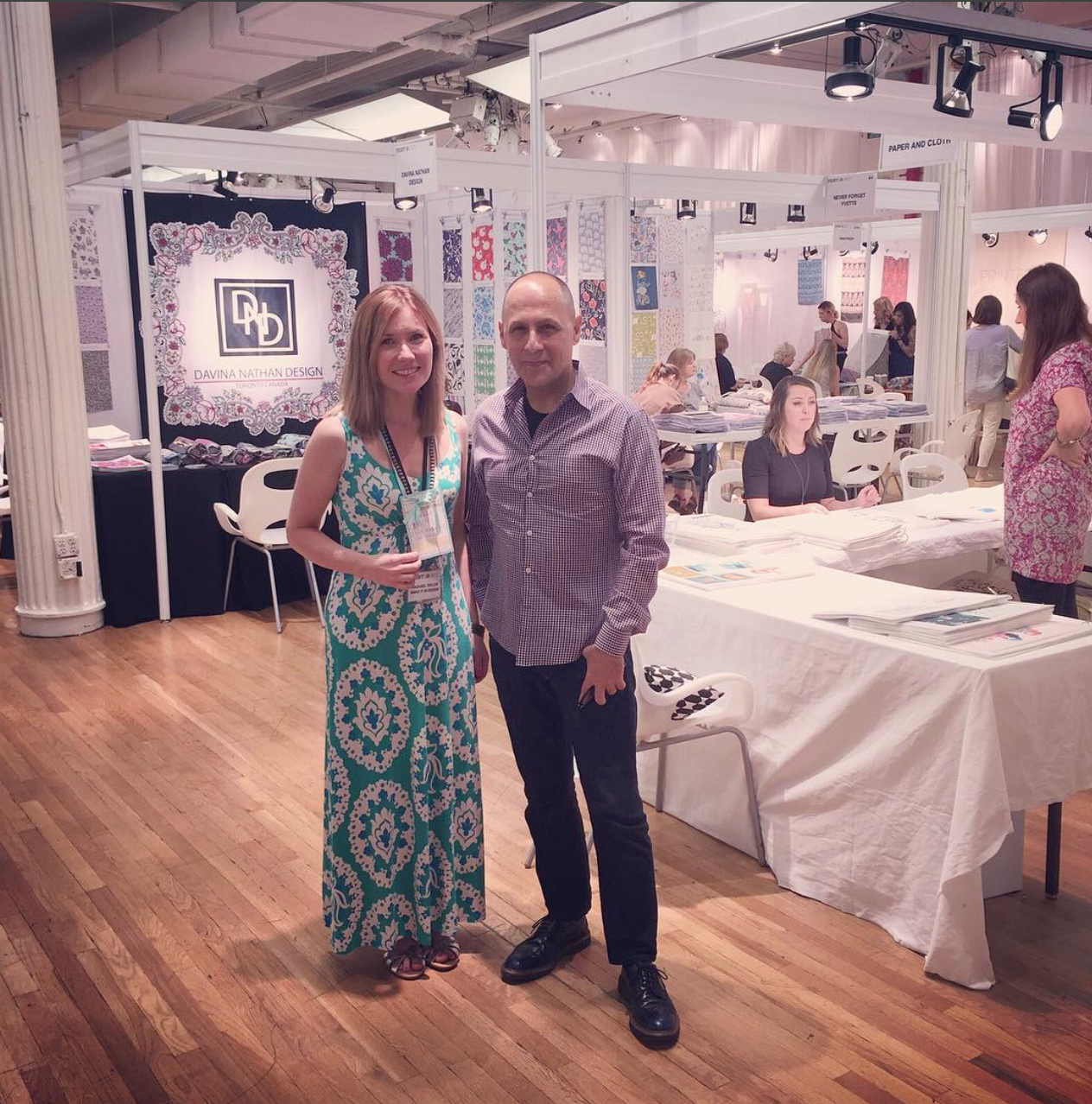 Rachael Taylor and show producer Massimo Iacoboni at Printsource New York 2015
---
About the show
Printsource is one of THE best shows in the world for surface and textile design. It attracts top creative talent, a huge international audience and an impressive list of buyers including America's major manufacturers, retailers and catalogs.
The show covers industries such as men's, children's and women's apparel, bed and bath, kitchen and tabletop, paper goods and stationery, wall coverings, window fashions as well as other surface and textile design applications.
Taking place on Tuesday 9 and Wednesday 10 August 2016, this prestigious show provides an explosion of colour and pattern and is a must for anyone serious about making it as a surface pattern designer.
---
Our exclusive partnership with:

We are honoured that Printsource New York is our Official Trade Show Partner and in turn Make it in Design is Printsource New York's Official Education Partner.
Beth Kempton, co-founder of Make it in Design said: "We are thrilled that one of the top trade shows in the world has shown its dedication to designer education and growth by partnering with Make It In Design. Through free videos, exclusive online course content and other joint activities, Printsource will provide invaluable industry insight to our students, to help them build their careers, wow clients and make the most of trade show selling opportunities."
Printsource sets the stage for so many designers to get their beautiful work out into the world, and we're delighted to see so many exhibitors are graduates from our very own market-leading courses.
This partnership provides exclusive content, behind the scenes access and top tips for our latest 'The Ultimate Portfolio Builder' course to help designers build their brand through trade shows. It also sends a strong message to the industry that Printsource hold graduates from our Art and Business of Surface Pattern Design courses in such high regard.
Here's what Massimo Iacoboni, producer of Printsource New York said about our partnership: "Printsource New York has launched the careers of many textile designers. It is the best platform for young designers to gain access to a network of America's largest companies. Partnering with Make it in Design enables us to sponsor comprehensive online tools that give easy access to in-depth knowledge about our industry. This course is beneficial to established as well as aspiring designers, because it covers all the fundamental elements required to sustain a long-term textile design business. It is a 'must' for anyone seriously interested in the enormous US apparel and home furnishings market."
Save
Save
Save