Today we are thrilled to bring you a designer interview with Anette Heiberg, a surface pattern designer, illustrator and author living in Norway and the winner of our exclusive Printsource Competition as part of The Ultimate Portfolio Builder. Anette is such a talented member of the ABSPD community and we cannot wait to see her exhibit in New York in August 2017!
---
When did your interest in design first start and how did that come about?
I've been drawing my whole life, and as a child I used to come up with stories that I illustrated and turned into small books. I always found a way to include drawing in my school assignments, and as soon as I was old enough to choose the direction of my education it was natural to choose arts. I never really thought about any other option.
What steps did you take to get to where you are now as a designer?
As soon as I was able to choose art subjects in school I did that, in addition to draw a lot in my spare time. I put together a portfolio and knocked on doors – something that got me my first full time job as a graphic designer at the age of 18. When I was 19 I started my own business as a freelance designer, and I also went back to art school to improve my skills. I've been working as a freelancer for 15 years now. In the beginning I did most graphic design. Then I moved onto children's books, and now I also do surface pattern design. I constantly challenge myself to grow and to stay passionate about my work by trying new things and participating in online art classes.
How would you describe your style?
Happy and colorful. Graphic scandinavian minimalism mixed with Japanese cuteness.
What kind of designer do you want to be known as?
I want people to smile when they see my work! I want to be known as a designer who creates work of high quality with a good sense of color, and someone clients find positive and enjoyable to work with. I want kids and their parents to fall in love with my work and use it to add color and happiness to their lives.
What are you working on currently?
At the moment I'm working on ideas for surface pattern collections for children's apparel. I also have lots of ideas for home décor collections for kids I want to make – and a few children's book ideas I would love to finish soon.
What advice would you give emerging designers wanting to build their portfolios?
Come up with personal projects that inspire you – and work on them on a regular basis to build your portfolio. It's also very useful to take online classes like the Make it in Design courses to learn more and grow your skills.
What would be your dream design gig?
Right now I'm dreaming of going into a store and see a big collection of my work on children's apparel on display. I would also love to do a fun, quirky home décor collection for kids.
Looking ahead what are your major goals for the next couple of years?
I'm still fairly new to the surface pattern design business, so I need to grow my portfolio and prepare for Printsource next year. At Printsource I hope to make a lot of connections that turns into fun projects. I also want to finish a couple of children's book ideas I have, and get them published.
If you were a pattern what kind of a pattern would you be and why?
I would be a bright autumn colored pattern with whimsical animals in tiny hats. I think it fits my personality, and it makes me happy just thinking about it!
The Ultimate Portfolio Builder
What was the most important lesson you took away from UPB?
I learned a lot about how to put together a strong pattern collection – and how to apply that to my own work. The video reviews were invaluable. I learnt so much watching the review of my own work, and also by watching the reviews of everyone else's work.
What difference did it make to have a supportive community of fellow students and how important do you think that will be going forward?
A community of fellow students made me excited to check the facebook group every day to see what had been posted. I got lots of inspiration on a daily basis, and it was valuable to see all the different ways we solved the same assignments. It's great to know I can contact these people at any time in the future if I have questions or just want to talk with someone in the same business.
Please tell us about your experience of the live briefs and student work reviews.
I think the live briefs had something for everybody. I didn't find the time to make designs for all of the briefs, but I picked the ones I felt I could do my best work for and focused on that. The Printsource brief was very useful, as I learned a lot while also having fun and making designs I was proud of.
The student work reviews were amazing! I loved seeing all of the beautiful work and I learnt so much from watching not only my own video, but all of the videos. I wrote down useful tips to remember while I watched them. These tips will help me a lot growing as a surface pattern designer!
Winning the Printsource Competition
How did you first react on hearing the news you had won the Printsource Competition?
I was very surprised. Everybody submitted such amazing designs, and I couldn't believe that I was the one who ended up winning. I feel so grateful to both the Make it in Design Team and my fellow students. They have all taught me so much and provided me with lots of positivity and inspiration. I'll keep them all in mind when I go to Printsource!
Will this be your first trade show? If not what other shows have you done?
Yes, this will be my first time exhibiting. I did visit the Bologna Children's Book Fair earlier this year, and that makes me feel that I at least know a bit about what to expect from a trade show.
What are you most looking forward to about the show?
To be able to show my work to a lot of people – meeting new people and making contacts. I'm also looking forward to be surrounded by lots of inspiring designers and their art!
---
I'm a surface pattern designer, illustrator and author living on an island in Norway. My work is inspired by the graphic shapes of Scandinavian minimalism mixed with Japanese cuteness. I love creating colorful drawings with a touch of humor that makes people smile! With over 15 years of experience from illustration and design, my work has been commissioned by clients all over the world. I'm the author/illustrator of 5 Norwegian children's books, and in addition to my own books I have illustrated over 60 books published in several countries. At the moment I'm building my portfolio for the licensing market – where I plan to work with apparel and home décor for kids.
Website | Facebook | Instagram
---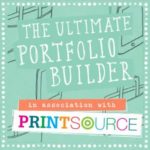 The Ultimate Portfolio Builder is an advanced seven-week online professional surface pattern design course, consisting of an intense five-week class followed by two weeks of design reviews.
This powerful course will give you all the tools and advice you need to grow your body of commercially viable work, refine and strengthen your professional design portfolio and give you the fast-track to trade show success.
Course alumni have gone on launch their own design studios, win national awards, be featured in design books and on leading blogs and more. Many of our graduates are exhibiting at top shows, forming collectives, signing exciting licensing deals and enjoying lots of surface pattern success.
Read a handful of our class testimonials, check out our alumni successes and see what our students are getting up to!
The next class starts September 5, 2016 – we hope to see you in class!